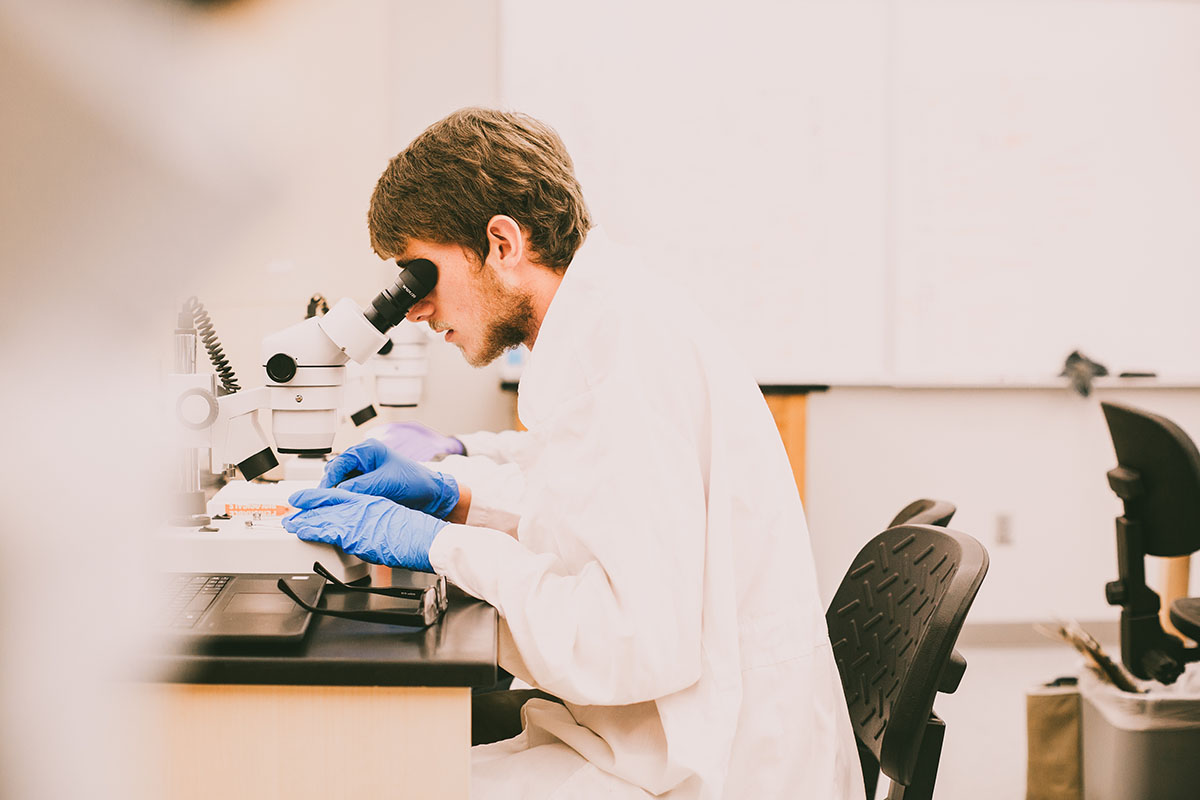 Biology
We know you are selecting a college for more than just its location or school colors. You want to go somewhere that will prepare you for the future. Your future. At Southern Nazarene University, we want that for you too. That is why we work hard to make sure our degrees are supported by a rigorous and comprehensive curriculum. We hire highly-qualified faculty who not only know the ins and outs of the profession you seek, but who truly wish to see you succeed individually. And we make sure you leave SNU prepared for a great job in Bio-Chemistry. That's why we can encourage you to not just dream, but to dream with confidence. 
Individualized Programs
As a student in the SNU Biology program, you are our number one priority—a priority our program is designed around. One-on-one experiences with faculty cultivate your knowledge and grow your education. Lab sessions with no more than 25 students help you get the individualized learning you need to succeed. You will find our atmosphere to be supportive and collegial. Combined with a strong commitment to the integration of faith and learning, SNU provides a powerful community where you will form life-long friendships. 
Opportunities for Growth
At SNU we know you need more than just classroom lectures to learn. That's why we create unique environments to take your education to the next level. Outside of our state of the art facilities including a cadaver lab and new modern labs currently underway, we find opportunities for you to learn in off campus locations that will look great on your resume! Consider spending a semester abroad in Costa Rica where you can take several courses ranging from tropical ecology to global stewardship. You will be able to work at the Quetzal Education Research Center in the heart of Costa Rica. Study ecology and sustainability on site in a tropical rainforest! Or even conduct your own independent research. A rare opportunity to find at a private university. Perhaps you'll spend some time at the AuSable Institute of Environmental studies. There you will learn from field-based courses in environmental studies and environmental sciences at one of several locations. Michigan. Washington. South India. Latin America. Learn more at ausable.org.
SNU Biology graduates are ready for success. We have a 95% overall acceptance rate into professional schools. Medical. Dental. Veterinary. Physicians Assistant. 
The majority of our alumni complete graduate studies at M.D. or Ph.D. level or receive career positions upon graduation. Rachel Eguren is an SNU gradute currently enrolled in a Zoology Master's program at Oklahoma State University. Currently Eguren is studying the bat population around Tar Creek Superfund Site, which is contaminated with metals from mining in the early 1900's to about 1970. She then compares her findings to an uncontaminated reference site. "The biology program at SNU, specifically the Quetzal Education Research Program in Costa Rica, allowed me to prepare an individual research project to conduct while in a tropical field setting. Upon return to SNU, the professors within the biology department encouraged me to present this research on multiple occasions. This allowed me to practice for the presentation at Oklahoma State University which the McNair program allowed me to participate in. 
At this presentation my judge was a professor within the department of Zoology. After this presentation the professor, that was my judge, contacted me and offered me a position as a graduate student in her lab with a teaching assistant position waiving my tuition and providing a monthly stipend," says Eguren. Eguren continues to hold the SNU biology department in high esteem. "They do as much as larger schools with less staff and resources. I really appreciate their high level of commitment to the students as individuals." If a dream is a blueprint of a goal not yet achieved, at SNU we partner with you to focus your efforts to attain whatever it is you hope to accomplish. Thus, we say DREAM WITH CONFIDENCE.
SNU offers you the opportunity to study with credentialed faculty as you journey toward graduation, another step closer to reaching your goals. These scholars with a Christian worldview will mentor and guide you along the way.  SNU's smaller size allows students to interact with faculty — not only in the classroom, but also through impactful mentoring, personal advising, and meaningful research. Come and be known; come and belong.