An Interview with Dr. Blair Spindle
The SNU School of Theology and Ministry places a huge emphasis on practical experience. A ministerial internship is a key way students take their educational experience to the next level.
Students intern with local churches starting their freshman year, helping prepare them for life beyond college. Each student is paired with a supervising pastor who serves as their mentor throughout their time at the church.
As Director of Christian Formation, University Pastor, and Dean of the Chapel Dr. Blair Spindle (M.A. '94) says that the focus given to ministerial interns reflects the university's commitment to future ministers, the ministry of the local church, and to the Church of the Nazarene.
"The church's investment in these interns reflects a genuine desire to partner with the university and help to nurture students towards pastoral effectiveness," Dr. Spindle described. Interns are exposed to the inner workings of the church, with the hope that they'll be able to experience what it's like to work in the local church as a pastor.
There is an ongoing relationship between students, who invest time in the church, and their supervising pastor, who is investing in them. This mutuality fosters strong relationships in the community.
Students currently serve in 17 Bethany-area churches. SNU often receives more requests for interns than the school can provide, which testifies to the impact that the ministry students have.
Spindle believes that SNU's work in the local community reminds the local church that SNU is about preparing pastors for ministry.
"It encourages the South-Central Field to keep God's call of young people to ministry at the forefront of its endeavors," Spindle said.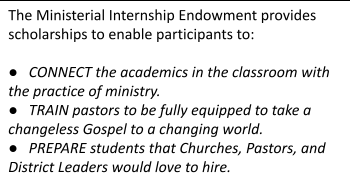 Donors help fund this important program so that students and churches both benefit from the mutual relationship that has been established.
To Spindle, it's important to remember the people who have given and continue to give, because they are not only supporting the program, but the purpose behind it.
"It makes me feel grateful that people believe in ministry and continue to give to make it happen," Spindle explained.