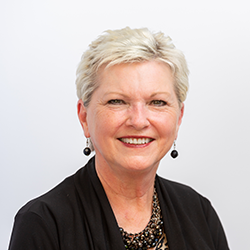 Dr. Cathy Hutchings-Wedel
Professor
Organizational Leadership, Professional Studies
chutchin@snu.edu
Dr. Cathy Hutchings-Wedel
Professor
Organizational Leadership, Professional Studies
chutchin@snu.edu
Education
Ed.D., 1996, Oklahoma State University
M.A., 1980; Bethany Nazarene College
B.A., 1977, Bethany Nazarene College
Biography
Cathy has served at SNU since 1989. Prior to serving at SNU Cathy served as the Staff Development and Training Coordinator at Oklahoma City Clinic, Professor of Communication at Northwest Nazarene University, and a speech teacher at Western Oaks Jr. High.
Alongside guiding SNU graduates to their future careers Cathy is on the Governing Board for Christian Adult Higher Education Association (CAHEA) and a Zig Ziglar Certified Trainer.
Hobbies and Fun Fact: Reading, playing the piano, and spending time as Mimi.