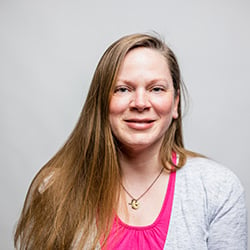 Dr. Gina Weaver-Yount
Associate Professor
English, Division of Cultural and Communication Studies; Honors Program Co-Director
gweaver@snu.edu
Dr. Gina Weaver-Yount
Associate Professor
English, Division of Cultural and Communication Studies; Honors Program Co-Director
gweaver@snu.edu
Education
Ph.D., 2007 Rice University
MA, 2006, Rice University
BA, 2001, Southern Nazarene University
Biography
Dr. Gina Weaver has served SNU since 2006. Gina is passionate about literature but even more passionate about developing future writers, editors, and literature enthusiasts. Gina helps oversee SNU's Honors Program where she helps students from departments across the entire campus reach their dream careers and future goals.
Hobbies and Fun Fact: I'm a serial crafter; over the years, I've achieved proficiency in quilt-making, garment sewing, and most recently knitting. If you see me wearing a sweater or socks, I probably knit them myself.

I have two young boys who keep me very busy, especially during the summer.