SPRING PASTORS FORUM EQUIPS AND INSPIRES
On Monday, March 8th, Dr. Lenny Luchetti, Professor of Proclamation and Christian Ministry at Wesley Seminary of Indiana Wesleyan University, brought a morning of powerful and practical insights and teaching at the Toler Resource Center for Pastoral Leadership's Spring Pastors Forum.  Sharing from personal reflection and lessons learned in times of 'ministry wilderness,' Luchetti brought honest and powerful words of relevance, inspiration and healing to pastors. His message to those who might be in the 'mess of ministry' was to not miss the 'morsels of manna' God was providing as a means of grace. Several pastors who participated shared that it meant a great deal to them that Dr. Luchetti was empathetic and so understanding of their struggles and appreciated his emphasis on prayer.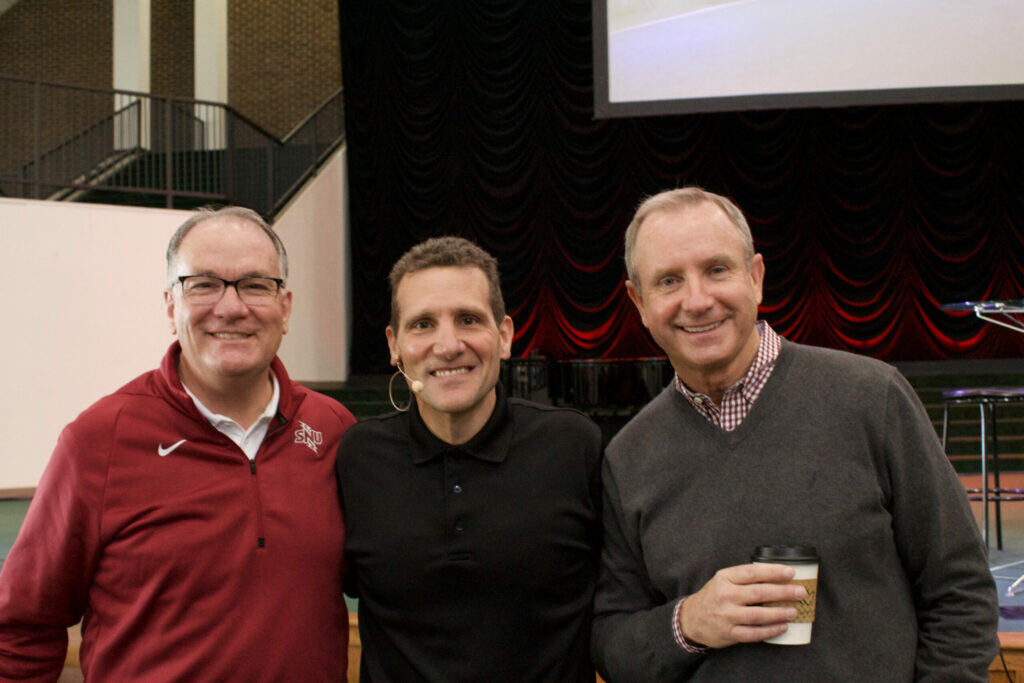 Dr. Luchetti devoted a portion of his presentation to sharing several exercises related to sermon preparation, urging pastors to reflect on how their devotional life and their preaching should intersect to address the needs of their congregation and community. He also shared a number of practices and insights from his books Preaching Essentials and Preaching with Empathy to impact their preaching to the diverse personalities and ages of their listeners. Through several times of sharing and reflection by the many pastors who were present, as well as feedback from the scores of participants in the live stream, it was clear that Dr. Luchetti was able to provide impactful and meaningful resources to inspire pastors to remain faithful and encouraged in their calling.
Dr. Rick Harvey, Executive Director of the Toler Resource Center for Pastoral Leadership at SNU, expressed his gratitude for Dr. Luchetti's presentation. He said, "It's so powerful to hear from someone who shares our lives and experiences as pastors, and his teaching was so rich and so good for my soul; and I know it was enriching for every pastor across the South Central Region, and beyond, who took part."
To learn more about the Toler Resource Center for Pastoral Leadership at SNU, and to watch for upcoming events, visit http://rcpl.snu.edu/.
WINNING DESIGN AT SNU
The Art and Graphic Design program at Southern Nazarene University, led by Department Chair Phyllis Eagle, is a vibrant source of creativity and community impact, as evidenced by the continued success in professional competitions and alumni achievements. With almost two dozen graphic design majors utilizing the 1600 square feet Maker Space, which opened in 2019, students have access to courses in Serigraphy, Digital Imaging and various other design and drawing classes throughout the semesters. With internship opportunities and an emphasis on preparation for successful careers, students are encouraged to interact in professional environments during their studies and put their design skills on display.
One recent competition held by a local company was a 'dumpster design' creative challenge.  SNU students transformed their dumpster into a fun, cheerful world of sea creatures and it's now being enjoyed by the patients and staff at The Children's Center hospital near the university campus in Bethany.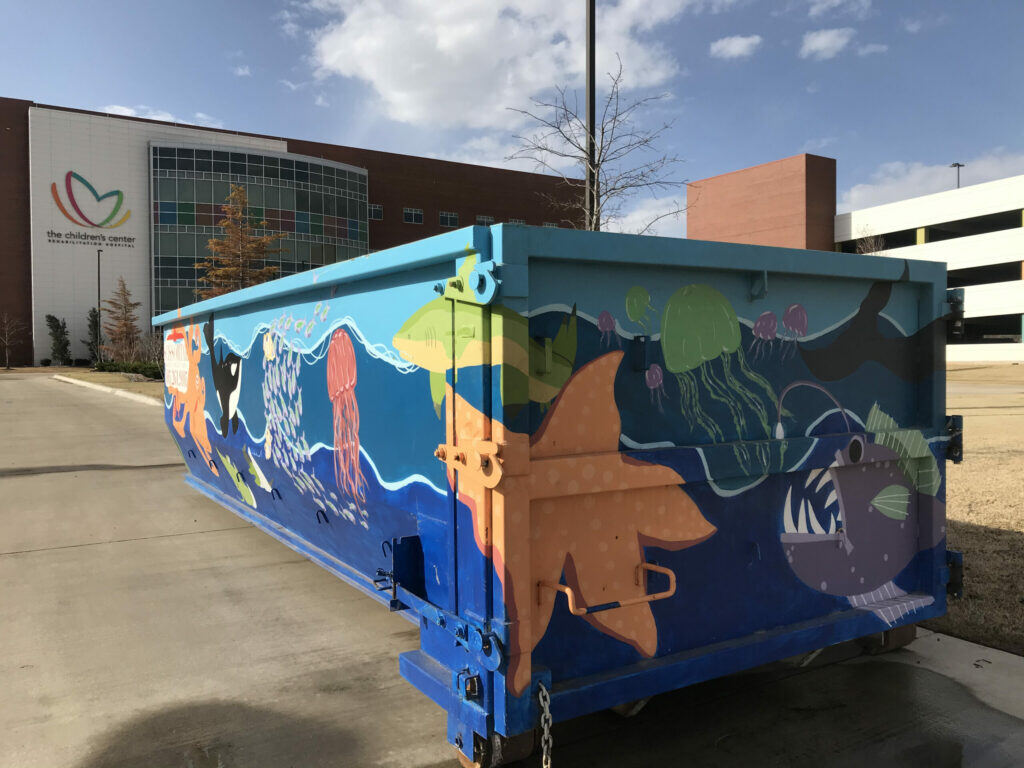 Continuing the winning tradition of the department, a number of SNU student designs received awards at the 10th District of the American Advertising Federation's annual competition. The ADDY Awards are sponsored by the OKC Ad Club, a professional organization made up of a number of metro agencies, many of them nationally known. Four seniors from Southern Nazarene University won five ADDY Awards in the student division, including senior Triston Graves' award for Best of Student Work and a Gold ADDY for his book cover illustration. These outstanding results are by no means out of the ordinary for SNU, as students have consistently won numerous awards for their designs year after year. Professor Eagle's forty years professional experience and active participation in several local and national organizations provides students with exposure to a wide variety of professionals who serve as mentors and adjunct instructors in design, technology and other creative activities. With personal, individual attention throughout the program, students learn how to produce the images and concepts used to promote, sell, educate and inform their world.
To learn more about the Art and Graphic Design program at SNU, click here. To refer a student who matters to you, so they can experience a transformative education in Art and Design at SNU – access the Priority Referral Form here.