Kairos
/ˈkī ' räs/ noun.
a time when conditions are right for the accomplishment of a crucial action : the opportune and decisive moment
Kairos Scholars Award
Southern Nazarene University recognizes academic excellence. First-time, full-time students with qualifying scores are eligible to compete for this full-tuition Kairos Scholars award, a value of $27,000 per year or $108,000 over 4 years.
Kairos Scholars Award Application Requirements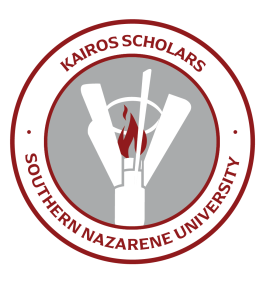 + Application for admission (complete with submitted transcript)
+ Minimum high school GPA of 3.5
+ One of the following:

> ACT minimum score of 30 + – OR –
> SAT minimum score of 1360 +

+ Scholarship application including 2 essay questions
+ Resumé displaying leadership and/or service, high school achievements, and involvement in church, community, and work activities
+ Letter of Recommendation attesting to your academic achievement
Document Submission
All required documents must be submitted by 11:59 pm November 4, 2022, through the Online Application.
Kairos Scholars Interview and Notification of award
Qualifying candidates will participate in an interview at the Kairos Scholars afternoon event on November 11, 2022, by invitation only.  
Scholarship recipients will be notified by December 15, 2022.
Scholarship recipients will be introduced to the faculty and recognized as Kairos Scholars at the beginning of the Fall 2022 semester.
Note
Kairos Scholars candidates should submit a FAFSA by December 1, 2022, in order to minimize any out-of-pocket costs in addition to scholarships received. Please use 003149, SNU school code on the FAFSA.  https://studentaid.gov/
The Kairos Scholars award is limited to 17 hours per semester for eight semesters. This scholarship is not applicable to tuition for December or summer terms.
A minimum GPA requirement will remain in effect to avoid interruption of the award.