Oklahoma Representative Co-sponsors HR 1878
/
/
Oklahoma Representative Co-sponsors HR 1878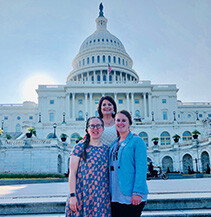 BETHANY, OK – August 9, 2019 – Dr. Slothower and two MAASE students recently attended the CEC's Legislative Summit in DC, representing their OKCEC chapter. The trio met with all of the senators and representatives from Oklahoma during their stay and discussed the issue of special education, advocating for bill HR 1878 – IDEA Full Funding.
Oklahomans need funding for special education, which Dr. Slothower and the students made clear in their meetings. Their hard work was fruitful, and Rep. Kendra Horn signed on as a co-sponsor of HR 1878 shortly after the Summit came to a close.
Rep. Horn is the first Oklahoman to support the bill, but we hope that others will follow her example. We would also like to thank those who represented our OKCEC chapter and congratulate them on their accomplishments.
Back to Blog