SNU Debut Debate Team Takes Third in Naval Academy Tournament; Hough Wins Best Speaker
/
/
SNU Debut Debate Team Takes Third in Naval Academy Tournament; Hough Wins Best Speaker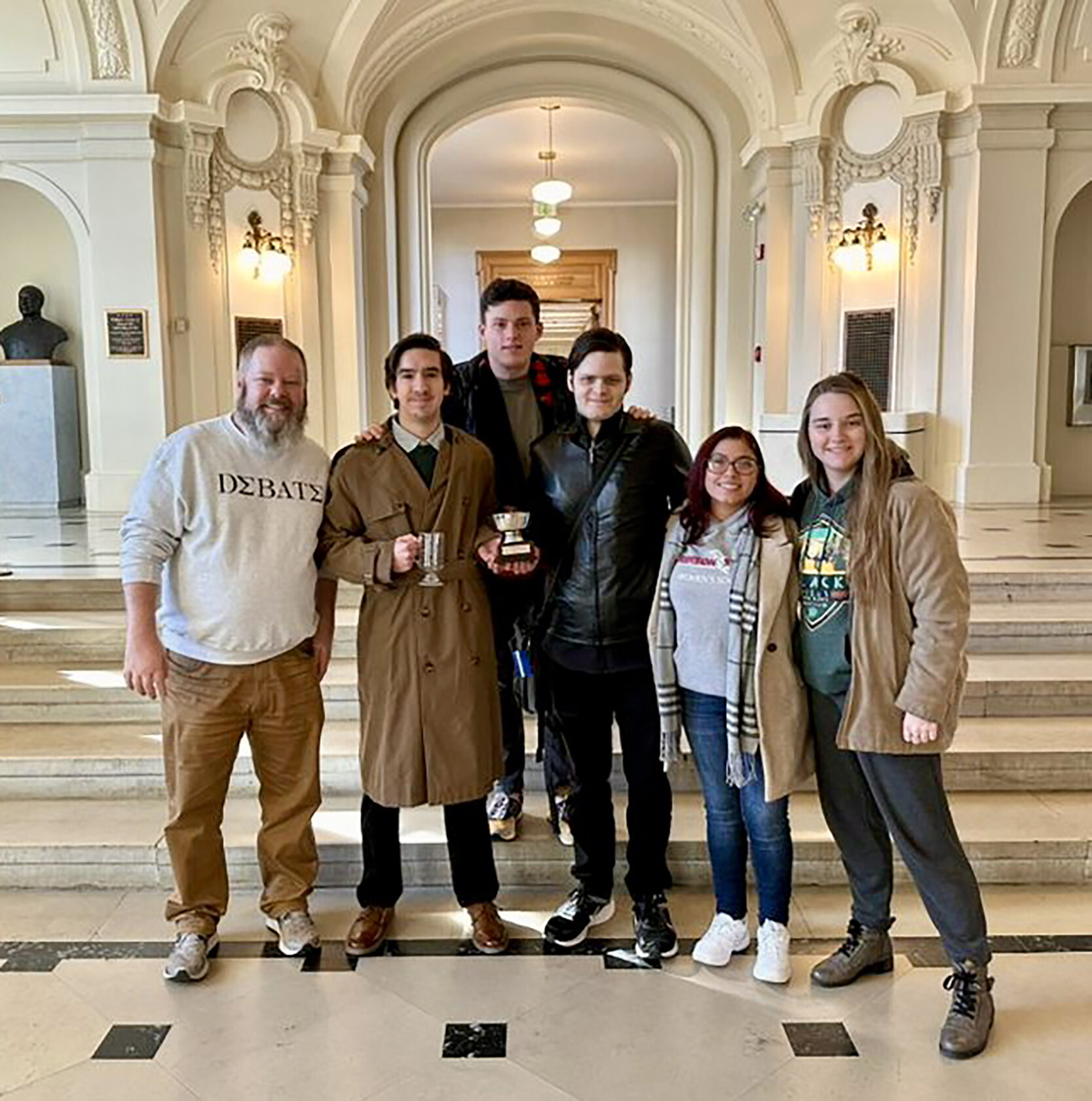 This past weekend, Southern Nazarene University competed in the 64th Annual Crowe Warken Debate at the US Naval Academy in Annapolis, MD, where Ivy League and State debaters assembled from all over the nation.
Director of Debate Dennis Savill leads the team with Dr. Anthony Rodin, professor of Political Science, and assistant coaches Jared DeMunbrun (JV and Varsity) and Olivia Savill (Novices). The SNU competitive policy debate team participating in this past weekend's tournament consisted of JV members Timothy Hough (Sophomore) and Brayden McFerren (Sophomore) and Novices Katherine Baker (Junior), and Maria Vasquez (Sophomore).
This is SNU's first competitive debate team, their fourth tournament in the university's history. Hough has eight years of debate experience with McFerren at two and Baker and Vazquez in their first year.
Hough and McFerren took third place, going 6-3, beating teams including the Naval Academy, Indiana, Penn State, and James Madison. Baker and Vasquez won three rounds in their Novice rounds, beating teams from Liberty, Missouri State, and Indiana. Hough also won First Place as Best Speaker, taking home a coveted trophy to cement his place in this prestigious tournament. 
"It is a privilege to compete at this national level and showcase these outstanding SNU students and their intellectual rigor, all the while having a fun squad," Savill said.
So how did a debate team appear on SNU's radar after all these years? Timothy Hough, a long-time debater, took the initiative the summer before his SNU freshmen year to create a place on campus where debate could thrive. He connected his high school debate coach, Dennis Savill, to SNU's Dr. Rodin, and with full support from the administration, the rest is history in the making.
Congratulations to Coach Savill and the SNU Team on a remarkable start in the world of collegiate debate.
If you're interested in becoming a part of this growing team or want more information about the SNU Debate team, contact Dennis Savill at dsavill@mail.snu.edu or Dr. Anthony Rodin at arodin@snu.edu.
Back to Blog