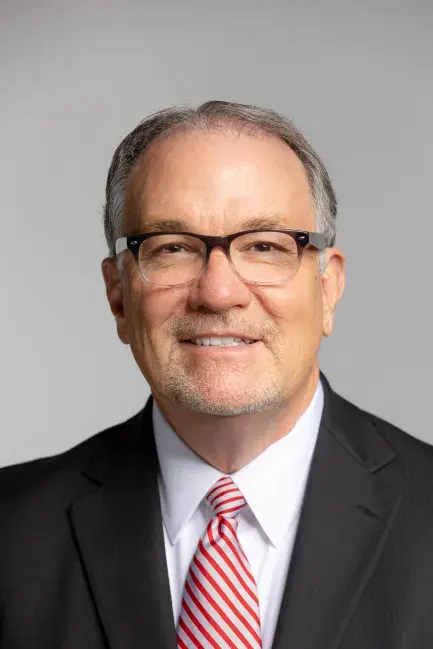 Dr. Keith Newman was elected as the fifteenth President of Southern Nazarene University in March 2017. Before his election he served Indiana Wesleyan University as Chancellor, IWU-Marion providing leadership and oversight to the Marion, Indiana residential campus. Keith joined the IWU administrative team in June 2009 as Vice President for University Relations.
Keith previously served for seven years as the Vice President for University Relations at Mount Vernon Nazarene University in Mount Vernon, Ohio, and for seventeen years in pastoral ministry, including senior pastorates in Van Buren, Arkansas, Houston, Texas and San Diego, California.
Before entering the ministry, Keith served nine years with the Houston Police Department. During his law enforcement career, he was an Officer in the Radio Patrol and Juvenile Divisions and a Sergeant in the Homicide Division.
Dr. Newman graduated from Houston Baptist University with a Bachelor of Arts degree, double majoring in History and Christianity, and earned a Masters of Ministry from Southern Nazarene University. His Doctorate of Education is from Spalding University with a concentration in Leadership. Dr. Newman's dissertation was an identification and examination of the leadership qualities and characteristics of Dr. J.B. Chapman, an evangelist, pastor, college president, denominational magazine editor and General Superintendent in the Church of the Nazarene. Dr. Chapman was President of Arkansas Holiness College and Peniel University, contributing institutions to what is now Southern Nazarene University.
Keith met his wife, Carolyn at the Houston Police Department where she was also a Sergeant assigned to the Homicide Division. After Carolyn typed a school paper for Keith when he got tied up on a case, his invitation to dinner began their courtship. Their second date was to a middle school youth group event where Keith was serving as a volunteer youth pastor. Married for 39 years, they have two children: Andy and Alana. Andy is an environmental biologist, and makes his home in Houston, Texas with his daughters, Avery & Baylin; they call Keith, "Pop" which has become his favorite title. Alana is a college coach for The Princeton Review in Austin, Texas. Alana is a 2014 graduate of Southern Nazarene University.
Keith loves to read stories, hear stories, and tell stories, and he believes God is in the middle of all our stories. Spending time with students is at the top of his list of favorite moments each week.
BRIEF BIO — Dr. J. Keith Newman was elected as the fifteenth president in the 120-year history of Southern Nazarene University. His tenure as president began August 1, 2017. With 17 years of pastoral ministry in the Church of the Nazarene and 15 years of service as a senior administrator in Christian higher education, Dr. Newman counts it a great privilege to join a Christ-centered community preparing God-called, purpose-driven, passionate servant leaders who make the world better.