Air Force Veteran Pursues his Passions with Two Degrees from SNU
/
/
Air Force Veteran Pursues his Passions with Two Degrees from SNU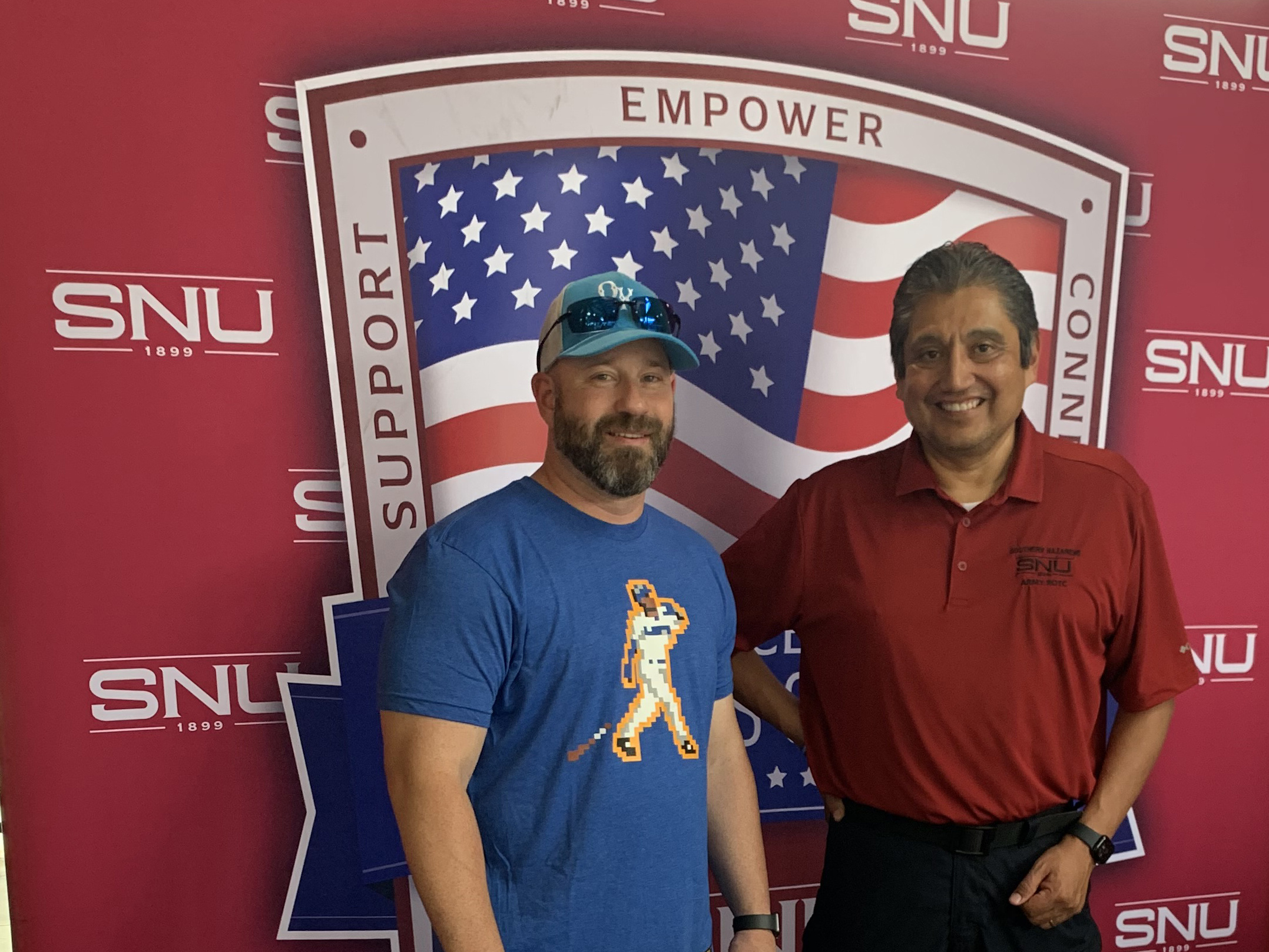 "School doesn't seem like work when you really like what you're studying."
After William Mitchell finished his bachelor's degree in Organizational Leadership with SNU, he decided to keep going. That's why he enrolled in the Master of Arts in Sports Management and Administration program.
"I chose this master's program based on my true love of sports. So far I love the program," William said.
Earning a master's in Sport Management and Administration opens up a world of opportunity—and it's not just coaching jobs. Whether students want to work as an administrator, program director, or even in events and marketing, they'll be ready. SNU's coursework provides a firm understanding of social issues, communications, management, law and more as they apply to athletics.
Like many SNU students, William went back to school after serving in the military.
"I served 21 years in the Air Force as a medical technician and a recruiter. I currently work for a veteran nonprofit here in OKC called Warriors for Freedom Foundation," William said.
"William serves as Veteran & Donor Services Coordinator," said Mark Nadig, VETS Center Director at SNU. "He's a good guy. He participated in our SNU Lunch & Learn last month where he represented the foundation. This foundation offers a variety of programs to veterans and current military service members to help them find comfort and connection through a number of events. They also provide a peer-to-peer support system to help members find purpose and camaraderie at their events."
Mark continued, "They are a great non-profit for the veteran/military community. They work in tandem with another great non-profit veteran organization in Oklahoma, Eagle Ops. These are two heavy hitters for Oklahoma veterans in getting plugged into events designed to help them find connection and a sense of belonging."
SNU provides a community in which veterans can thrive—from benefits and financial aid guidance, military student organizations, career services, mentoring and more. In addition to flexible degree programs that support the busy lives of veterans, the University's award-winning VETS Center has been serving students since its founding in 2015. It is just one of 13 in the nation recognized by the Centers of Excellence for Veteran Student Success. Its mission is to help veterans transition to campus life, connect them with community support and provide career counseling. SNU accepts ACE credit for military training and experience, and all of SNU's adult education programs are eligible to use with VA Educational Benefits.
"I wanted to open up better job opportunities after retiring from the Air Force," William said.
That's when he decided to first enroll in SNU's Bachelor of Arts in Organizational Leadership program. Since 1985, the program has been graduating adult students who are proficient in professional communication, problem-solving, strategic thinking, team building, business decision-making, and project management. In addition to one-night-a-week classes in Del City, students also have the option to attend entirely online. Both modalities accommodate adults who are working full-time, raising a family, and engaging in their community.
"SNU offers great programs that work well with adults and their crazy schedules… great, patient instructors that really care about the students and their success. Definitely helped. So many jobs required a degree for consideration," William said.
Back to Blog