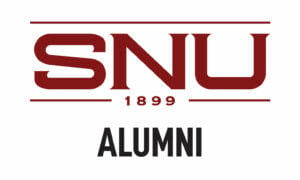 The Board of Directors of the SNU Alumni Association is the legislative body of the Association and the primary organizational vehicle through which volunteer service and activities are planned on behalf of the Association. The Board serves the alumni constituency and the University through the Office of Alumni Relations in planning activities, granting awards, conducting elections and guiding other operations of the Association in order to fulfill the Association's purpose.
Alumni Awards
The SNU Alumni Association delights in recognizing alumni with appropriate awards from their alma mater.
To be considered for an award, a nominee must be an outstanding person of high moral character with exemplary ethics who has played a major role in the success of family, business, community, church or education. Nominations may be made by alumni, faculty and friends of SNU. Nominees will be submitted to the Alumni Board of Directors for final approval.
The SNU Alumni Association has the following awards:
HERITAGE AWARD: The highest award bestowed by the Alumni Association and based on evidence of personal dedication, service, reflection of Christian ideals, and contributions to the SNU community, this award is presented at Homecoming. Potential nominees do not need to be members of the Alumni Association and may include persons in instructional and ministerial vocations. The award may not be repeated and is reserved for persons with a minimum accrued service of 25 years.
UNIVERSITY AWARD: To be considered, a recipient must be a graduate of SNU or one of her merging institutions; a graduate of at least 10 years, and never previously a recipient of the University Award (formerly "B" award). The University Awards were previously presented at the Spring Alumni Banquet in May.
OUTSTANDING ALUMNI AWARD: A recipient must be a BPC/BNC/SNU graduate or former student, and a person who has had a significant impact on his or her profession, community or church. Recommendations may be made on the basis of recent distinguished service or that rendered over a period of time. Nominees may be repeat recipients. This award is presented at Homecoming.
DISTINGUISHED DISTRICT ALUMNI AWARD: A recipient must be a BPC/BNC/SNU graduate or former student, and a person who has had significant involvement with the Alumni Association's mission of support to the University. In addition, nominations may be made on the basis of distinguished service to the nominee's local church and district. Awards are presented annually at the South Central Region District Assemblies.
Alumni Board Nominations
Thank you for your interest in nominating an individual or yourself to serve on the SNU Alumni Board.
Nominations for the 2022-23 Alumni Board are due by June 1, 2022. Please direct all questions regarding nominations to Todd Brant, Executive Director of Alumni Relations, at tbrant@snu.edu or 405-491-6312.
Click here to download a printable PDF version of this form that can be mailed to:
SNU ALUMNI ASSOCIATION
Attn: Todd Brant
6729 NW 39th Expressway
Bethany, OK 73008
ALUMNI BOARD NOMINATIONS
Nominee Information (don't worry about filling in every space … simply provide as much information as you can)