Answering God's Call to Exercise Science
/
/
Answering God's Call to Exercise Science
Erin Wright was happily a Physical Education teacher at Bethany and was contented raising her daughters. Life changed, however, when God began tugging her heart in a new, unexpected direction.
"I started doing afternoon fitness classes with my teachers and found that it was really beneficial," Wright said. "We enjoyed the fellowship and time together just as much as the fitness."
So, when her women's ministry leader at church asked the class if anyone had topics they wanted to present on, Wright felt God telling her to talk with the women in the group about health.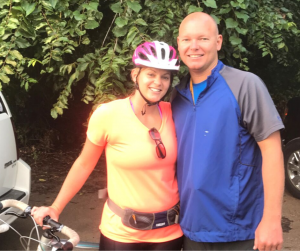 Wright explained that fitness and exercise had always been something she enjoyed, but after having children, she found it harder and harder to make time for herself and physical activity. Other women expressed the same challenges, and shared their appreciation for Wright's words of encouragement.
Still, she didn't feel a master's degree was in the plans until her husband came home from a Sport Management and Administration class and told her SNU was offering a new program—one in Exercise Science.
"God opened those doors and put a desire in my heart I thought I would never have," Wright said. Now, in the beginning stages of her degree program, she said, "I'm really encouraged this is where I'm supposed to be."
In addition to the relational, discussion-based delivery method provided at SNU, she said, "I'm most excited about the material and getting to take in more in depth about what I enjoy. I'm the type of person that I want to have 100% confidence in my knowledge and what I share with others."
In the future, Wright plans to use the knowledge gained during her studies to serve other women on their health journeys. "I want to help them prevent some common diseases in our society, like diabetes, and help them feel good where they're at."
We are excited to join her on her path to serving others and can't wait to see where her faith and education lead her.
Back to Blog