BNC/SNU Alumni Players Association – Senior Send off
/
/
BNC/SNU Alumni Players Association – Senior Send off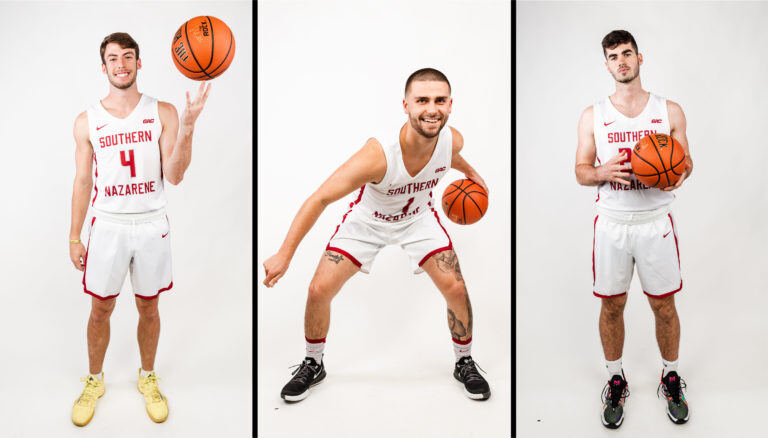 As this year's class of student-athletes prepare for graduation, they begin to look at what life might be like beyond the court. For three men's basketball players, this process might be a little easier, thanks to the help from the BNC/SNU Alumni Players Association (APA.)
Karsten Berg, Jackson Rothwell, and Matt Treacy were welcomed into the brotherhood of the Alumni Players Association at the 14th Annual Senior Send-Off Banquet. The event took place on April 9th at the Sawyer Center, with 135 people in attendance to celebrate these three gentlemen.
Jeff Jantz '74, founding member and President of the association, understands that deep relationships are formed between the players and that moving away from that team environment comes with its own set of challenges.
"The transition out of the team concept in which those deep bonds have been established can be rather difficult and sometimes downright scary," Jantz explained. "Our purpose with this banquet is to welcome them into the brotherhood of alumni players and assure them that we are available to aid in the transition."
The association began unofficially in 2009 when a small group of former players gathered to find ways to support SNU basketball. The concept of athletics in a Christian atmosphere combined with a high moral code of personal conduct and championship basketball is what sparked the interest in forming an official support group. The association was later incorporated as a non-profit organization in July 2018.
Each year, at the Senior Send-Off Banquet, one member is awarded the David Baker Alumni Legacy Award for outstanding service to their community. This year, the recipient of the award was Coach Jerry Finkbeiner. Finkbeiner played basketball at SNU, then Bethany Nazarene College, from 1975 to 1980 and returned later as the women's head coach from 1990 to 1996.
The Association has also helped raise money for a number of different projects, most notably contributing toward the complete remodeling of the men's state-of-the-art locker room and purchasing conference championship rings.
The APA aims to engage in mentoring current student-athletes, connecting and uniting former players and participants, and embracing and encouraging the traditions of Southern Nazarene University basketball excellence. Jantz believes that the strength of the bond among former players from different eras unites them to support a continual struggle for regional and national intercollegiate recognition.
"I feel extremely gratified to experience the deep bond with all the former players from the different eras," Jantz described. "God has given us a very fertile mission field with the young men that come through our men's basketball program year after year."
Back to Blog