Bringing Home the Addys
/
/
Bringing Home the Addys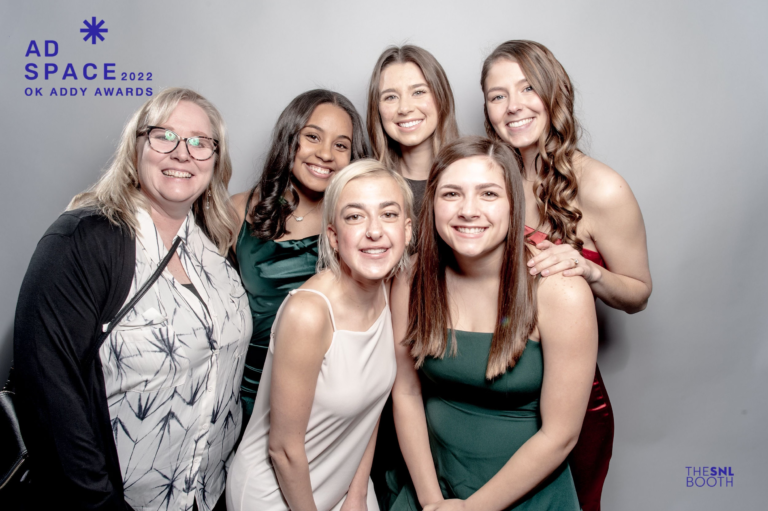 In February, a group of excellent graphic design majors from SNU participated in the American Advertising Awards of Oklahoma (Addy Awards). The five students entered a total of 27 entries and 9 of the entries won. The formal event was held at the Criterion theater in downtown Oklahoma City with an attendance of more than 250 people. Professor Phyllis Eagle, Graphic Design department chair, has encouraged her students to enter the competition for the past six years. Each year SNU has won, and this year's entries earned a record number of awards.
The seniors and their entries:
Breyanna Brice: Gold Addy, Magic Root, Identity Branding Campaign, and Bronze Addy, ADAA, Outdoor Media, Billboard
Karsyn Matthews: Bronze Addy, Vintage Tots, Logo Design
Mariah Slothower: Gold Addy, Photo Campaign, Photography is Art Gold Addy, Photo, Color, Brown Eyed Beauty Silver Addy, Photo, B&W, It Stops With Me!
The juniors and their entries:
Maitland Pickle: Silver Addy, Ant Hill Social, Identity Branding Campaign Bronze Addy, Ant Hill Social, Logo Design
Abigail Tardibono: Gold Addy, Beads of Good, Poster Campaign
Gold Addy for Best of University, Beads of Good, Poster Campaign
Congratulations to these students who did such an outstanding job and thank you to Professor Eagle for challenging her students and giving them the tools and courage to enter. SNU is better because of Prof. Eagle!
Photo details:
Photo by: Todd Scott Photography/THE SNL BOOTH
Pictured: back row, Prof Phyllis Eagle, SNU Graphic Design Chair, and the 2022 SNU student OKC Addy Award winners, Breyanna Brice, Karsyn Matthews, and Mariah Slothower. Front row: Abigail Tardibono and Maitland Pickle.
Back to Blog