Cybersecurity: One Mom's Empowering Journey
/
/
Cybersecurity: One Mom's Empowering Journey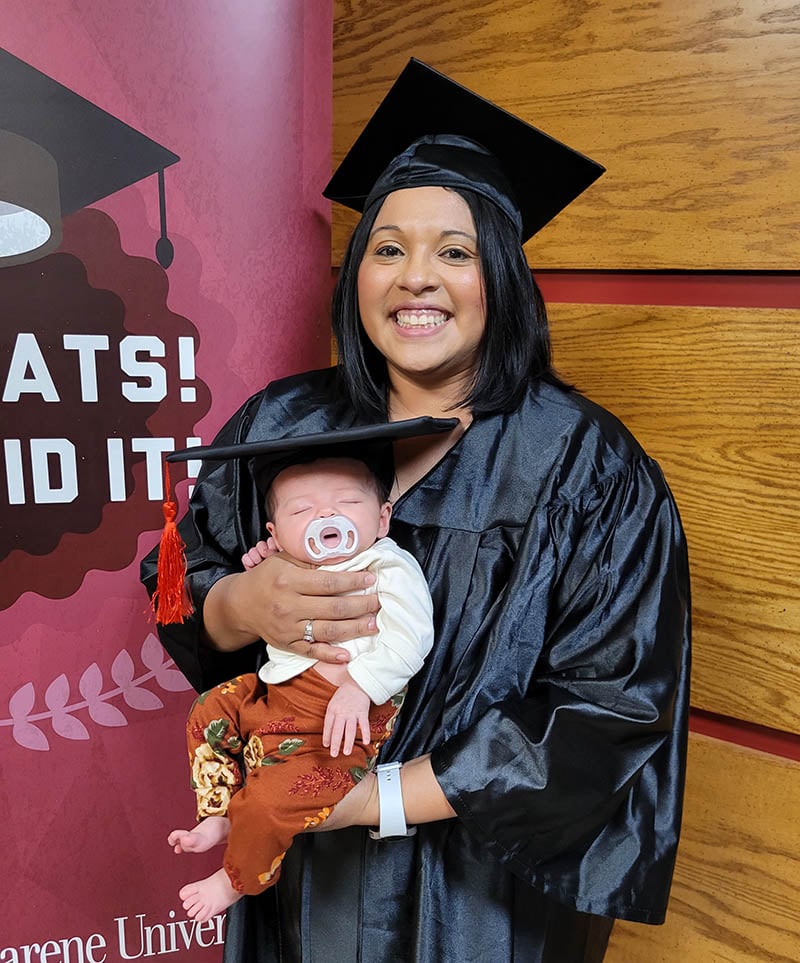 Meet Jessica Whisenhunt, a dynamic individual who has inspired many through her academic journey at Southern Nazarene University, especially as she delivered her first child during the last seven weeks of her program. Not only did Jessica continue her program to completion, but she also brought her bundle of joy with her to her graduation this past May! Graduating with a Bachelor's degree in Cybersecurity, Jessica's story is a testament to her determination, adaptability, and pursuit of knowledge.
Jessica's roots trace back to San Antonio, Texas, but for the past 23 years, she has proudly called Oklahoma her home. After graduating from Westmoore High School and Moore Norman Technology Center in 2006, Jessica became the first in her family to achieve a bachelor's degree, a remarkable accomplishment she achieved not once, but twice – in Business Administration in 2021 and Cybersecurity in 2023.
Jessica shares, " This year has been a joyous one as I not only graduated with my second degree, I also had my daughter in April. I have been truly blessed."
Jessica's success and determination serve as an inspiration not only to her family but to all those who dream of attaining a degree.
Jessica's career journey has not always been focused on Cybersecurity. She began in healthcare as a pharmacy technician and later transitioned to a clinic specializing in sleep studies and low testosterone management. Her career path shifted again in 2020 when she worked for a temporary housing company. After realizing that the workforce is rapidly changing and moving towards more digital platforms and cybersecurity, Jessica decided to pursue a degree in this field.
"I realized the workforce was changing and becoming more digital. Going after Cybersecurity was a way to secure my future." Jessica expressed.
With clear motivation to stay ahead in a world that is becoming increasingly reliant on technology, Jessica's adaptability and willingness to embrace change reflect her forward-thinking approach to life.
Jessica's decision to enroll at Southern Nazarene University was influenced by the flexibility of online classes offered. As a dedicated wife and mother, she needed a program that allowed her to effectively balance her family commitments, employment, and education. Jessica expressed her gratitude for the dedication and commitment of her professors, who played a pivotal role in her success. Their support, encouragement, and understanding created an accepting and supportive environment for learning. Reflecting on her experience at SNU, Jessica said, " The dedication and commitment my professors provided to help me succeed in this program was truly remarkable. They are helpful, encouraging, and understanding." 
Cybersecurity Program Director Jeff Slattery, DBA, MBA, shared, "Jessica faced several highly stressful life changes while pursuing her Cybersecurity degree but persevered with courage and dedication and was faithful in her endeavors.  She successfully completed her degrees, and we here at SNU are very proud of her accomplishments."
Earning her cybersecurity degree has opened new doors and opportunities for Jessica. In a world where cybersecurity professionals are in high demand, she is well-prepared to make a meaningful impact in this vital field.
The Bachelor's degree in Cybersecurity at Southern Nazarene University offers a glimpse into the future of technology and security. With expert instructors and a flexible online format, students like Jessica can build their knowledge base while managing their busy lives.
Jessica Whisenhunt's journey serves as a reminder that with determination, adaptability, and a commitment to learning, one can overcome challenges and achieve their dreams. Her story inspires all who strive for success in an ever-evolving digital world.
Congratulations, Jessica, on your outstanding achievements!
Back to Blog