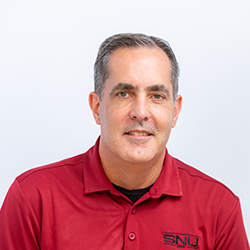 Dr. Jim Fitzgerald
Associate Professor
Theology and Ministry, School of Theology and Ministry
jfitzgerald@snu.edu
Dr. Jim Fitzgerald
Associate Professor
Theology and Ministry, School of Theology and Ministry
jfitzgerald@snu.edu
Education
Ph.D, 1999, Vanderbilt University
M.Div., 1989, Nazarene Theological Seminary
B.A., 1985, Olivet Nazarene University
Biography
Jim has served at SNU since 2017. Jim current serves as chair for the School of Theology and Ministry and Associate Professor.
Prior to his service at SNU, Jim has 29 years of experience in pastoral ministry in Missouri, Tennessee, Oklahoma, and Texas, taught as an adjunct at Trevecca Nazarene University, Southern Nazarene University, Northwest Nazarene University, and Nazarene Theological Seminary.
Hobbies or Fun Fact: I love jazz, biking, reading, and chocolate.