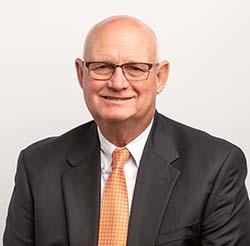 Dr. Kent Shellenberger
Assistant Professor
Education and Leadership, Graduate Studies
kshellen1@snu.edu
Dr. Kent Shellenberger
Assistant Professor
Education and Leadership, Graduate Studies
kshellen1@snu.edu
Education
1975, BA, Southern Nazarene University
1978, MS, Southern Nazarene University
1984, Adm. Certification, University of Central Oklahoma
1999, Ed.D, Oklahoma State University
Biography
Kent Shellenberger, Ed.D, Oklahoma State University, is a career educator with 45 years of professional experiences in common and higher education. He currently serves as an instructor in the traditional and graduate SNU programs.
His career path includes:
– Classroom teacher
– Principal
– Superintendent of schools
– University instructor

Dr. Shellenberger's professional involvement includes: active state involvement as the elected member of the American Association of School Administrators' governing board and Oklahoma Federal Relations Representative; member of the State Superintendent Advisory Council; Legislative Liaison for United Suburban Schools Association; Cooperative Council of School Administrators (CCOSA) Innovative Leadership Academy and a governor appointed board member of the Oklahoma Educational Quality and Accountability Commission (OEQA) and the Specials Needs' Task Force Legislative Committee. Dr. Shellenberger's dissertation was "PRINCIPALS' AND TEACHERS' PERCEPTIONS OF LEADER SUCCESSION IN SELECTED PUBLIC SCHOOLS." He has been involved with course development and instructional experiences at both the traditional and graduate level. He has been a presenter at the First Year Superintendent's Academy and breakout facilitator of OSSBA/CCOSA annual convention. He also authored quarterly articles for Better Schools while president of CCOSA, OASA and Federal Relations Representative. Dr. Shellenberger was recognized as Oklahoma State Superintendent of the Year and is a member of the Oklahoma Educator's Hall of Fame.

Hobbies and Fun Fact: Summer vacationing in Colorado, spending time with family, golfing, and yard work-gardening.