FOUR SNU GRADUATES RECOGNIZED AS 2022 "SUPER STAR" TEACHERS IN THE PUTNAM CITY SCHOOL DISTRICT
/
/
FOUR SNU GRADUATES RECOGNIZED AS 2022 "SUPER STAR" TEACHERS IN THE PUTNAM CITY SCHOOL DISTRICT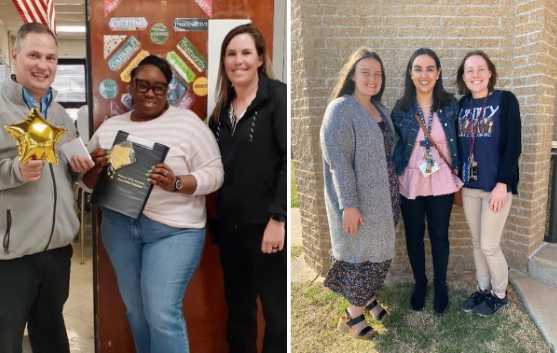 Southern Nazarene University and the SNU School of Education wish to congratulate the following SNU graduates for their recent honor of being recognized as "Super Star Teacher" in the Putnam City District at their respective schools:
Natilee Benefield, teacher at Overholser Elementary
Bethany Cherryholmes, teacher at Ralph Downs Elementary
Blair Jones, teacher at Tulakes Elementary
Niya Smith, teacher at Western Oaks Middle School
The Putnam City "Super Star" Teacher Award is presented each year to a first or second-year teacher that goes above and beyond to help their students succeed. These teachers were recognized in a special ceremony at the Putnam City Board of Education meeting on April 18, 2022.
According to Dr. Tim Taylor, Chair of the SNU School of Education, "Each of these four outstanding teachers exemplifies the unique qualities that truly define a teacher of excellence. Teachers that go 'above and beyond' are those educators who realize that every student in their classroom CAN learn, and they are willing to go the extra mile in assuring that each student succeeds. Despite unexpected challenges and interruptions associated with Covid-19 these past two years, these four teachers have successfully adjusted and have overcome obstacles no teacher could have ever predicted. Southern Nazarene University and the SNU School of Education are proud of these individuals who represent the very best in their dedication to the profession and art of teaching. "
SNU is also proud of the fact that 4 graduates of SNU were designated as 2022 "Super Star" Teachers from four different schools in the Putnam City District!
Congratulations to these outstanding educators!
Back to Blog