Snowbarger Hall is SNU's only all-male Residence Hall (freshmen – senior) located near the Webster Commons building. Snowbarger has a rich tradition and houses a majority of the freshmen men as well as approximately 60 upperclassmen. Snowbarger Hall features exciting programming, custom planned for each year's residents. Some examples of popular events include laser tag, disc golf tournaments, video game tournaments, gladiator games, and individual events for each hallway in the building.
The common theme of Snowbarger centers on the close knit community that is developed while living in a traditional style residence hall. On any given night resident's doors will be open throughout the building welcoming all to come in and hang out. These are times when close friendships are formed, life-long bonds are created and memories made.
Like all residence halls, Snowbarger has a wonderful Residence Life staff. The staff includes eight young men who are selected as Resident Advisors. The RA's do a great job providing comfortable living conditions, building relationships among residents and providing spiritual guidance. Overall, Snowbarger Hall provides a fantastic and memorable living experience for all residents.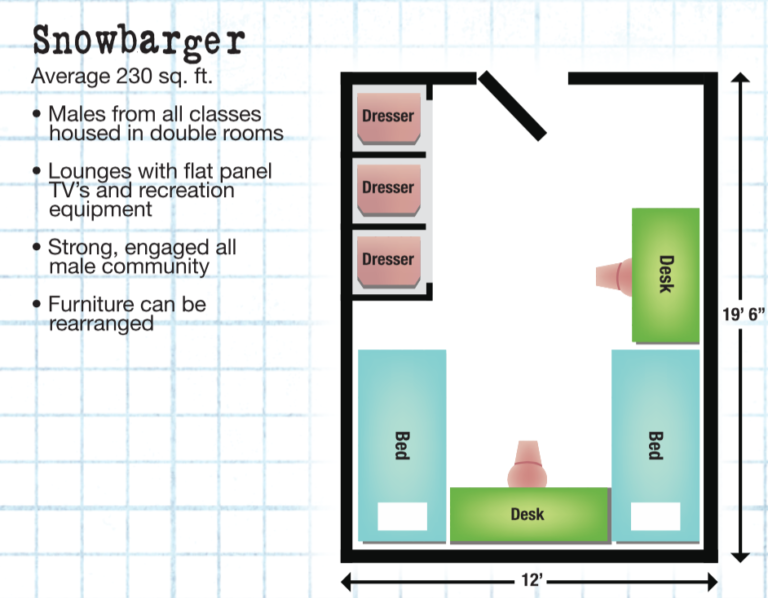 Decorating Guidelines
Your room has been cleaned and is presented to you in a standard condition. To be properly cleared at the time you vacate the room, it must be vacated in the same standard condition in which you have found it. Please observe the following requirements:
University owned furnishings may not be removed from the room.
Carpet
no adhesive of any kind (tape, cement, tack strips, etc.)
Decorations
contact paper, wallpaper, or cork is prohibited
holes are not to be made anywhere
nothing should be permanently anchored
adhesives that leave residue or cause damage are prohibited.
Windows
energy efficient windows & panels have been installed. Panel surfaces are to remain free of any covering including posters, fabric, décor, etc.
mini blinds are not to be removed
curtains may not be attached
Adaptations
constructed material may not be used to decorate unless such material can be freestanding & not anchored in any way
painting is prohibited
changes or adaptations of electrical outlets or lighting fixtures are prohibited
power strips with a circuit breaker are permitted — extension cords are prohibited
exterior antennas are prohibited
adaptation of phone, cable television, or internet outlets is prohibited
Appliances
refrigerators (2 cubic feet in size) are permitted
upright refrigerators, freezers, hot plates, electronic & microwave ovens, toaster ovens, crock pots, & major appliances are prohibited (by restriction of Bethany Fire Department, City code)
Television & Gaming – Connecting your Devices
Computers are permitted
Instruments
electronic pianos, horns, drums, etc. may not be played in the residence hall
Candles
possession of candles, incense, matches, lighters etc. is prohibited (by restriction of Bethany Fire Department, City code)
Heating Units of any kind are prohibited (by restriction of Bethany Fire Department, City code)
Mattress Covers are required
All rooms are subject to periodic inspections by University personnel. Students are expected to keep their rooms orderly & reasonably clean. Rooms vacated in a non-standard condition will be charged against your room deposit per occupant, plus the cost of returning the room to standard condition.