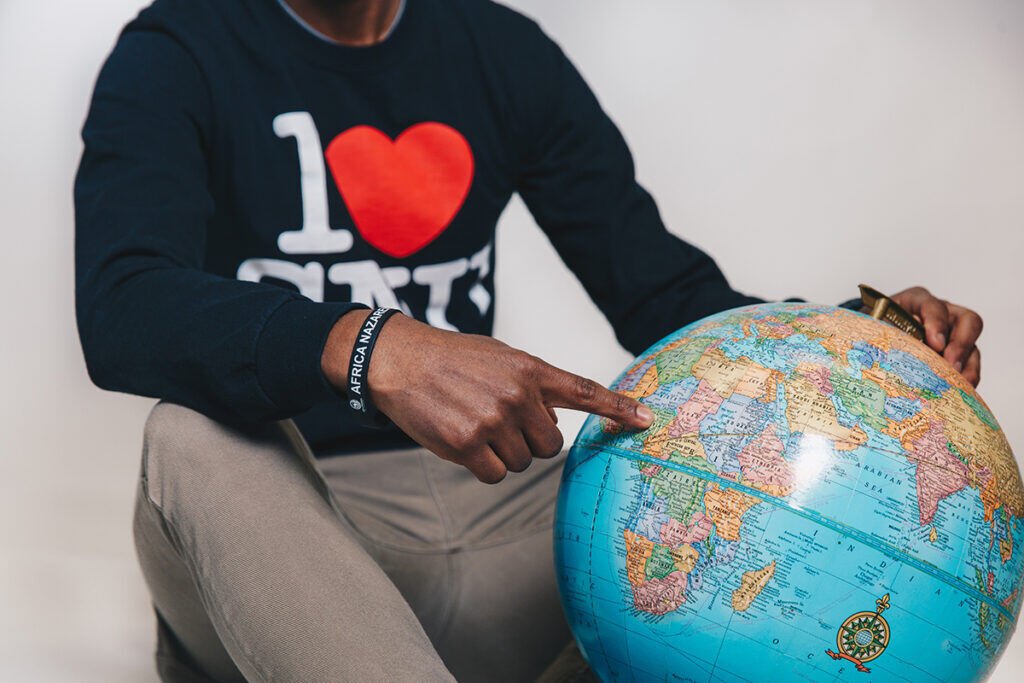 Mission, Vision, Values
Mission
Our mission is to engage SNU students and faculty in other cultures by identifying, applying, and participating in global academic programs that will better prepare and equip Christlike disciples (Christians) for service in a rapidly intersecting world.
Vision
We will work alongside every department to incorporate experiential learning in their curriculum by living and studying in a different culture expands one's worldview in a way unique to any other. Because learning by experience not only helps us learn about others but about ourselves.
Values
We will provide cost effective opportunities for every student to engage in a global environment.
We will do everything in our power for SNU students to make these opportunities financially accessible. 
We will lead the example of what intercultural learning experiences can accomplish.
We will be good stewards of people's time and money. What we ask may not always be meet with open arms or an open mind. But by the end of the experience through our leadership both will be opened to new possibilities. 
We will recognize our Western perspective in order to fully engage in every moment/intersection.
We see the world based on our perspective which can lead us to feel an array of emotions to the cultural aspects of others that we don't understand. We can not change our perspective but we can open our eyes to see culture differently by allowing our hearts and minds to be shaped by the perspective of others. We will be respectful, we will be humbled, and we will be better because of the opportunity to learn from someone different than ourselves. And at the core we will learn that we are all human, and loved by God.
Why Study Abroad?
"Why study off-campus?" Students studying abroad respond to this question in a variety of ways. Here are some of the major reasons they offer for spending part of your college career exploring another culture:
Off-Campus Study will…
Broaden and deepen your understanding of the world by experiencing another culture firsthand.
Give you new insights and perspectives for both appreciating and critiquing your own culture.
Enhance your overall communication skills—especially in cross-cultural situations—which enhances your opportunities for future employment.
Help you to see how God is at work throughout the world and through varied and different people and cultures.
Give you a greater global perspective on the governments, politics, and economies of the world—and how interconnected the world really is. Your worldview will be forever enlarged and enriched.
Expand your compassion for people in need around the world, and help you discover new opportunities for service throughout your lifetime.
Give you the opportunity to learn a new language in a country where that language is spoken and used.
Offer the opportunity for developing friendships with new people in new and different places.
Help you develop a better understanding of yourself and your place in the world.
Provide a fun and memorable experience that will influence your entire life. You can see the world and earn college credit at the same time. Go for it!
Programs
Quetzal Education Research Center

Location: San Gerardo de Dota, Costa Rica
Program Length: Spring Semester

Southern Nazarene University-Costa Rica The Quetzal Education Research Center (QERC) is SNU's research facility in the heart of the tropical Talamanca Mountains of Costa Rica. At QERC, semester long and shorter term learning experiences provide students with opportunities to study biology, ecology, environmental sustainability, Spanish, Central American history and culture, and creation care.  Students who attend the QERC spring program will enjoy time spent hiking on the over 20 miles of trails, exploring the nearly 1,000 acres of preserve, conducting research under the mentorship of a faculty mentor, participating in community life with local residents, as well as traveling throughout the country to Costa Rica's national parks, world class ecological research centers, and typically one additional Central American country (Panama or Nicaragua depending on conditions).

QERC's approach to developing culturally responsive leaders includes providing activities that integrate local farmers with research scientists, educators, and students from around the world in the effort to merge good conservation practice and economic viability in the local community. Through this relationship, students, scholars, and the citizens of San Gerardo de Dota gain opportunities to develop transformational discernment as they work through the practical implications of the broad ideal of ecological sustainability.

To facilitate learning at QERC, SNU offers an undergraduate, 16-credit hour Tropical Studies program at the QERC during the spring semester open any undergraduate student that has been accepted to any institution of higher learning that offers bachelor's degrees. Facilities at the field station include a laboratory facility equipped to conduct various types of biological and ecological research and a separate facility providing housing, dining, recreational, and classroom spaces.

Download QERC Program Brochure
FAQs
What are the benefits of studying off-campus?

Studying off-campus transforms your coursework throughout college into material that matters to your life. Students who have been in off-campus programs cite personal and academic growth, as well as increased career opportunities after graduation.

What majors can go?

Any major can study off-campus for a semester, but it is more difficult for some majors. If you are in a course of study that requires a specific, sequential requirements, like education or nursing, talk to your advisor as early as possible. See also Will studying off-campus for a semester delay my graduation?.

Will studying off-campus for a semester delay my graduation?

Probably not. If you plan with your advisor early, you should be able to graduate on time. However, majors that are more dependent on outside certifications, such as education and nursing, might require an extra semester. If you plan to study abroad, it is best to talk to your advisor early in the process in order to plan a schedule for future coursework that will accommodate the semester you plan to be off-campus. See also Do you have any summer programs?

When should I go?

We usually recommend studying abroad in your junior year or the first semester of your senior year.

Why are most of your programs one semester long?

Students who have studied abroad testify that the effectiveness and worth of off-campus study programs, particularly international programs, increase exponentially with the length of the program. Because of this, we encourage students to participate in programs that are at least one semester long. However, because some students cannot miss an entire semester due to their majors, we offer a few summer options and are working to make more short-term programs available to students. See Do you have any summer programs?

Does SNU administer all of the off-campus study programs?

The only program that SNU actually operates is the Quetzal Education Research Center in Costa Rica. Other universities, groups of universities, or other entities run all other programs. Before any SNU student enrolls in a study program, it is evaluated to ensure that it is a beneficial, safe program for SNU students. The CGE works to ensure that all students who study off-campus have a worthwhile, rewarding experience.

How much does it cost?

Studying off-campus will probably cost slightly more than a normal semester at SNU. Each program sets the price of the program, but they are usually fairly close to the cost of SNU. The cost for each of the BestSemester.com programs is posted on the corresponding website. In addition to the price of the program, most programs require that you pay for transportation to and from the program.

How will I pay for it?

All need-based financial aid (like governmental grants) and loans will apply to your study abroad charges.

SNU institutional funds cannot be used for off-campus study abroad experiences.
Please note: SNU faculty-led experiences (QERC) may apply SNU institutional funds.

How much extra spending money will I need?

It depends on where you are, how much extra travel you want to do, how many gifts want to buy, and how much local cuisine you want to sample! The CGE is happy to help you figure this out when you know what program you will be participating in.

Will my scholarships apply to a semester off-campus?

See How will I pay for it?

Do you have any summer programs?

The CGE offers a few summer opportunities for those students who are unable to leave campus for an entire semester. See Why are most of your programs one semester long? and Programs above.

If I go off-campus, what will I study?

It depends on your program. See Programs above.

Where will I live? What will I eat?

It depends on your program. Some students live in dorms or apartments, others live with host families. Some students have a cook, while others eat local food prepared by locals. See Programs above.

What programs are available?

See Programs above. If are interested in a different destination or a specific course of study, let us know. The CGE will work to find a program that you are passionate about. However, this takes time, so talk to us early!

When should I apply?

Normally, it is best to apply the semester before you want to study abroad. Depending on the individual programs, application deadlines for fall semesters are usually February 1-April 1, while spring semester deadlines are generally May 1-October 1.

I want to study at another Nazarene university for a semester. Do I talk to the CGE?

It depends. If you want to study at a Nazarene college or university in another country, then come talk to us. If you simply want to study for a semester at a Nazarene college in the States, talk to Academic Affairs, located in Bresee.

Can you give me information on mission trips in other countries?

No. The CGE deals only with off-campus study for academic credit.

How will I receive credit for a semester off-campus?

Most programs will simply send a transcript of your grades for the study-abroad semester directly to the SNU Registrar. Some coursework may apply directly to your major, some to general education requirements, and the remainder as elective credits. Since this is different with each major and with each study abroad program, these details will be worked out in consultation with your advisor and the director of the CGE.

My advisor can't answer all of my questions about studying off-campus. What should I do?

Tell your advisor to contact Professor Eileen Ruger, Director of the CGE.

Is living in another country safe?

Yes. SNU and the CGE will not allow any student to attend a program in a country that we think is likely to be unsafe. All SNU-endorsed programs have orientations to inform students of practices that will increase their ability to avoid any problems. However, SNU and the CGE cannot guarantee your complete safety, just as we cannot guarantee your security here in the United States.

Also, sometimes perceptions in the United States inaccurately judge the safety of other countries in the world. As a part of their study abroad programs, SNU students have traveled to such places as Israel and Cuba, and report extremely high levels of personal security.

My parents have questions about me studying in another country. What do I do?

Set aside time to talk with your parents and find out specific concerns that they have. They are concerned because they love you, so listen to what they have to say with an open mind. After you know what the issues are, start researching the answers. If you need help or your parents want to talk to someone in charge, please contact the Center for Global Engagement. You may also refer them to the For Parents section of this website to see what parents of SNU students have said about study abroad.

I don't want to miss out on campus life for an entire semester. Is studying off-campus worth it?

Yes. Many students who have studied off-campus say that while they wanted to take part in TWIRP or be in on their friends' inside jokes from the semester, their semester off-campus was one million times more awesome than staying in Oklahoma. See Is studying abroad easy?

Is studying abroad easy?

Almost nothing about studying abroad is easy. The preparations take time, travel can be expensive, and doing intense study in another place is difficult. But ask any student who has studied abroad, and they will tell you that the difficulties do not compare to the tremendous rewards that study abroad offers.
More Information
Can I talk to other SNU students who have studied off-campus? Of course! Email cge@mail.snu.edu, and we will put you in contact with the right people.
I have more questions. Who do I ask? Us! See Contact Information.
Additional Resources
General
Travel
Money
XE Currency Converter
www.xe.com/currency
This reliable currency converter takes recent data into account in its currency conversions between most currencies in the world.