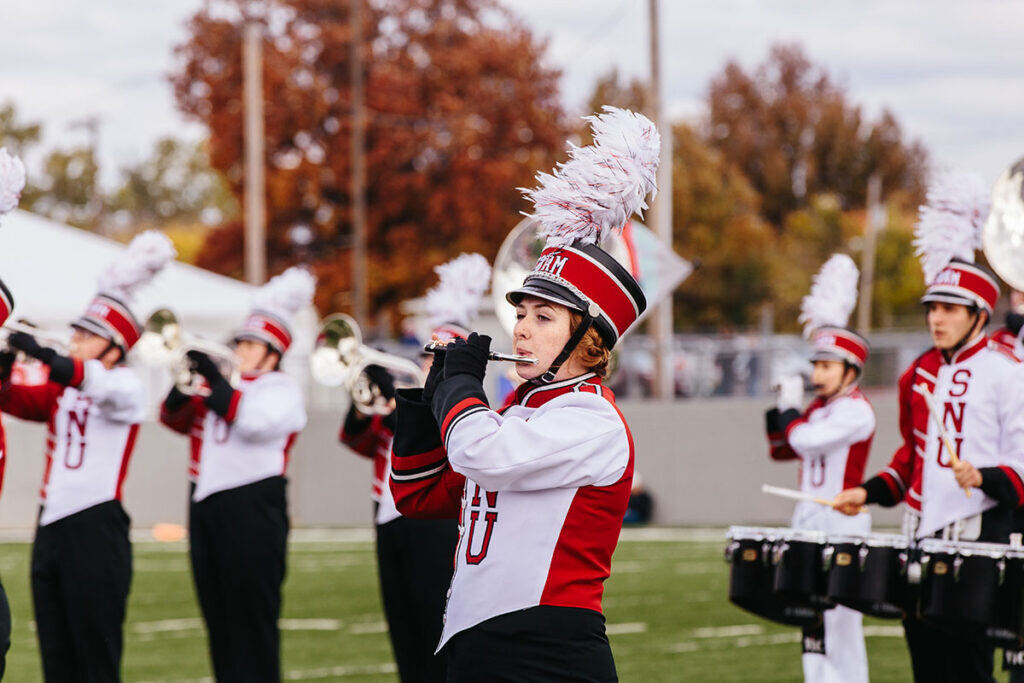 Join the Sound of the Storm Marching Band and become a member of the SNU Music Family!
Marching band is a great way to meet new friends from all over campus. The SNU Sound of the Storm Marching Band has toured the region as the ambassadors of the University since 2016. You do not need to be a music major to participate in marching band. The band performs at all home games and at local and regional events. Our members, including our freshmen, were often leaders in their high school programs. Because of this, our rehearsals are fast-paced, productive, and fun!
The Director of the Sound of the Storm is Professor Ricky Spears.  He has served at SNU since 2016 as Director of Jazz Band and teaching applied trumpet.  He has a Bachelor of Music Education from Morehead State University, Master of Music in Trumpet Performance from Eastern Kentucky University, and he is currently working on a Doctorate of Musical Arts in Trumpet Performance at the University of Oklahoma.  Contact information for Prof. Spears is rspears@snu.edu.
General Information
For over 98 years, the band program has been an integral part of the campus culture and a catalyst for university spirit. As one of the largest and most visible student group on campus, we have a specific mission:
Develop an identity of teamwork and influence through Christ-centered relationships and excellence in musicianship.
Remembered for its exciting music and creative show design as well as its relentless spirit, you will find the SSMB an exciting place to spend your time on campus!
As a member of the SSMB, you will meet lifelong friends, meet students from nearly all academic disciplines on campus, and share in spectacular performances. As a member of the band, you will participate in one of the most exciting and diverse organizations at SNU, as well as take advantage of musical and social opportunities, unlike any other collegiate activity.