Metro OKC School Earns "Demonstration School" Status During its 50th Anniversary From Oklahoma A+ Schools Institute
/
/
Metro OKC School Earns "Demonstration School" Status During its 50th Anniversary From Oklahoma A+ Schools Institute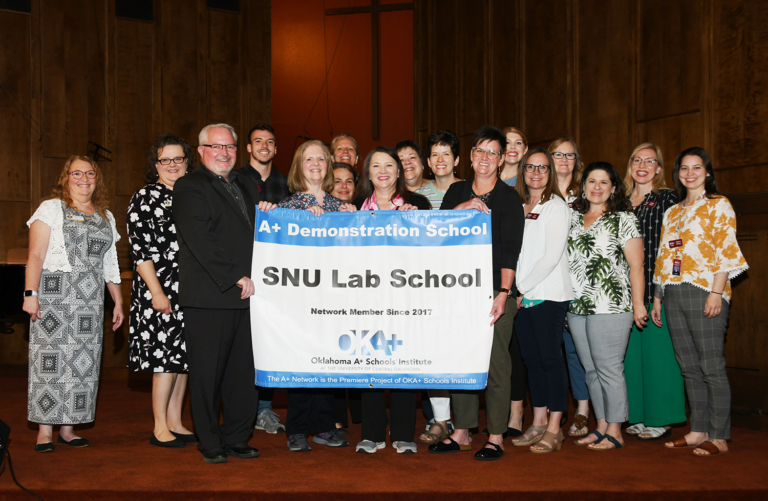 SNU Lab School, a private, PreK-8, Christian school in Bethany, Oklahoma., has completed a three-year process to become an Oklahoma A+ Schools Institute "Demonstration School." An official announcement of this prestigious accomplishment took place at the school's end-of-year assembly. The school is located at 3100 N. Rockwell Ave., Bethany, Oklahoma.
Oklahoma A+ Schools Institute at the University of Central Oklahoma works with schools to make learning more intuitive and fun. By integrating other academics with the arts, the Institute creates an environment where every student can thrive. The Institute provides training, retreats and on-site development to member schools. SNU Lab School is being recognized for effectively implementing those tools. OKA+ Schools have higher student achievement, fewer disciplinary referrals, better attendance and higher levels of parent involvement compared with other schools in the state, and they foster an environment that values innovation, collaboration and critical thinking. Of fifty-four schools in the OKA+ Network, only fifteen have "Demonstration School" status.
"Receiving this prestigious designation is very meaningful to all of our stakeholders, students, parents, faculty and staff, and that it is happening during our 50th anniversary year makes it even more special," states SNU Lab School Director Ron Titus. Titus further states: "SNU Lab School embraces research-based best practices for student learning. Our STEAM-oriented curriculum emphasizes creativity. Student needs differ, so we create flexible learning environments, where students can learn both independently and collaboratively. Hands-on experiential learning is the foundation of how we teach."
SNU Lab School, founded in 1972 on the campus of Southern Nazarene University (SNU), strives to create an experience that allows students to grow and connect with their purpose through mastery learning in a Christian community. During the last fifty years, SNU Lab School has educated more than 4,000 students, and provided more than 1,000 SNU School of Education majors with hands-on teacher practicum experience. During their practicum experience, education majors study child development and perform hands-on, graduate-level research through "real-time, real-world" observations, interviews and classroom teaching as part of their studies on the many aspects of teaching and learning.
SNU Lab School has the distinction of being the only university-affiliated lab school in Oklahoma accredited by the Oklahoma State Department of Education. Additional accreditation is through the Council for Accreditation of Educator Preparation (CAEP), and the Higher Learning Commission.
Back to Blog