Mother-Daughter Duo Graduate Together
/
/
Mother-Daughter Duo Graduate Together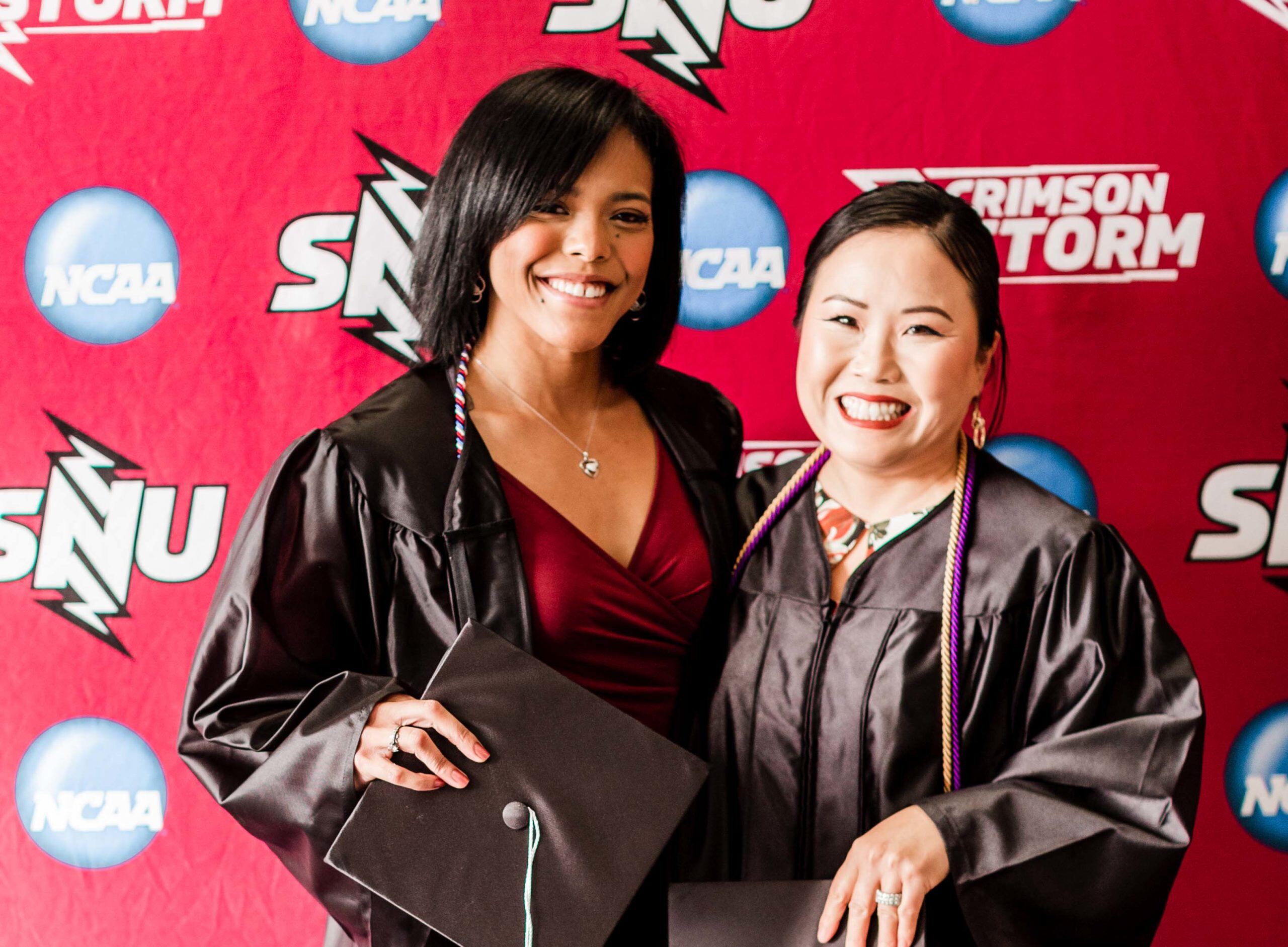 In December's commencement ceremony, SNU celebrated its graduating students' unwavering commitment to excellence and included a daughter-mother duo, Arielle Jackson and Bora Rasco, who succeeded and flourished academically. Arielle completed a Bachelor's degree in Criminal Justice, and Bora completed a Bachelor's degree in Business Administration. 
Arielle is a single mom in the Navy, in which she has served diligently since she graduated high school in 2009. However, the prospect of a degree prodded her, a task left incomplete for too long. "It was time to finish something I started over ten years ago," she said. 
SNU's values and management appealed to her, yielding success. "The Christian-based values and the course load aligned with the stress of everyday life," Arielle shared. "The instructors were very understanding that life happens. They set you up for success and are very informative if any questions or issues should arise."
By completing her degree, Arielle ensured more career mobility, something she desired. "Now I have multiple paths I can take with my degree, whether it be the civilian sector or in my military career."
Born in Korea, Bora was adopted at 12-years-old and grew up in Iowa before moving to Kansas after her years in high school. There, she had Arielle and attended Butler County College. However, she dropped out to raise Arielle and her three other children. Bora has lived in Oklahoma with her husband since 2004. 
She worked at home until her children were of driving age when she started a job in the retail industry, in which she worked her way to a management position. Eventually, due to the unpredictable hours and imbalance between her life and work, Bora switched careers to become an Admissions Coordinator, where she has worked for the past three years. 
Her decision to attend SNU to pursue a degree stemmed from a desire for an opportunity. "When I left the retail field," Bora said, "I soon realized that [a] Bachelor's degree is necessary to be a more desirable candidate for employment."
SNU's Adult Studies Program – in which students attend class one night a week, one at a time – offered a manageable workload where Bora could complete her Bachelor's degree, alleviating her trepidation. "After being out of school for so long," Bora shared, "the thought of re-entering college seemed very scary and impossible, but SNU understands this, and everyone was very encouraging and kind. They gave me the confidence to know that I can do anything I set my mind to. The cohort set up for my program allowed me to navigate my program with the same group of classmates from start to finish, allowing us to bond and develop commonality for life. Also, the Christ-like environment is very inviting and comforting."
Bora credits SNU's program with facilitating her success, distinguishing the university from others. "The staff and professors made me the priority," she divulged. "Earning my degree set me up for success because I learned the skills for required employment and proof of my knowledge and qualification. It gave me the confidence in myself to seek out my dream and advance my career to better myself and the world."
She recommends SNU's programs to other prospective students. "I think a person really never stops learning," Bora said. "Research and study skills I learned during my program at SNU help me to seek out knowledge on my own to further my self-education. There is so much knowledge out there for me to learn and grow. I wouldn't trade my experience at SNU for anything in the world!"
Back to Blog