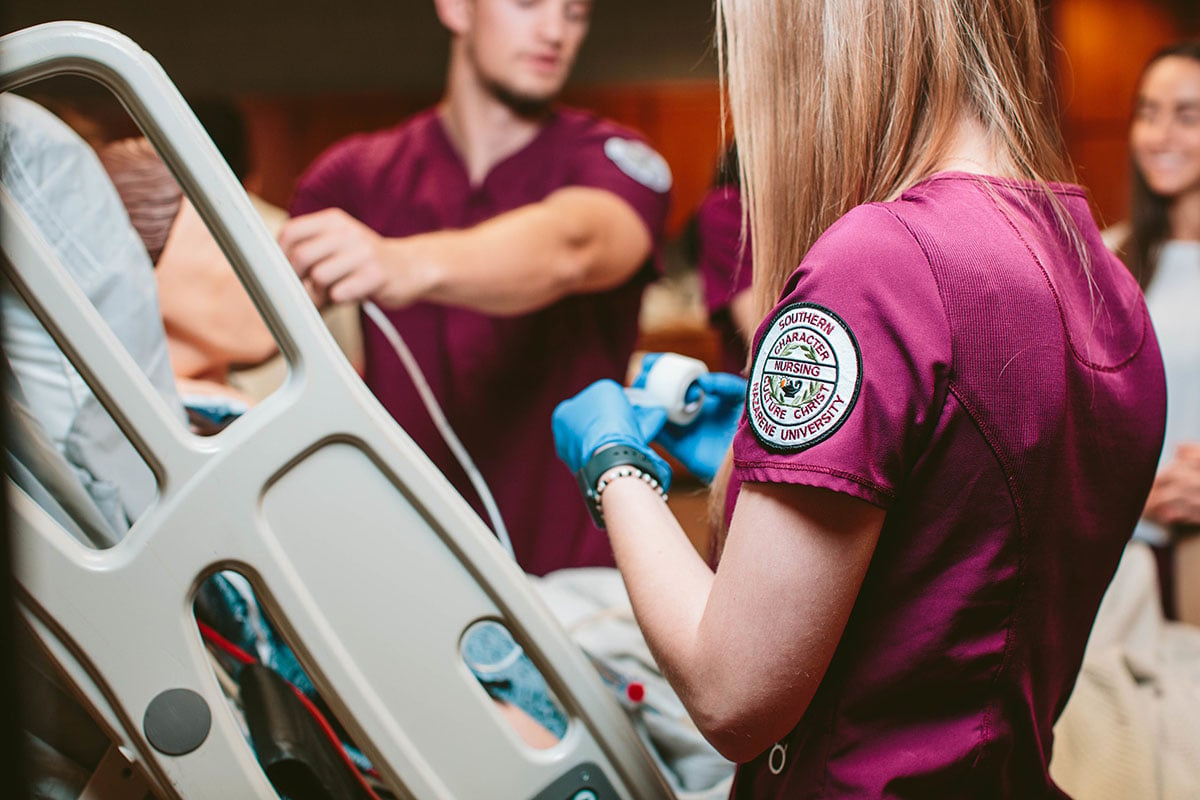 >
>
Bachelor of Science in Nursing (BSN)
Bachelor of Science in Nursing (BSN)
A Four-Year Liberal Arts Program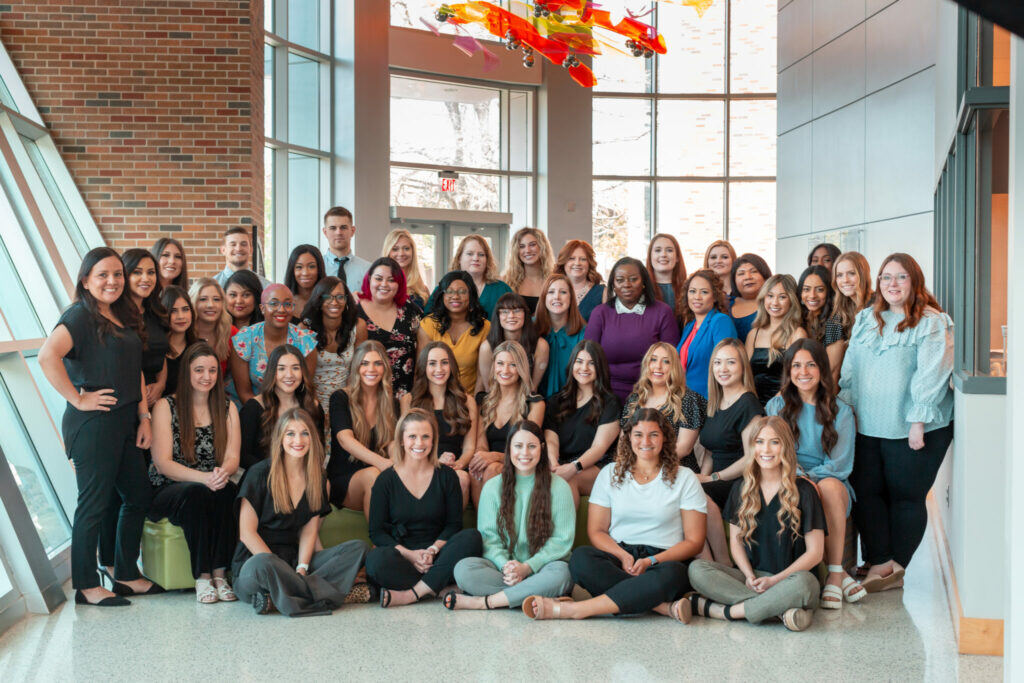 SNU offers a traditional four-year Bachelor of Science in Nursing degree. The emphasis on a Liberal Arts education provides the opportunity to develop a well-rounded foundation for the professional level critical thinking necessary for today's Registered Nurse.
Incoming students are welcome as freshmen or as transfer students. Upper-division Nursing courses are offered in the Junior and Senior years.
Accreditation
The Baccalaureate Degree program in Nursing at Southern Nazarene University is approved by the Oklahoma Board of Nursing, and accredited by the Commission on Collegiate Nursing Education, 655 K Street NW, Suite 750, Washington, DC 2001, 202-887-6791.
Application deadline December 31, 2023.
Please email nursing@snu.edu for more information.
---
School of Nursing Welcome

Caring Professionals

The goal of the SNU School of Nursing is to educate well-rounded, service-driven professionals who are able to function in the complex health care systems of today.  SNU graduates embrace Nursing, not only as a profession, but as a calling and a ministry.

Global Perspectives

SNU Nursing students are given opportunities to engage in intercultural experiences with the goal of developing a global mindset in Health Care.  Students are encouraged to broaden awareness of other people and cultures while highlighting the relationship between health and disease that unites communities on a global level.

Highly Trained Graduates

The Bachelor of Science in Nursing (BSN) is an esteemed degree in demand at the local, regional, national, and international level.  The Liberal Arts-based program at SNU prepares well-rounded graduates to work as professional nurses in today's fast-paced, technologically advanced health care environment.

NCLEX-Ready

SNU Nursing students are prepared to take the National Council Licensure Examination (NCLEX) for Registered Nurses and enter the healthcare environment.  Many graduates have offers for employment prior to graduation.

School of Nursing Mission Statement

The mission of Southern Nazarene is to make Christ-like disciples through higher education. As a community, SNU enacts this mission by refining character, creating culture, and serving Christ.

The SNU School of Nursing supports this by preparing servant-driven professionals who act as agents of healing and grace within diverse populations and in global settings, providing expert nursing care as an expression of Christian love.

School of Nursing Philosophy

Overview
The philosophical underpinnings of the nursing school at SNU begin with the importance of a servant-driven environment of graciousness and kindness. The book of Ecclesiastes explains that a chord of three strands is not easily broken. In the context of this program, three conceptual strands are interwoven to produce the structure of the nursing approach at SNU. These three strands include the following:

The development of the servant-driven scholar: Providing exceptional professional education in a student-centered learning environment.
The development of the servant-driven caregiver: Preparing graduates who are able to collaborate as team members providing safe and exceptional care for a diversity of patients in a variety of local and global settings.
The development of the servant-driven disciple: Supporting the student in his/her individual spiritual journey to enable each to foster and promote holistic, healing environments of care.

Philosophical Underpinnings
The three strands have been identified as providing an organizational scheme to the nursing philosophy and can more succinctly be identified as "think, do, love." Within these strands are many threads. It is only when these threads and strands are woven together in a meaningful way that the character and professionalism of the nurse can be developed. All students have the potential to become scholars, caregivers and disciples of Christ. Although nursing education begins at SNU, the process of growth as a nurse is life-long.

Development of the Servant-Driven Scholar—Think
The SNU School of Nursing is committed to developing professionals who think clearly and who are able to make decisions, express ideas and contribute to professional dialog from the framework of the nursing discipline. The servant-driven nurse must be informed with a broad-based liberal arts education with exposure to both the issues that define culture and context as well as Biblical truth. Students also need to achieve demonstrable competence in the sciences most closely associated with human life. Evidence-based nursing practices demand an understanding of nursing concepts, theory, research and a knowledge of best practices.

Development of the Servant-Driven Caregiver—Do
In "doing," the meta-paradigm of nursing is identifiable. There is a caring relationship between a nurse (the advocate, change agent, liaison, action figure) and the patient (the entity in need in some capacity), an environment (micro through macro levels, across geographic and cultural contexts, and including appropriate and necessary technology), and some aspect of health/healing/or wellbeing. The variations of each of these components are innumerable and the new professional nurse should be capable of recognizing variations and applying acquired knowledge in new and unique settings to bring about changes in health. Nurses are involved in moving the patient towards health in all environments while collaborating with other healthcare professionals. The SNU School of Nursing is committed to preparing nurses with the skills to perform within changing contexts across systems and across the globe.

Development of the Servant-Driven Disciple—Love
The SNU School of Nursing is committed to the development of compassionate, respectful nurses who serve others with integrity. Disciples of Christ do not seek to be served but to serve (Mark 10:45). This call to service motivates both intellectual learning and the development of the art of caring. Love for our fellowman is at the center of our practice and guides our decisions and actions. The Bible says that all human beings are made in the image of God (Gen 1:26). SNU nurses are committed not only to the protection of life but also to the reduction of healthcare disparities. It is expected that nurses who graduate from SNU School of Nursing will enter into various servant leadership positions and help shape the future of nursing.

Conclusion
"Think, do, love" forms the three-stranded cord that guides the development of the servant-driven nurse. The SNU School of Nursing is dedicated to student growth in knowledge, caregiving, and as disciples of Christ. Nurses grow in these areas as they study and as they interact reflectively with faculty and patients. The SNU School of Nursing is committed to encourage, facilitate and provide opportunities for growth for its students. The goal is to graduate nurses who possess the spiritual strength, self-knowledge, resiliency, and skills to practice servant-driven nursing in a constantly changing world.

Acknowledgment is given to Barnes, S.J., Johnson, J., Robertson, J., & Robinson, W. (2014) for the Mission and Philosophy of St. Gregory's University (SGU) School of Nursing and to Terri Moser Woo, Director of Nursing, St. Martin's University for permission to use the SGU philosophy and curriculum for reference. Acknowledgment to Dickey, M. (2018) as contributing author.

School of Nursing Program Outcomes

Upon graduation from Southern Nazarene University School of Nursing the student will be able to:

Integrate liberal arts education into basic nursing practice with an emphasis on social justice, ethical, spiritual, and holistic care. BSN Essentials:

I, II, III, IV, VI, VIII, IX

Collaborate with interprofessional team members, patients, families, and communities to ensure safe, evidence-based, quality care. BSN Essentials:

I, II, IV,V, VI,VII, VIII, IX

Demonstrate leadership as global healthcare professionals through partnership and advocacy to promote health and wellness while affecting healthcare disparities.  BSN Essentials:

II, III, IV, VI, VII, IX, X 

Blend informatics and technology with clinical decision-making and caring to provide safe, timely, efficient and effective nursing care. BSN Essentials:

I, II, IV, V, VI, VIII

Apply knowledge of healthcare policy, standards of practice, regulatory and financial processes to transform client and population health. BSN Essentials:

II, III, V, VI

Engage in reflective practice and self-care to nurture healthy relationships and healing environments. BSN Essentials: II, III, V, VI, IX, X

Qualified Faculty

SNU offers you the opportunity to study with credentialed faculty as you journey toward graduation, another step closer to reaching your goals. These scholars with a Christian worldview will mentor and guide you along the way.  SNU's smaller size allows students to interact with faculty — not only in the classroom, but also through impactful mentoring, personal advising, and meaningful research. Come and be known; come and belong.

Nursing Program Admission Requirements

To be admitted to the Nursing Program, the student must have no less than a 2.75 gpa, and no less than:

• A "B" or above (not B-) in College Algebra, completed within five years of entry into the upper division Nursing program. No exceptions will be made.
• Human Anatomy and Human Physiology must be completed within five years of entry into the upper division Nursing program. No exceptions will be made.
• A "C" or above (not C-) in all other Nursing prerequisite courses.

Please note: Evidence demonstrates that stronger science and math grades correlate with higher success rates in nursing school. Applications to the Nursing Program are accepted in the Summer and/or Fall Semesters for a Spring start. Transfer students may apply to the Nursing program before they are admitted to the university.

TEAS Testing Requirements

TEAS Testing Requirements

*The TEAS test will be waived for students who have completed an Associate of Science degree, Associate of Applied Science in Nursing or Allied Health, and those who have completed any
bachelor's degree from an accredited college.

Test of Essential Academic Skills (TEAS)
All students who have decided to enter the Nursing Program must complete the TEAS, Test of
Essential Academic Skills, at a required level to be admitted into the program. The 170-question
test is designed to test basic academic skills in the areas of reading, math, science, and English
and Language. A strong knowledge in these areas correlates to a higher probability of success in
the Nursing Program.

A composite TEAS score equal to or greater than 60% is required to apply to the Nursing
Program.

Official TEAS exam scores are sent directly to Southern Nazarene University from the ATI
website. If more than one exam was taken, an unofficial printout of previous or subsequent
exams must be included with the application.

We also accept ATI TEAS scores from other testing sites. If you take the test at a location
other than SNU, there is an additional fee to have the scores sent to SNU. We do not receive
scores from other testing sites automatically.

The Nursing Department will accept the highest TEAS score with the requirement that each test
is taken after a MINIMUM of 30 days following the previous test attempt. A TEAS taken before
the 30-day period will not be accepted. In this case, the score from your previous TEAS test will
be the one considered as part of the application process.

If your score on the first TEAS test is less than 60%, you must complete remediation as
outlined in the "Remediation" section below. There must be a MINIMUM of 30 days between
each TEAS test attempt.

Procedures for Remediation

For applicants with an Adjusted TOTAL Score less than 60%.

The following remediation must be followed to apply to the Southern Nazarene University
Nursing Program:

• Remediation is required for those scoring less than 60% on the TEAS test.
• Evidence of completion of a remediation program must be provided with your application
to the Nursing Program.
• You may use one of the following methods for remediation:

Attend a TEAS prep course. These are occasionally offered at various educational
sites throughout the county.
Review a TEAS study manual and take two practice TEAS tests.

In addition to proof of completion of a remediation program, you must submit a written
statement answering the following questions:

Why do you think you were unsuccessful in your first attempt at the TEAS?
What steps have you taken to improve your TEAS test score?The Nursing Department strongly recommends purchasing the TEAS study guide and 2
online practice exams in preparation for taking the TEAS exam. These materials as well as
additional study materials are available on the ATI website. To purchase, go
to www.atitesting.com.

Scheduling

All tests will be a remote version of the ATI TEAS exam with Proctorio. Please purchase the "TEAS Online at Institution" option at https://www.atitesting.com/• ATI does not offer refunds or permit rescheduling of the TEAS exam if an applicant
is not able to test as scheduled. All TEAS registrations are final, no exceptions.
• If you can't make the purchased session and have a documented emergency, please
contact: 800-667-7531, and they can let you know where to send documentation. If you
miss the original purchase date, it will not count against you as an attempt, however, you
will have to pay for an additional session.
• Applicants will register for the exam online through ATI after creating an ATI user
account. Once an ATI account is established applicants can register for the TEAS test
date of their choice. There are 20 seats available for each TEAS testing date. No
rescheduling is permitted once registration is completed.The cost for the ATI TEAS exam for the SNU School of Nursing is $82.00 per testing
administration.Additional Instructions

+ All TEAS exam sessions are reserved for applicants ONLY of SNU School of Nursing.
No refunds are granted once registration is submitted. No rescheduling is permitted
once registration is submitted.
+ Schedule at least 4 hours to take the test. A calculator is embedded within the online
version of the exam.
+ Technical Requirements needed for a remote exam:
– Microphone: Any microphone, either internal or external
– Webcam: 320×240 VGA resolution (minimum) internal or external
– Desktop or laptop computer – NO iPads, tablets, or phones are to be used – with
the ability to download Google Chrome
– See the full list at atitesting.com/technical-requirements
+ A composite score of 60% is required for admission consideration for the nursing
program.
+ If you need assistance during the exam registration process, please contact ATI customer
service at 800-667-7531.

Degree Requirements and Curriculum

Nursing Prerequisites Include:


Must be completed with a grade of "C" or above (not "C-"). College Algebra, final grade of "B" or above (not B-).

General Organic and Biological Chemistry OR Gen Chem I (4 hours w/lab)
Human Anatomy (4 hours with a lab)
Human Physiology (4 hours with a lab)

OR Human Anatomy and Physiology I (4 hours with a lab) AND Human Anatomy and Physiology II (4 hours with a lab)

College Algebra (3 hours)
General Psychology (3 hours)
Introduction to Sociology (3 hours)
Nutrition (3 hours)
English Composition I (3 hours)
English Composition II (3 hours)
NURS Introduction to Health Professions (1 hour)
NURS Healthcare Concepts (2 hours)
NURS Health Assessment (3 hours)

Nursing Co-Requisites

Microbiology (4 hours w/lab)
Developmental Psychology (3 hours)
STAT-3143 Statistical Methods

OR Intro to Statistics (lower level) (3 hours) AND Critical Thinking
and Problem Solving (upper level) (3 hours)

Other General Education Courses Include:

Speech Communication (or equivalent) (3 hours)
Integrated Software Applications or Computer Course (Foundation: Science & Tech) (3 hours)
Christian Faith and Life (Foundation: Christian Scripture) (3 hours)
Old or New Testament (3 hours)
Foundations of Christian Belief (Window: Christian Scripture)(3 hours)
Modern World (or equivalent) (Foundation: Global Perspective) (3 hours)
Aesthetics (or equivalent) (Foundation: Artistic Expression)(3 hours)
US History/Government/Civics course (Foundation: Social responsibility) (3 hours)
Window on Artistic Expression (upper level) (3 hours)
Window on Effective Communication (upper level) (3 hours)

Upper Division Nursing
Courses:

NURS Foundations of Nursing (6 hours)
NURS Psychosocial and Psychiatric Nursing (4 hours)
NURS Evidence-Based Practice (6 hours)
NURS Acute and Chronic Illness I (6 hours)
NURS Acute and Chronic Illness II (6 hours)
NURS Pathophysiology & Pharmacology I (4 hours)
NURS Pathophysiology & Pharamacology II (4 hours)
NURS Maternal Infant Nursing (3 hours)
NURS Family-Centered Nursing Care of Children (3 hours)
NURS Community Health Nursing (Window: Global Perspective) (3 hours)
NURS Critical Care Nursing (6 hours)
NURS Integration of Nursing Practice (Window: Social Responsibility)(6 hours)
NURS Transition to Professional Nursing Practice (2 hours)

Total Credit Hours: 124-127

Suggested Plan of Study

Fall 2023 Example Program Plan

Nursing Course Planning Document

2023-24 Laptop Computer Requirements

All students admitted to the upper-division nursing courses must have a laptop computer that
meets minimum standards for testing and other course-related functions. Ipads, notebooks,
and tablets are not acceptable.

Minimum
Processor: Intel Core i5 Dual Core, or similar AMD
Memory: 8GB
Operating System: Windows – Windows 10 Pro; Mac – MacOS Mojave
Hard Drive: 128GB Solid State Drive (SSD)
Network: Dual-Band wireless
Other: Built-in webcam
Warranty: 1 year

Recommended
Processor: Intel Core i5 Quad Core or similar AMD
Memory: 16 GB
Operating System: Windows – Windows 10 Pro; Mac – MacOS Mojave
Hard Drive: M.2 256GB NVMe Solid State Drive (SSD)
Network: Ethernet and Dual-Band wireless
Warranty: 3 years
Other: Built-in webcam

Nursing students often engage in study when away from the SNU campus. If you will be studying or doing other academic work off-campus, access to the internet is necessary.

The University maintains a relationship with Dell Computers and students, faculty, staff, and alumni are welcome to access this site for purchasing a device. The Member Purchase Program (MPP) contains pre-negotiated prices and machines come with a 3-year warranty and24/7 support hotline. The MPP  is http://www.dell.com/snu

Tuition and Fees

NURS courses each have a $175 testing fee. NURS courses with a lab or clinical
requirement have an additional $200 per credit hour fee attached.

Clinical Compliance

Students in the health sciences, including nursing, have specific requirements to meet in order to perform clinical rotations in regional health care facilities. Please note that Clinical Compliance is expected. Please inquire through the School of Nursing (SON) for more details. General information is below. Please also note that all requirements including the TB screening test and CPR certification (American Heart Association) are required to be completed during the summer prior to admission. Students are to submit the required documentation and receive confirmation of completed requirements through the SON Office.

Entry into any clinical situation is prohibited by the SON and its partnering facilities until compliance is established. Clinical absences may lead to failure of the course and failure in the program. These requirements are subject to change as clinical facilities update their requirements. All requirements must remain current throughout the entire semester.

If the student experiences an event that may affect the background check and/or drug screen during their academic tenure, the student is responsible for notifying the SON Chair or designee.

CPR. All students must have an active certification in the American Heart Association Basic Life Support for Healthcare Providers. The certification is to be maintained throughout the program.
Loss of current certification will prevent students from attending clinical, which may lead to course
and program failure.

Personal Medical Insurance Coverage. Students are expected to maintain personal health insurance and are responsible for any health-related expenses incurred related to clinicals.

Background Check. Students are required to submit to a national background check through the provider selected by the SON. Includes Social Security verification.

Drug Testing. Negative 11-panel screen through provider selected by the SON. Students are subject to random screening throughout program and may be selected for screening if exhibiting symptoms of impaired performance.

Tuberculosis (TB) Testing. The test must remain current the entire semester. TB tests are good for one calendar year and must be kept current for the duration of the program.

• If it has been longer than 12 months since a negative TB test result: A two-step PPD (2 negative TB skin tests, given within the last 30 days) is required before beginning clinical. Note: The two tests must be given at least 7 days apart but no more than 30 days apart.
-OR-
• If it has been less than 12 months since a negative TB test result: a one-step PPD (1 negative TB skin test) is required before beginning clinical.
-OR-
• TB Quantiferon Gold (T-Spot) blood test with negative results.
-OR-
• Documented positive TB test followed by a documented negative chest x-ray and a negative annual review of symptoms which will remain current the entire semester.

Transfer Students

Faculty at the School of Nursing will evaluate your transcripts to determine what additional courses might be required to enter or graduate from the SNU School of Nursing. For a full transcript review, please send unofficial copies of all transcripts to nursing@snu.edu.

Students with a Previous Degree

Individuals with a previous bachelor's degree have all other general education requirements waived. These individuals need to complete all nursing prerequisite courses and then apply to upper-division courses for fall entry.

English as a Second Language Applicants