Biology-Chemistry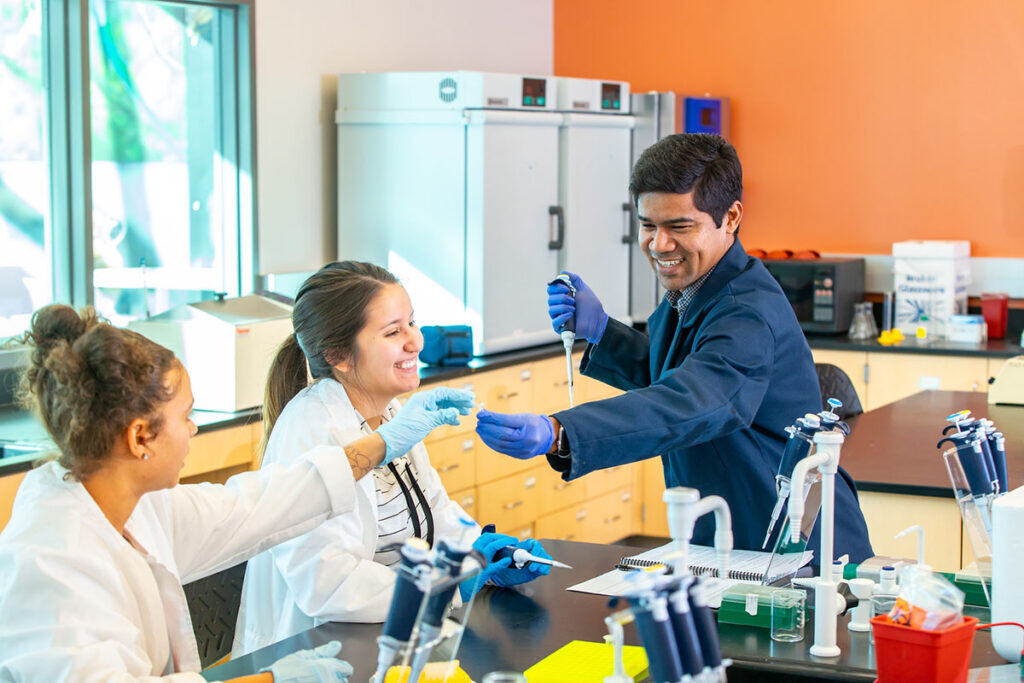 Overview
We know you are selecting a college for more than just its location or school colors. You want to go somewhere that will prepare you for the future. Your future.
At Southern Nazarene University, we work hard to make sure our degrees are supported by a rigorous and comprehensive curriculum. We hire highly-qualified faculty who not only know the ins and outs of the profession you seek, but who truly wish to see you succeed individually. And we make sure you leave SNU prepared for a great job in Biochemistry. That's why we can encourage you to not just dream, but to dream with confidence.
At SNU, our Bio-Chemistry Major is a unique hybrid of two of our top science programs—Biology and Chemistry. You will combine 29 hours from our Biology program with 25 hours from our Chemistry program to create a 54 hour Bio-Chemistry Major.
This program is designed for preparation of students seeking a variety of career and learning paths.
Pre-Medical
Biochemistry
Molecular Biology
Cell Biology
Microbiology
Molecular Genetics
Pharmacology
Toxicology
Medicinal
Chemistry
As part of the SNU science program, you can expect an atmosphere that will enhance your learning. Your laboratory classes will have no more than 25 students, allowing you maximum attention from our highly-qualified faculty. Our facilities include a hands-on cadaver lab, modern equipment, and many research opportunities. In fact, we were one of the first to offer cadaver labs in the state of Oklahoma. In the SNU biochemistry program you will be in a powerful community of learning that is committed to the integration of faith and learning.
Learning Opportunities
At SNU we know you need more than just classroom lectures to learn. That's why we create unique environments to take your education to the next level. Consider spending a semester abroad in Costa Rica where you can take several courses ranging from tropical ecology to global stewardship. You will be able to work at our Quetzal Education Research Center in the heart of Costa Rica. Study ecology and sustainability on site in a tropical rainforest! Or even conduct your own independent research. A rare opportunity to find at a private university.Or spend time networking through a biology-chemistry internship. Clinics.Medical Missions. Research Labs. Pre-Physician Assistant
Career Opportunities
SNU Biology graduates pursuing professional schools have an acceptance rate of 95%. Medical. Dental. Veterinary. Physician's Assistant. Whether your goal is to complete graduate studies, attend professional school or jump right into your career, SNU Bio-Chemistry Program will have you prepared.
But don't take our word for it, meet Phil Cox, SNU Bio-Chemistry graduate. Cox worked as a Senior Research Technician at the Oklahoma Medical Research Foundation (OMRF) in Oklahoma City. His project was geared towards improving the current Anthrax vaccine.
While at SNU, Cox participated in three summer research programs, two in Oklahoma City and one in Boston at Harvard Medical School. After graduation, Cox attended the national Tri-Beta, Biology Honor Society, convention in Durango, Colorado and received 3rd place for his oral presentation. While at OMRF, Cox published one primary journal article as a co-first author and submitted an additional paper for publication.
Being a scientist is all about asking good questions," says Cox. "SNU helped me on my academic journey in the classroom and the laboratory by teaching me how to ask such questions. Additionally, the support of a Christ-centered community was vital in keeping me aware of even greater questions—spiritual questions—that shape my life to this day. Finally, the small class size in the Biology-Chemistry major gave me ample opportunity to got to know my professors on a personal level. Through letters of recommendation, career guidance, and taking an interest in my life, their support has been instrumental in my success." Cox is currently beginning the Bio-Chemistry, Cellular and Molecular Biology doctoral program at The Johns Hopkins University. A path that has been influenced by his early years at SNU. "The classes in the Biology-Chemistry major reflect the level of rigor and standards of performance that are found beyond the undergraduate level," says Cox. "We were always told, 'If you can do well in our program, then you can do well anywhere.' I have come to know that this is true." If a dream is a blueprint of a goal not yet achieved, at SNU we partner with you to focus your efforts to attain whatever it is you hope to accomplish.