English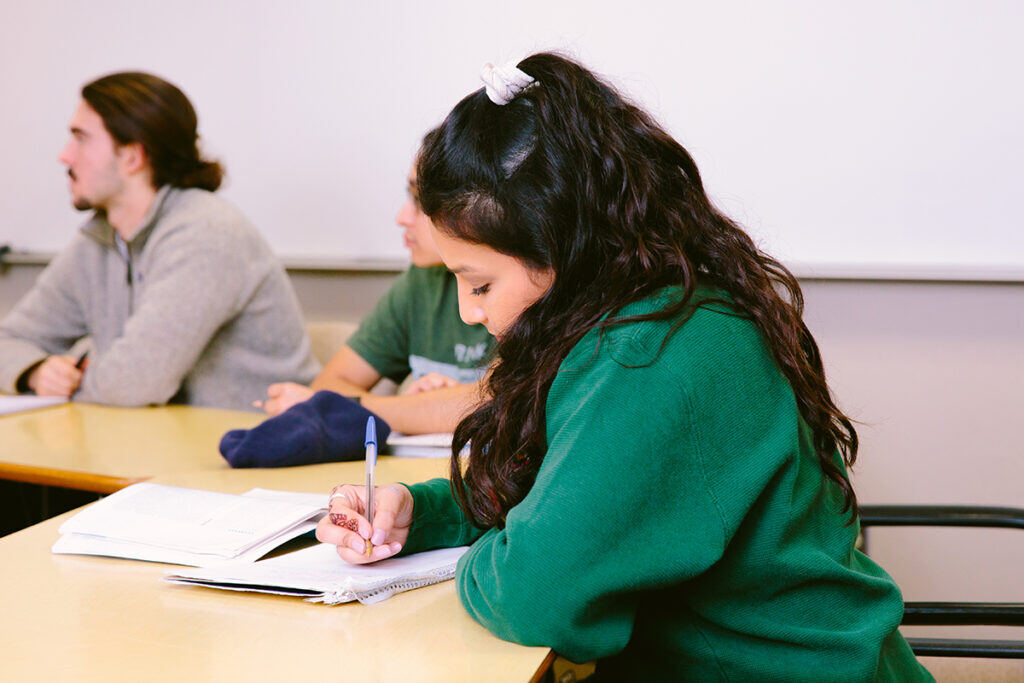 Overview
We know you are selecting a college for more than just its location or school colors. You want to go somewhere that will prepare you for the future. Your future. At Southern Nazarene University, we want that for you too. That is why we work hard to make sure our degrees are supported by some of the top curriculum available. We hire highly-qualified faculty who not only know the ins and outs of the profession you seek, but who truly wish to see you succeed individually. And we make sure you leave SNU prepared for a great job in your literary career. That's why we can encourage you to not just dream, but to dream with confidence.
English Program
Your education is our number one priority at SNU. That's why, unlike most English programs, SNU tailors your degree to you, as an individual. When you meet with an SNU advisor they won't just tell you what classes to take, they'll help you find specialized classes that concentrate on your career and academic goals. Goals we help you develop beginning with your first entry level class—designed to answer the question, "What do you do with an English degree?" As you follow your tailored degree plan, you may find yourself taking classes from a number of different disciplines. Speech Communication. Technology. Theology. Fine Arts. Each of these are offered in a Learning Community setting with a cross-discipline teaching team and help round out your degree program. Looking for a truly unique class opportunity? Ask about our cutting edge courses in film studies and graphic novels! 
Innovative Learning Opportunities
At SNU we recognize that learning takes place outside of classrooms as well. That's why we work to provide hands-on learning experiences beginning during your very first semester. Perhaps you will go on staff with the student on-line newspaper and become a member of the Oklahoma Collegiate Media Association. Maybe you have an interest in joining our national award winning yearbook staff? Or you might consider the opportunity to contribute to the university literary student magazine. As an upper level student you will have the opportunity to join a Spring Break trip to London for class credit. Stay in Kensington Park and visit various London sites including Stonehenge, Bath and Oxford. During the trip you will be looking at the British Empire
You will also be able to build resume and expertise through an internship or volunteer opportunity, while you finish up your degree. Work with the Poetry Society of Oklahoma Youth Awards. Become a member of Modern Language Association. Research and present an academic paper at Research Symposium. Participate in the Best Semester program and spend a semester studying in a new location. Washington Journalism Center. Oxford Summer Program. Latin America Studies Program. Middle East Studies Program in Egypt. 
Preparation After Graduation
While at SNU you will gain the knowledge and experience needed to seek the career path of your dreams.From graduate school to entering the job force—you will be prepared to achieve.Brad Moore, SNU Graduate is a prime example of achievement. Moore currently serves as the President of Hallmark Hall of Fame Productions—the most honored series in US television history. Moore has led the series for 29 years, nearly half its 61 year existence.
Under Moore's leadership, Hallmark Hall of Fame has produced over 100 feature length movies that have received numerous honors. 31 total Emmy Awards. 5 Emmy Awards for Best Picture.7 Golden Globes. Just to name a few."My English studies provided superb preparation," says Moore of his time at SNU. "First for graduate school and later for many aspects of business life. A wide range of student government and other extra-curricular activities at SNU helped me develop leadership skills. It's no secret that colleges and universities like SNU are far superior to huge institutions in providing such opportunities for a greater proportion of students."Moore went on from SNU to complete his MBA in marketing and international business from North Western University and received an honorary Doctor of Humane Letters from SNU in 2009.