SNU Alum named OKC Public Schools District Teacher of the Year
/
/
SNU Alum named OKC Public Schools District Teacher of the Year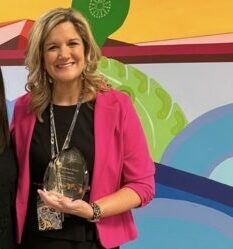 SNU alum Kim Banz was recently named OKC Public Schools District Teacher of the Year! Mrs. Banz was honored at this year's Stars of Education virtual event for earning the top score in her interview, classroom evaluation, and written application by a judging panel. Mrs. Banz began teaching in the fall of 1999 and taught for 3 years at Kenneth Cooper Middle School & Northridge Elementary School. After having her first daughter, Hailey Banz (a current SNU sophomore), Kim decided to be a stay-at-home mom. For the next 9½ years, she was happily raising her babies at home until she received a life-changing phone call.
In the fall of 2012, she was asked to be a long-term substitute at Bethany Public Schools. She explained that she was "hooked" and spent the next five years working in the same buildings as her own children. In June 2017, she accepted a position as the Director of Orchestras at Classen School of Advanced Studies and has been there ever since. Kim says that she knows she is exactly where the Lord has placed her and she has found such joy in doing what she loves every day!
In talking with Banz, she revealed that she has felt led to teach since she was a little girl saying, "I would teach to an empty playroom or line my dolls up to read them a picture book." In reflecting on one of the teachers who impacted her the most, Banz said that Ms. Dawn Thrailkill, her junior high orchestra teacher, "gave us a safe place to explore our creativity, learn how to work together, and have fun doing it. Student teaching with her years later, she said to me words I will never forget. 'I don't teach orchestra, I teach children' was forever stamped on my heart that day."
Mrs. Banz said that SNU was a life-changing experience for her. She shared, "SNU gave me professors that were unmatched–Dr. Phil Moore, Dr. Roger Strong, Professor Densi Rushing, and Dr. Mark Reighard to name a few. I could recall countless lessons, pedagogy, and content…the real difference was the way in which they taught me to always strive for excellence, and the importance of community and relationship…that's the 'lesson' I can pinpoint that made the greatest impact on my life. As I look at how my teaching philosophy and methods were shaped, that's it. I learned that it is possible to keep your students striving for excellence and have fun doing it! Because it was modeled for me, I learned the importance of building relationships and community with my students."
Mrs. Banz grew up playing the viola and said that "during my college years when I was just sure teaching orchestra was not for me, Dr. Roger Strong looked me square in the eyes and reminded me the Lord had given me something special (a unique talent and skill) to be used for His glory. I eventually began to understand that this instrument that had become an extension of myself was just the tool I had been given to reach a bunch of young people. And as my eyes began to open up to the world around me, I started to see just how powerful a music classroom could be."
In congratulations on this accomplishment, Mrs. Banz received various gifts including a new watch from BC Clark, a cash award, and a one-year use of a new car from Fowler Automotive. Mrs. Banz will go on to represent OKCPS in the Oklahoma State Teacher of the Year competition and SNU could not be more proud to have an amazing alum represent us in this way! Recently retired from SNU's Department of Education, Dr. Kep Keoppel, commented on Banz saying "She is an amazing young lady. I was not surprised when I heard about Kim becoming 'Teacher of the Year.' She loves kids and she loves what she does. She is hard-working and always puts her students first." The people of SNU could not agree more, especially considering Mrs. Banz concluding statement, "My heart and passion is to love kids with arms wide open. To love like Jesus. To create a place where kids are safe and successful."
Mrs. Banz feels incredibly honored to have received this recognition and award, blessed to do what she loves every single day, and forever grateful that she has stepped into her calling. Congratulations, again, Kim. We are extremely proud of you.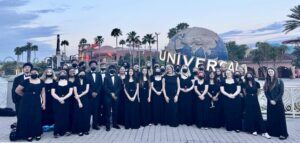 Pictured is a photo of Kim Banz with her students at a recent trip and competition at Universal Studios
Back to Blog