SNU Graphic Design Students Win Ten OKC Ad Club Addy Awards
/
/
SNU Graphic Design Students Win Ten OKC Ad Club Addy Awards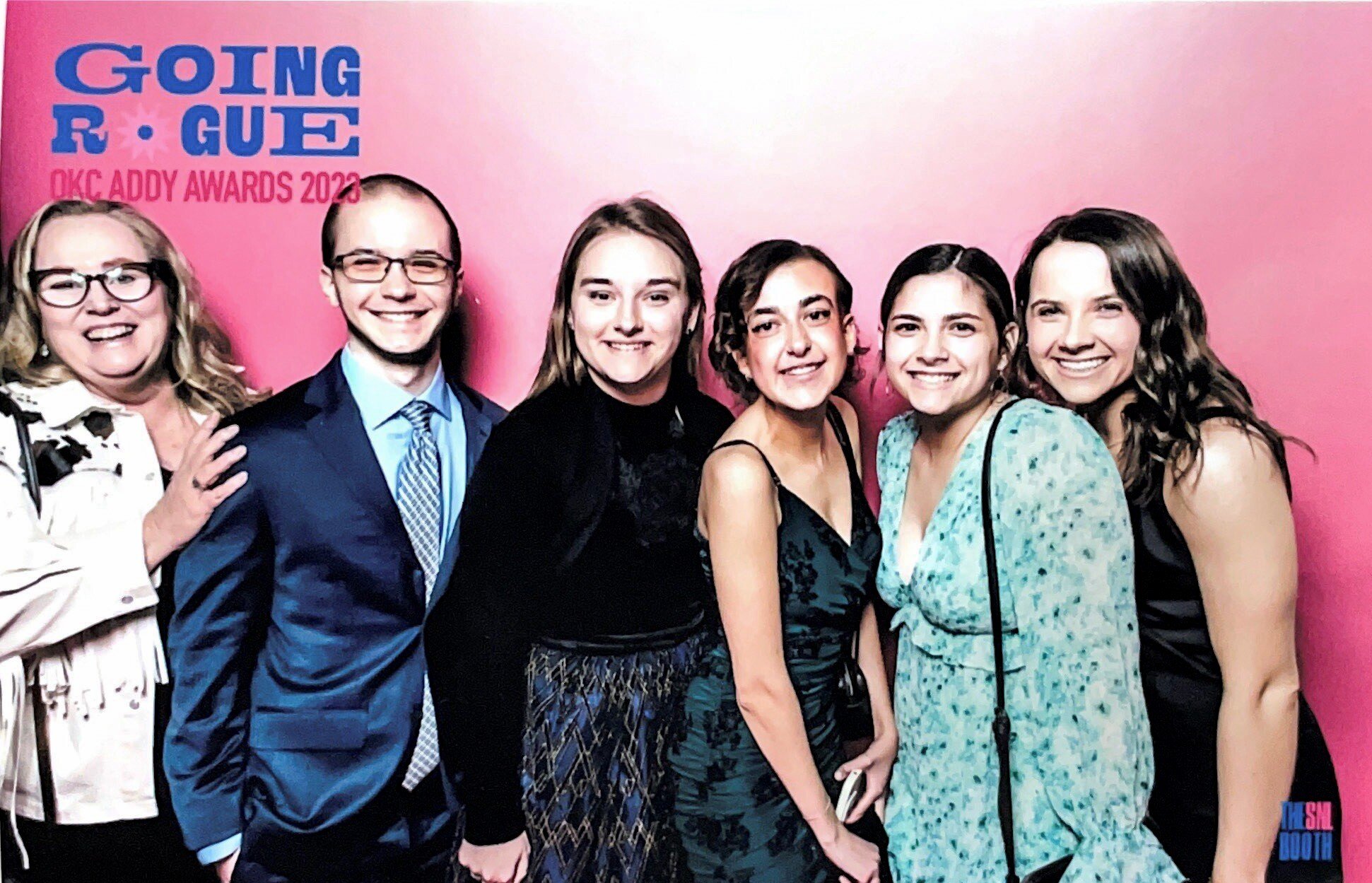 Congratulations to the five SNU Graphic Design students who won ten awards at the 10th District OKC ADDY Awards Gala on February 18, 2023. The formal event was held at the Criterion theater in downtown Oklahoma City with an attendance of 250 or more. Professor Phyllis Eagle, SNU
Graphic Design department chair, has entered students in the competition for the past seven years. Each year SNU design students have placed in many categories, with this year's entries garnering the most awards for the department so far!
The ADDY Awards are the largest creative competition in the country, with approximately 55,000 local entries competing in 200 cities coast to coast. Winning at the local level is the first step in competing for a national ADDY trophy. Any entry that wins a Gold or Silver ADDY Award is eligible
to advance and compete in the district competition. From there, they could advance to the national competition. There are both professional and student-level competitions hosted at each district and celebrated at the award ceremony.
The winning SNU Graphic Design students, the award levels, and the categories they won in are:

SENIORS
Madeline Hoffpauir
Gold Addy- Dwelling Place Interiors, Stationery
Bronze Addy- Mixed Media Floral, Illustration
Bronze Addy- Stay Well with Vitamin C, Social Media

Maitland Pickle
Silver Addy- YWCA- You are Strong!, Outdoor & Transit Media

Abigail Tardibono
Gold Addy- Essence, More Than Art, Publication Design Cover
Silver Addy- Shade, Illustration
Bronze Addy- Orange Candy, Illustration
JUNIORS
Katherine Baker
Silver Addy- Finned Fossil, Illustration
Bronze Addy- Dead Sea Soaps, Integrated Brand Identity Campaign
SOPHOMORE
Cristian Tadlock
Bronze Addy- Tell 'em Vision, Illustration

As a special recognition for each university, the judges tally up the total points from each student's entries and award them the Best of University. Winning the Gold Addy for SNU with the most points for the 2023 school entries was Abigail Tardibono.

PICTURED ABOVE: Professor & Department Chair, Phyllis Eagle; Christian Tadlock, Katherine Baker, Abigail Tardibono, Maitland Pickle, Madeline Hoffpauir.

Back to Blog