Your dining experience is more than great food. It is a community experience centered on culinary expertise, fresh ingredients, healthy options and a shared sense of environmental and social responsibility. Our team is committed to creating the best possible dining experience. Join us to experience the comfort, convenience, outstanding food and inviting atmosphere designed especially for you.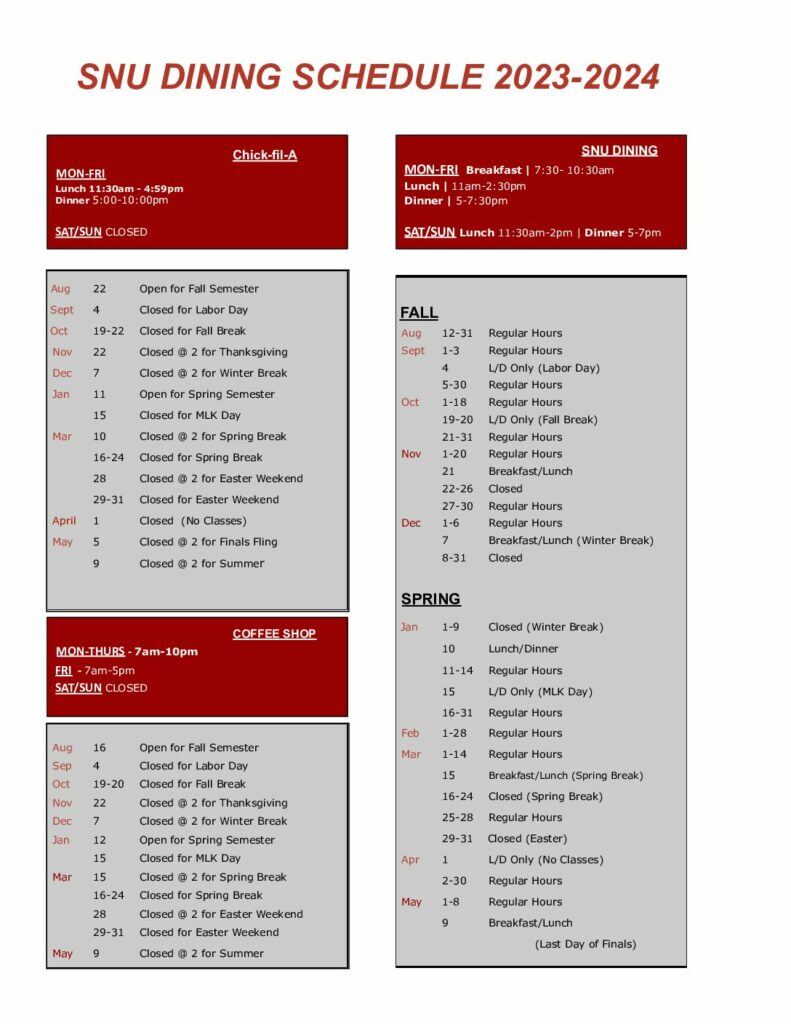 Dining Locations
Please click on the tab below for further information.
SNU Dining Hall

The SNU Dining Hall is located on the 3rd Floor of the Webster Commons Building.  With meal options as diverse as our campus, there is always something new to eat.  Our Culinary Department is constantly evolving to meet the needs of our campus while bringing current trends and regional influence to keep our program fresh.  Your first visit to our facility will be met with awe as you feast your eyes on our new salad bar featuring house-made soups and market-style salads.

Our Sous Chef always welcomes our campus community with inspired dishes, gourmet sandwiches on freshly baked breads, traditional breakfast favorites, and an entirely new pizza program featuring a massive wood-fired brick oven. SNU Dining is open Monday-Friday 7:30 am-7:30 pm, with a modified brunch/dinner schedule available on the weekends. We accept traditional meal plans, dining dollars ("flex"), cash and credit cards.

HOURS:
SNU dining is open continuously from 7:30 am – 7:30 pm, however there are hours in which the kitchen is transitioning to the next meal.  During these times, the salad bar, cereal, toast, etc. are still available while the kitchen is preparing hot food for the next meal.  Designated hours are:

Monday thru Friday
Breakfast -7:30 am – 9:30 am
Lunch – 11:00 am – 2:00 pm
Dinner – 5:00 pm – 7:30 pm

Saturday & Sunday
Brunch – 11:30 am – 2:00 pm
Dinner – 5:00 pm – 7:00 pm

NOTE: Food or drink prepared or purchased outside of the SNU Dining Hall may not be brought into the dining hall area at any time.

The 405

The 405 is completely unique and designed especially for you.  Our menu was created by SNU Dining and our Executive Chef, based on feedback from our campus community.  With a strong focus on crisp bold flavor, our modern Mexican concept has fresh produce delivered daily. Hand smashed guacamole, fish tacos, and our awesome salsa bar are just the beginning. The 405 also offers additional American style offerings for those looking for a change of pace.  A great place to hang out with friends, The 405 features fun games like ping pong, foosball, and pool.

We accept dining dollars ("flex"), cash, and credit cards as well as offering a traditional meal swipe exchange program. Five meal exchanges may be used in a regular 5 day week, with a maximum of one exchange per meal period.

HOURS
M-Th 10:00 am – 11:00 pm
Friday 10:00 am – 7:00 pm

NOTE: Food or drink prepared or purchased from The 405 may not be taken into the SNU Dining Hall.

The Coffee Shop

Located on the first floor of the SNU Library, our kiosk in the student lounge features Starbucks coffee drinks and freshly prepared pastries, along with retail candy and grab and go snacks to fuel your hungry mind. Relax in the Library's comfortable indoor or outdoor study spaces while overlooking the beautiful SNU fountains.  Open Monday-Thursday from 7am-10pm, and Friday from 7am-5pm.

We accept dining dollars ("flex"), cash or credit cards.
Additional Dining Services
1Card

All students are required to obtain an official Southern Nazarene University ID card, known as the "1card," for identification and access to essential university services and facilities. The 1card may be used for a variety of purposes, including:

Official Identification
Residence Hall Access
Library and Sports Center Privileges
Christian Formation Credits [Chapel]
Sodexo Meal Plan Participation

Click here to view your 1Card online account information center.

Catering

The "One Stop" Solution for All Events at Southern Nazarene University. Flavours Catering is a Customer-Driven Platform Designed to Provide an Exceptional Catering Solution to the Students, Faculty, and Clients of Southern Nazarene University.

In Addition to the Flavours Catering Guide, Southern Nazarene University is Proud to Offer Two Additional Options to Help Service All of Your Catering Needs: Casual Catering and Community Catering.

Casual Catering is a Low Cost, No-Frills, Pick-Up Only Catering Solution.

Community Catering allows for Individual Customization in the Style of Service Delivered to the Event, Working Hand in Hand to Meet Your Individual or Departmental Budget Needs.

As always, if you don't see what you're looking for, or need to step out of the box, a member of our catering team will be happy to assist you.

Dining Employment

If you'd like to earn income while on campus, a job with SNU Dining Services may be just what you're looking for! Flexible hours, competitive wages, free meals [depending on how many hours you work], and the benefits of working close to "home" are just a few of the perks. You'll meet a lot of people, too! Apply at the SNU Dining office in the Webster Commons Building Dining Hall. For more information, call 405.491.6379.

Interested applicants may apply at the main Dining Hall. If you would like to apply for a position or learn more information, please use the contact information below.

Dwayne Drake
General Manager
Phone: 405-491-6379, ext 6379
Email: rdrake2@mail.snu.edu

Management Staff

Feel free to contact any member of our management staff with questions or comments, 405-491-6379.

Dwayne Drake – General Manager
Patrick Hurd – Executive Chef
Kristi Jolly – Catering-Retail Manager
Lashae Robinson – Administrative Assistant