SNU VETS Center Makes Two New Hires
/
/
SNU VETS Center Makes Two New Hires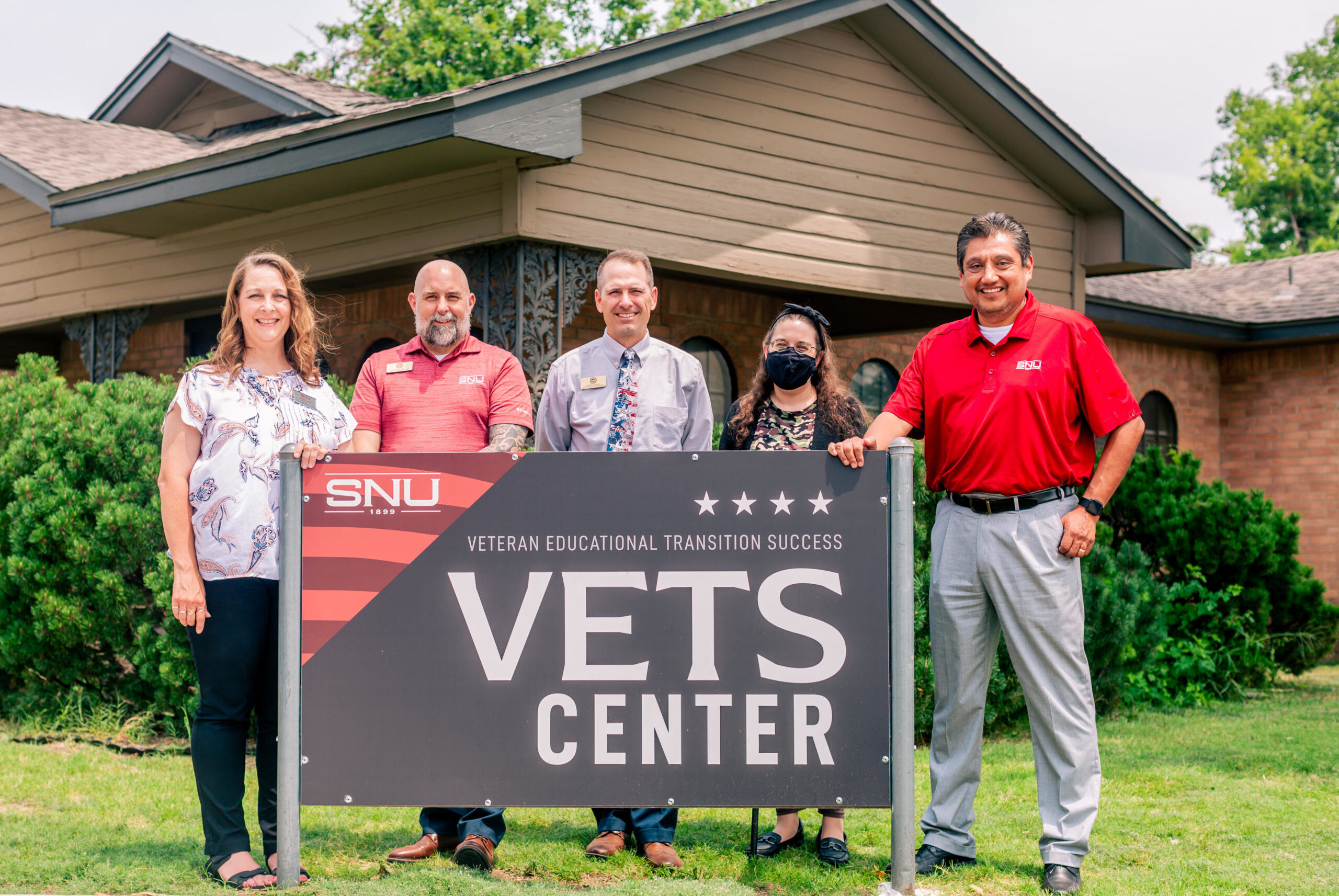 SNU would like to welcome its two newest members of the VETS Center team – Ruben Reyes and Krista Morris. Both SNU graduates, Ruben and Krista sought to fulfill their desire to help veterans with their educational needs, and the VETS Center upholds an ideal in which assisting veterans is essential and paramount while creating connections that help reduce the burden each veteran faces in adjusting to university life.
"We're grateful and appreciative for Ruben's and Krista's continued commitment and service to our veteran and military community," VETS Center Director Mark Nadig said. "They are both value-added for our team and will both be big contributors in helping us achieve our mission in serving [the] SNU veteran and military community with support, empowerment, and connection. I look forward to working and serving with both of them and [am] excited to see their success as we kick off the new academic school year." 
Born in Prescott, Arizona, Ruben graduated from Prescott High School and enlisted in the U.S. Army. Upon completion of the Special Forces Qualification Course, he was assigned to the 7th Special Forces Group and later served in Arizona with the 12th Special Forces Reserve. 
After the military, Ruben worked for a convenience store chain as a training manager before working for American Airlines in their sales department. He then transitioned to a nonprofit organization called D-Dent, at which he worked as the outreach coordinator. During the war in Iraq, his time in the Army offered an ingress into private security, in which he worked as a contractor for 4 years in Iraq. 
His service will act as an invaluable tool in facilitating connection. "Ruben brings a tremendous amount of outreach experience to the team that will help us build bridges with a lot of various community partners that support veterans where we can better connect our student veterans to resources they may want or need," Nadig revealed. "Ruben is an Army veteran, a former infantryman, who served 12 years in the active Army, US Army Reserve, and the National Guard. He also spent time in Iraq as a DOD [Department of Defense] contractor supporting our soldiers."
Ruben attended SNU and earned a Bachelor's degree in Organizational Leadership and completed an MBA from SNU, as well. Familiar with the university, he researched programs that assisted adults through their postgraduate studies and identified the promise in SNU's programs. Due to his research, he found the VETS Center. "I found the SNU Vets Center to be exceptionally supportive of veterans who are navigating the veterans' educational process," Ruben divulged. 
His familiarity with SNU will assist in reducing the student veterans' burdens. "Ruben is also an SNU PGS alumnus of its OL and MBA programs," Nadig said, "so Ruben can definitely relate to what our SVSM-MAs go through when earning a degree from SNU! He'll be a great advocate for them and our Vets House."
SNU further offered Ruben something critical – an avenue for his faith. "I love that SNU is a Christian University," Ruben praised. "One of the deciding factors of choosing SNU was that I knew I would not have to compromise my Christian faith."
A fellow alumnus of SNU, Krista completed a Mass Communication Bachelor's degree with a minor in Business. After graduating, she served as a photojournalist in the Army from 1999-2002 during which she also worked as a writer for the Fort Sill Cannoneer and has since worked in Higher Education teaching students and assisting veterans for 13 years. 
"I have been working in some form of higher education since 2008, when I started teaching in the English department at SNU," Krista shared. "In higher education at various schools, my jobs have consisted of me teaching traditional students, online students, and non-traditional students in the English and Business departments."
Nadig perceives Krista's background as a crucial avenue for connection opportunities. "Krista brings a unique perspective to our team because she has worked in the higher education profession for most of her adult life in various capacities, such as adjunct professor, academic specialist, and administrative assistant," Nadig commended. "She will help us understand the bigger picture on what impacts the VA educational benefits bring to the veteran [students] and the university."
Krista has worked with veterans before. "In my last higher education job, I worked at a school for the federally funded grant program, Veterans Upward Bound, where I assisted veterans only with their post-secondary educational needs," Krista revealed. 
Her previous experience with veterans cultivates a useful environment, something about which Nadig and his team are excited. "She'll be a huge help in supporting our veterans with their benefits and providing them with insight and thoroughness when applying for their benefits," Nadig explained. "She has a great depth of knowledge and understanding when working with the VA and its educational benefits. Our team is very excited to have Krista joining us in supporting our SNU veteran and the military community."
For more information about the VETS Center, visit https://pgs.snu.edu/veterans. 
Back to Blog