SNU's STEM Stars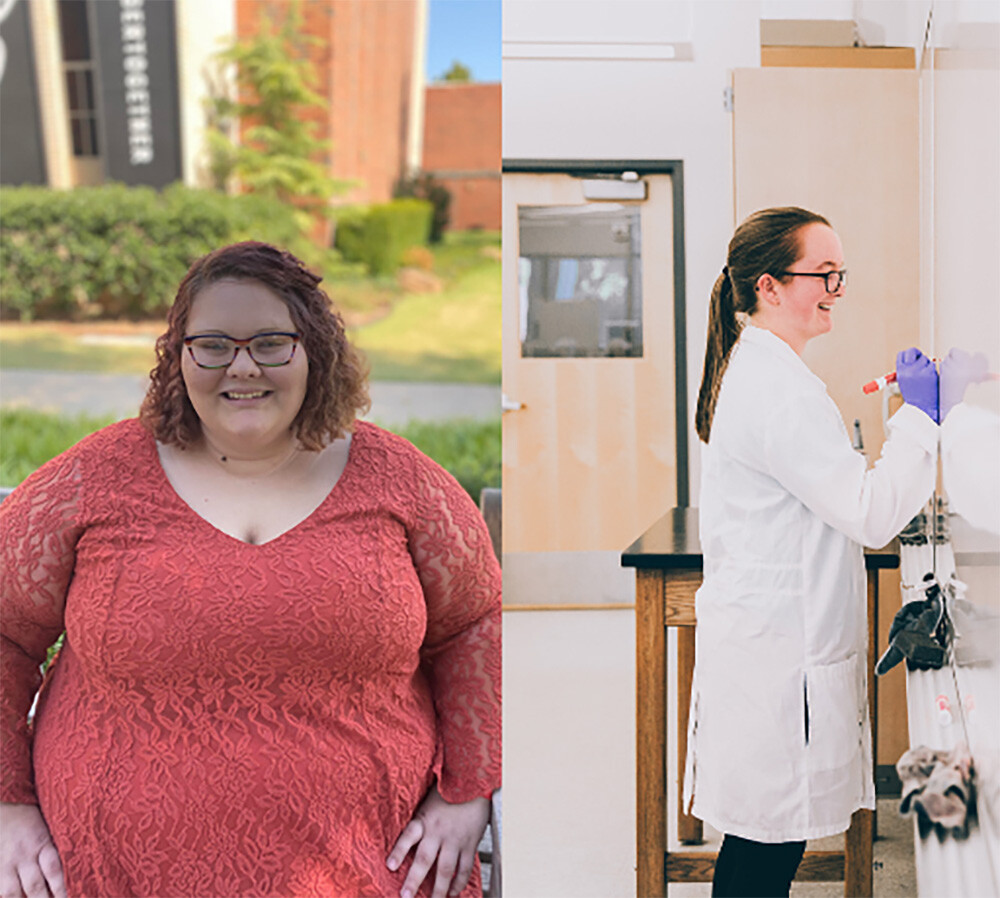 During these unprecedented times, when most undergraduate students would have opted to stay home and quarantine, Katelyn Helwig and Alexis Cormier have chosen to rise into their calling. They have taken their learned experiences and skill sets and translated them into real-life experiences.
Katelyn Helwig, a Bio-Chemistry major, an honor student, and basketball player, was recently accepted to the University of Oklahoma's Doctorate of Pharmacy program. Helwig has spent her
2020 summer working in a COVID-19 laboratory for a pathology clinic. At the laboratory, she has conducted testing and assisted with the diagnosis of approximately 30,000 patients. Helwig participated in the Math and Science Division Summer Research Experience (SRE) in 2019, studying mosquito-borne viruses under the mentorship of Dr. Caio França and presented her findings at the annual meeting of the American Society of Tropical Medicine and Hygiene (ASTMH) at the National Harbor, MD. Along with the formative courses taken at SNU and her missions abroad, these were fundamental in developing the skill-set necessary for her to be in the frontline of this pandemic as well as her acceptance to the Doctorate Program.
Alexis Cormier, a Mathematics Educational major, a first-generation student and a born and raised Oklahoman, is currently studying at the Budapest Semesters in Mathematics Educations (BSME) program, which is focused exclusively on mathematical pedagogy and showing teachers how to incorporate discovery learning and gamification in their lessons. Prior to this, Cormier spent her summer under the mentorship of Dr. Kim Rosfeld, SNU's director for the Ronald E. McNair internship program exploring the SNU Mathematics Deparmrnet's offering of College Algebra. Cormier explored how the changes to the courses impacted the student's success, and what characteristics were shared by the students who were successful and who were not. During the 2020-2021 academic year, she will participate in STELLAR, a pre-service teacher mentoring program sponsored by the Oklahoma Space Grant Consortium. She is one of eight selected Oklahoma students and is the only SNU student participating. Through this program, Cormier will further develop her teaching skills and learn to incorporate new technologies and subjects, such as aerospace science, into her curriculum. Cormier will have the opportunity to attend a National Aerospace Educators Conference in the Spring of 2021.
We are excited to see where Helwig and Cormier thrive in their newfound positions. Congratulations to both of these outstanding students. Katelyn and Alexis are both examples that we are stronger together.
Back to Blog