Veteran and Single Mother, First-generation Graduate Completes Bachelor's in Organizational Leadership
/
/
Veteran and Single Mother, First-generation Graduate Completes Bachelor's in Organizational Leadership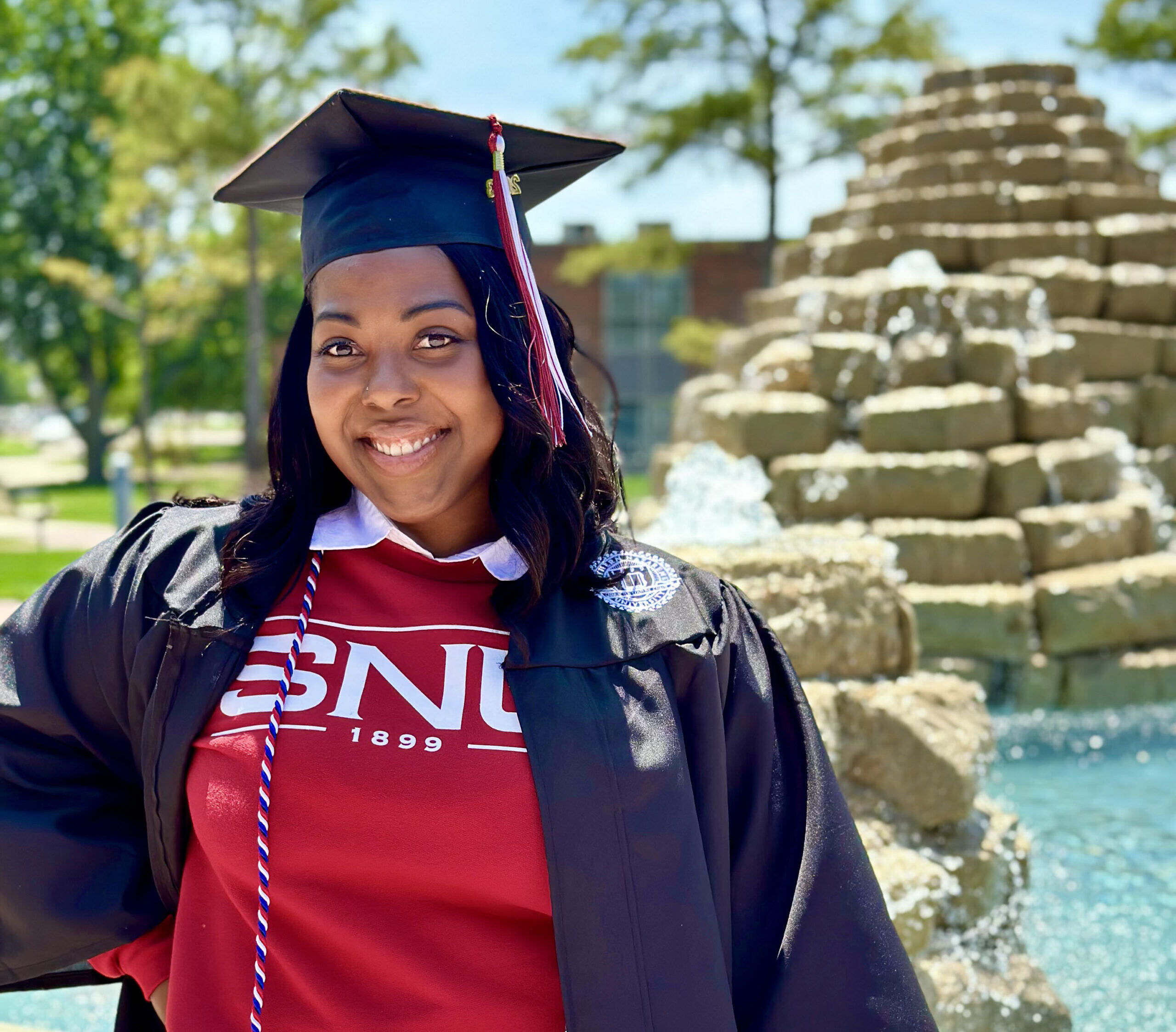 As a single mother and a data analyst for the United States Air Force, Tiffany Taylor needed a bachelor's degree program that would further her life and career, but leave time for her family.
"I want to lead by example for my children and for career advancement. I didn't want any reason I could be told a degree is why I didn't get the position," she shared.
To help reach her goals, Tiffany chose SNU. This May, she graduated with a Bachelor of Science in Organizational Leadership. For Tiffany, completing her degree has been about so much more than getting a diploma.
"I'm the first of my siblings (seven total) to join the military and first out of siblings, parents, and grandparents to attend and graduate college," Tiffany said.
The Organizational Leadership program teaches critical skills that effectively motivate employees, implement change and create a culture of innovation important for today's organizations. Since 1985, the program has been graduating adult students who are proficient in professional communication, problem-solving, strategic thinking, team building, business decision-making, and project management.
"I'm currently doing what I'd already be doing with my degree, but this degree will be unlocking doors that I initially didn't have the key to," Tiffany said.
In 2010, Tiffany joined the United States Army and was deployed in 2013 for 12 months. Tiffany ended her military service in 2016 and, the following year, landed her first Department of Defense position at the Federal Building. Today, she's a contracted data analyst for Tinker Air Force Base.
"Tiffany is an outstanding example of overcoming adversity and numerous life challenges," said Dr. Cathy Hutchings-Wedel, Program Director. "She was committed to completing her degree and never lost sight of the goal. As a single mom and first-generation learner, her educational journey has changed not only her life, but the trajectory of generations to come."
SNU's courses are designed with busy adults in mind—comprehensive and convenient so students can further their education while maintaining a full schedule. Students have the option to attend entirely online. Both modalities accommodate adults who are working full-time, raising a family, and engaging in their community. The program utilizes the cohort model, allowing students to learn alongside each other in the community.
"I'm really big on core values, and attending a school that shares the same belief that I do was a no-brainer," Tiffany said. "Though the campus is large, the environment still feels close. The professors actually know your name, and you're not just a body to fill the seat. The classroom settings are more intimate, meaning it's not overcrowded, and you are able to actually have room to build bonds with your classmates and professors."
SNU is also committed to providing a community in which veterans can thrive. Veteran students can take advantage of the University's VETS Center, offering benefits and financial aid guidance, military student organizations, career services, mentoring, and more.
Back to Blog