Women in STEM: Jordyn Johnson
/
/
Women in STEM: Jordyn Johnson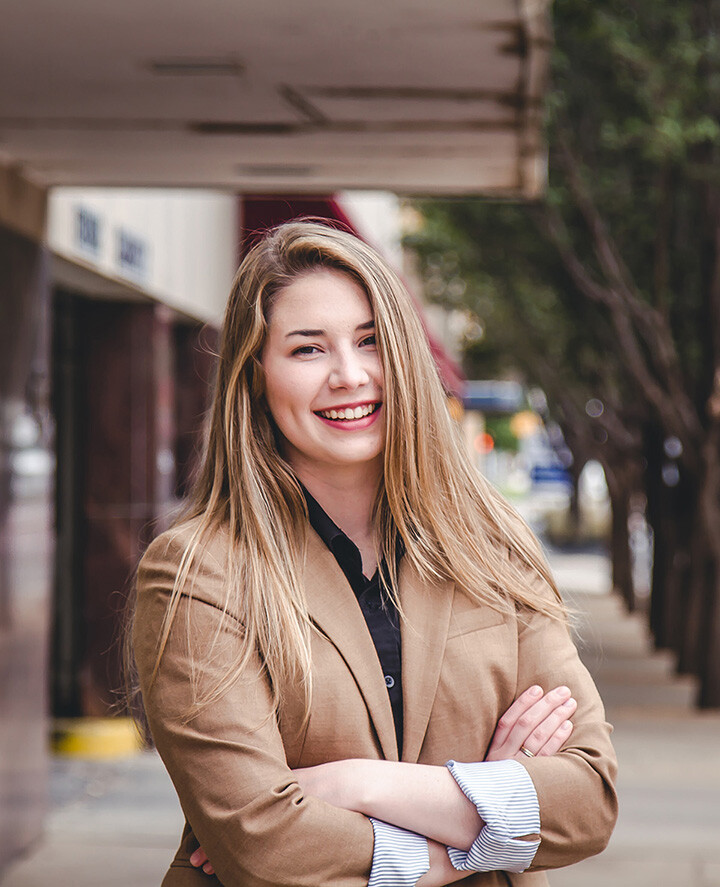 Jordyn Johnson, a student from Amarillo, Texas came to SNU as a biology major. She graduated in 2018 and was immediately accepted into the University of Texas Medical Branch Physician Assistant School. While at SNU, Johnson was a part of the Honors Program, serving on the council for three years. As a Presidential Leadership scholar, she held several leadership positions throughout the years. She was a New Student Institute Mentor, a Resident Advisor, worked in admissions, and was a part of the Tri-Beta society. 
While being a student, Johnson studied abroad at SNU's Quetzal Education Research Center (QERC) program, spending a semester in Costa Rica. Her original career trajectory leaned towards Speech Pathology, however, the life-changing experience she had at QERC guided her more towards medicine, specifically the PA route. Volunteering in that region's health care system reminded her just how important health is for someone trying to achieve their full potential but also how it contributes to some of the greatest inequities among wealth classes. Alongside of QERC, many of her courses were formative in preparing her for PA school.
Johnson credits Dr. Griffitts' Advanced Patho-Physiology course to be the most influential of all her undergraduate courses. The rigor of his course pushed her to develop critical studying strategies and gave her the foundation that she "needed to go into any sort of medical field." Johnson reflected back on Dr. Jackson's Advanced Human Anatomy, claiming that it was "harder than my PA school course of anatomy." There is something to be said about SNU's academics; we are top-notch in the hard sciences and have not lost touch with the importance of interpersonal relationships among faculty and students. Our Biology department prides itself in providing places where students, like Jordyn, can feel confident in asking questions and have continual support from professors who would work things through with their students.
This organic ambiance of learning, outstanding courses, and developed work ethic transcended her undergraduate experience and served her well in PA school. "I knew how to study and I was not lacking in academics." Given the nature of her program, Johnson moves around every two months gaining hands-on experience in different fields of medicine. Her first rotation back into the hospital since COVID-19 was in the emergency room. While PA students were not allowed to work directly with those in contact with the virus, Johnson explains how they must assume that each patient they see is a potential COVID patient.
When asked how her Christian formation at SNU helped in her workplace and in PA school she stated that it "taught me more of why I believe what I believe, and helps me put heart to all of that." She integrated her faith and values when talking about medicine— preparing her for the "hard conversations" with her patients and making it possible to see people as people independent of their illness. Her spiritual formation impacted the way Johnson treats her patients. She credits the exploration of her faith to teaching her to have an openness to loving people, seeing the good in people, looking at someone, and recognizing it is good that this individual exists and is here. Recognizing the light in other people and acknowledging the love that God has for them.
As a woman in a predominantly male workforce, Johnson reminds us of the importance of mentorship.
"You're going to encounter male mentorship — keep an eye out for female mentorship; make connections with them. It is empowering finding mentors that are pro-women and women in STEM. See how they have moved through their career in excellence. Even male mentors can empower females in their fields — look for them. It's always been about who I can look up to and learn from. People that go before you will see where you may see discrimination, and having some who can help lead through that journey."
"It's okay, I am meant to be here, and I contribute to this community. I am powerful, I am just as smart, and I am meant to be here just like anyone else. Carry yourself like you are meant to be there, whether that is a room or a table, because that is what proves to people that is true."
Jordyn Johnson puts our motto of Character, Culture, and Christ into action with her selfless front-line work, with her diligence and dedication towards her studies and her patients, and as a Chrisitan woman in STEM and in the medical field.
Back to Blog