Adult SNU Student Overcomes Great Adversity to Graduate
/
/
Adult SNU Student Overcomes Great Adversity to Graduate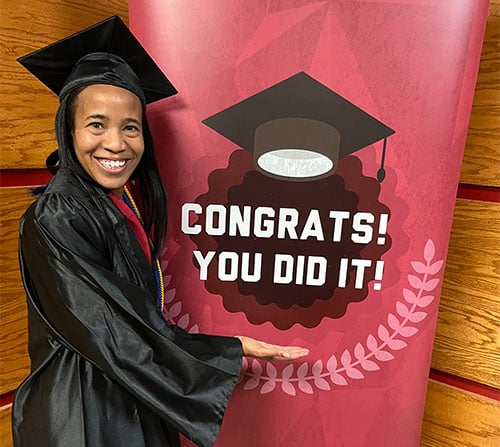 Adult SNU Student Overcomes Great Adversity to Graduate
Lauren Morrison-Edwards was born with cerebral palsy. She has sensorineural hearing loss, along with multiple sclerosis.
Lauren is also a martial arts world champion and a black belt, and started a martial arts school with her family. She was a dance student at her advanced studies high school, and also ran track and field. She taught herself American Sign Language at the age of 12 and knows British Spanish. For years, she's been an active member of the Deaf community, Girl Scouts community, and the Church community.
Lauren is an overcomer. Her life story includes both great adversity and great victory.
When she decided to pursue a bachelor's degree, Lauren chose SNU.
"The reason I decided to pursue my degree here is because I had heard so many great stories about the University. I had read about the school and the testimonies about how helpful they were through a person's academic journey," Lauren said.
With a rich professional background in healthcare, education, childcare, and customer service, Lauren wanted a bachelor's degree that complemented her interdisciplinary skillset. That's why she chose SNU's Bachelor of Science in Organizational Leadership (OL). Since 1985, the program has been graduating adult students who are proficient in professional communication, problem-solving, strategic thinking, team building, business decision-making, and project management.
But as life goes, Lauren faced difficult health challenges during her time in the OL program.
"She really struggled with her health during the program, but she never gave up," said Dayna Stark, Academic Advisor for the OL program. "Lauren knew what she wanted and never gave up on her dream to complete her bachelor's degree."
Resulting from her tenacity, Lauren graduated from SNU in December of 2021. And unsurprisingly, she was a leader along the way—she served on the Disability Advocacy Panel and was selected as a representative of her class. Her presence even made University history as the commencement ceremony was interpreted in American Sign Language for the first time.
"I can't thank this school enough for being there for me during my hard times, the times I wanted to quit and give up. If it wasn't for this school, I don't know if I would've kept going," Lauren said. "I also couldn't have done this without the support of my family, because I'm so glad my mother chose the career of a nurse. She was my biggest supporter, along with my brother. They both were very helpful in this journey."
Thanks to her hard-earned resume and new bachelor's degree from SNU, Lauren quickly received a job offer from Ronald McDonald House Charities. She serves as a coordinator helping to provide care and relief for parents with sick children.
"Organizational Leadership has definitely helped me enhance my leadership abilities, and prepare me for my future," Lauren said.
Before her current role, she worked at the University of Oklahoma Health Sciences Center. She started in the billing department—transforming their processes before moving on to their ENT and admitting departments. She even had the opportunity to serve the local VA hospital during the height of COVID. Prior to her healthcare experience, she served the Boys & Girls Club of America for 10 years.
"I was honored to walk alongside this amazing young woman and watch her confound societal stereotypes and barriers, achieve where others deemed unable, and rise each time she stumbled or life threw something at her," said Tabitha Pope, Director of Disability Services. "For me, Amanda Gorman's poetic words summarize Lauren's journey here at SNU in every way: 'There is always a light, if only we're brave enough to see it—if only we're brave enough to be it.'"
SNU's Organizational Leadership degree is designed with busy adults in mind. It's comprehensive and convenient so students can further their education while maintaining a full life. In addition to one-night-a-week classes in Del City, students also have the option to attend entirely online. Both modalities accommodate adults who are working full-time, raising a family, and engaging in their community. The program utilizes the cohort model, allowing students to learn alongside each other in community.
Back to Blog