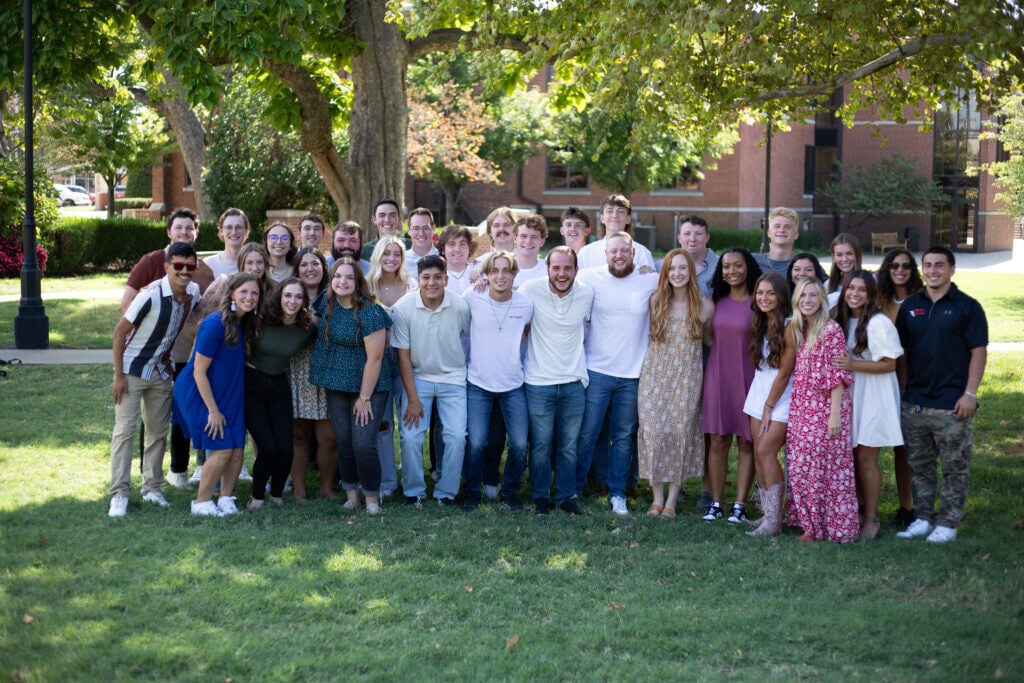 At SNU, we believe that living on campus is important to your success and journey as a student and encourage ALL undergraduate students to be a part of our residential community. We are certain on-campus living contributes greatly to a student's development as national research performed at colleges and universities indicates that students who live on campus enjoy a more positive and rewarding university experience.
Students who live on campus tend to be more involved, develop better study habits, have more contact with faculty and staff, and achieve higher grades. SNU is committed to enhancing your development outside of the classroom by providing a community in which you can grow and learn by interacting with other students and support from residential staff.
Residential Life utilizes a creative blend of programs and activities to help you reach your full potential. Each of our residential living areas has a Resident Director (RD), a full-time staff person, who lives and works in the building, providing support spiritually, socially, and academically throughout the year. We also have a committed team of student Resident Advisors (RAs) who reside and work in the hall helping to create our strong and cohesive community.
Follow us on Instagram!
Housing Contract

Click the link below for the 2023-2024 housing contract.

Have additional questions? Email housing@snu.edu, or stop by the Office of Student Life, located in the Lower Level of The Webster Commons.

Housing FAQs

What do I need to do in order to secure a room for the FALL?
1. Complete and return your Roommate profile.
2. Pay your $150 registration deposit.
3. Be sure your future roommate, if you have selected your own, has completed the profile and
paid the deposit.
4. Be sure the person you requested as a roommate has also requested you and this is noted in
both of your roommate profiles.

When will I know my Room Assignment and Roommate?
– You will be notified by email at your SNU email address of your Room Assignment and Roommate,
along with contact information for your roommate on the following dates based on the date in
which your roommate profile and $150 registration deposit are received.

Can I switch roommates?
– Unfortunately, we are unable to accommodate roommate changes after rooms are assigned
and communicated. Within the first 2 weeks of school, each suite or roommate pair will
complete a covenant to be proactive about any potential concerns. Residence Life Staff will
also be available in that time and throughout the year to help set each roommate pair up for
success.

When can I move in?
– See move-in dates and times in the Move-In tab on this page for the most updated information.
– Those involved in fall sports that begin practice early will get move-in information from their
coach.
– We are unable to accommodate early move-ins due to cleaning and inspections that occur
before residents are able to move in. Residence Halls will open at 8:00 am on the Friday of NSI.
Who is responsible for cleaning my room?
– Students are responsible for cleaning their own rooms, bathroom suites (excluding Snow)
and/or apartments. Students will sign up for responsibilities each month and Resident Advisors
will do cleaning rounds every other week. Students may check out a vacuum cleaner from their
RA.

Are my personal belongings insured?
– The university is not responsible for any theft, loss, or damage of students' personal property. It is
highly recommended that students obtain renter's insurance through their insurance provider.
What are the residence hall policies?
– Residence Hall policies and all University policies can be accessed online through the SNU
Website (www.www.snu.edu/handbook). The handbook provides specific information regarding
student services and university policies. All students will also sign a Lifestyle Covenant and will
have the opportunity to hear from and speak to the Resident Director within a week of their
arrival to review all expectations in the residence hall and on campus. Please note that we only
guarantee on-campus housing for full-time, traditional undergraduate students 24 years of age
or younger.

Roommate Profile and Registration Deposit received:
Before May 31
You will be notified by mail at your home address:
the First week of June

Roommate Profile and Registration Deposit received:
Before June 30
You will be notified by mail at your home address:
First week of July

Roommate Profile and Registration Deposit received:
Before July 31
You will be notified by mail at your home address:
First week of August

Roommate Profile and Registration Deposit received:
After August 1 You will NOT be notified by mail and will receive your housing
information when you arrive on campus for New Student Institute.

How does the drawing to be placed in the A.M. Hills Residence Hall work

– Roommate profile + Registration Deposit completed by first week of May = Eligibility
– All eligible individuals are placed in a random number drawing. If they have signed up with a
roommate and the roommate is drawn, they are automatically placed in Hills. Those that have
not signed up with a roommate are placed in the drawing twice to give ensure each student
has an equal opportunity to be drawn.
– If a student does not have a preference they are included in the Hills drawing.
– The first 56 females and 32 males drawn (either individually or with a roommate) are placed in
Hills.

How does the room placement process work?
– The Hills drawing must be done the first week of May in order to enter charges that allow
students to take advantage of the 12-month payment plan. We know this is a great benefit to
parents and students and want to be sure information is entered to make this possible.
– Once charges are entered, the Residence Life Department spends the remainder of May
focusing on the details involved in closing each hall for the year and preparing halls for
conferences/camps and summer housing students.
– The first week in June, roommate profiles are gathered and sorted based on living area
preference and roommate profile details. Incoming students are then placed in suites and
hallways and letters are sent out to those that have been placed.
*The same process takes place the first of week of July and the first week of August.

How will I be notified of my housing placement?
– Placement letters will be by email to the email address that you have provided on your
application for admission. The email will include your residence hall, room number, roommate
(if you have been paired with a roommate at the time letters were sent) and the roommates'
contact information.

Is NSI (New Student Institute) required?
– All events throughout the NSI program are required for all incoming students 23 years of age
and under. Students need to clear their schedules for this entire time in order to fully engage
and participate. You will receive information about NSI from the Office of Student
Development at (405)-491-6336.
Residents will sign a Housing Contract either at Storm Surge or upon arrival in August or January.

What furniture is provided in the Residence Hall?
– Each room in Bracken, Hills and Snowbarger is furnished with a bed, dresser, desk and desk chair for each resident.
– The living rooms in the Hills suites have a couch, loveseat, dining room table and chairs, 3 cubes (to be used for coffee table or side tables) and a full size refrigerator.
– Each apartment in Chapman is furnished with a bed and a full kitchen (including full size
refrigerator).

BRACKEN
– 1 small (3.3 cu.ft.) refrigerator allowed in room.
– Full kitchen in lobby.
– No microwaves allowed in individual rooms but there are a few in common areas.

HILLS
– 1 Large refrigerator is provided in suite.
– No individual refrigerators allowed (except in private room).
– Full kitchen in the building
– 1 microwave and 1 George Foreman allowed per SUITE!

SNOWBARGER
– 1 small (3.3 cu.ft.) refrigerator allowed in each room.
– No microwaves allowed in individual rooms but one is provided for each hallway.

CHAPMAN/ASBURY/IMEL
– 1 large refrigerator is provided in each apartment kitchen
– 1 microwave allowed in each apartment kitchen.

Lifestyle Covenant

The latest version of the SNU Lifestyle Covenant may be viewed or downloaded below. All students are expected to read, understand, sign, and abide by the Covenant while they are a part of the SNU Community.

Move-in Times

New student move-in days and times 

August 12 – 8:00 am-2:00 pm – New Students participating in New Student Institute
August 14 – 5:00 pm -11:00 pm – Returning Students may begin moving in

SNU Dining opens for all students August 15th
August 16 – CLASSES BEGIN

Packing List

Residence Halls

Student Handbook

Please click here for the current student handbook.

This digital copy of the Student Handbook is prepared for the convenience of students.  We make every effort to ensure that the most updated edition is available.  However, if a question arises, an official copy of the SNU Student Handbook is held in the Office of Student Life.
Residence Life Staff