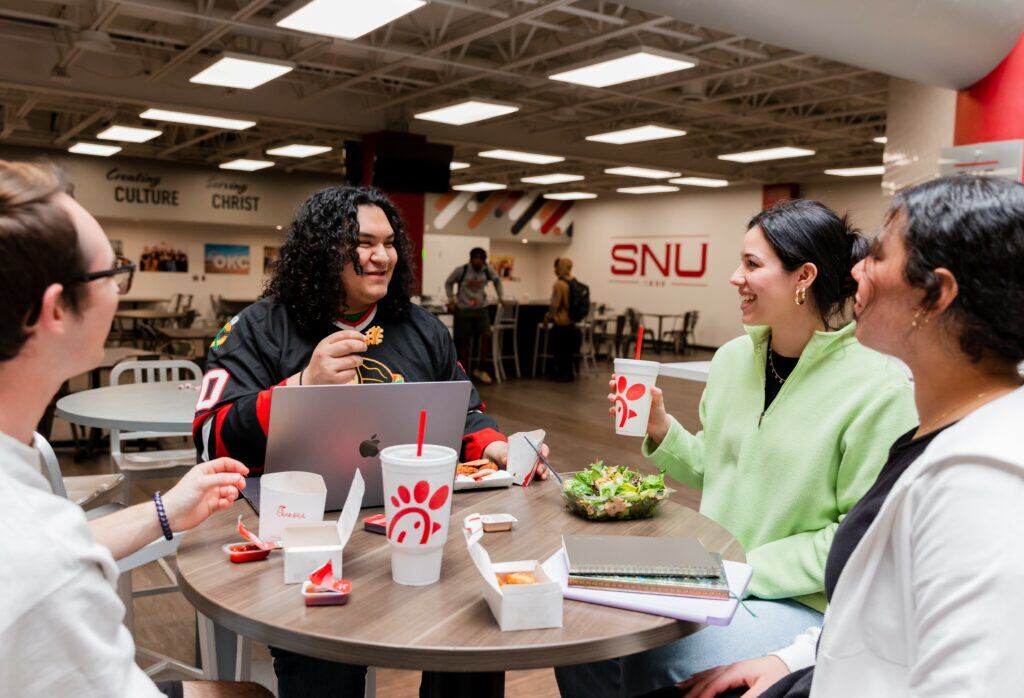 SNU is a community of both developing scholars and growing Christians. Great food is a requirement of any successful gathering of the minds, and there is no better way to enjoy a meal on SNU's campus than with a meal plan. These plans save our students sales tax on each purchase and are a discount each time you swipe into a dining location.
Meal Plans are comprised of a combination of meal swipes and Flex Money. Meal swipes can be used at SNU Dining or traded for specially marked meals at Chick-fil-A. Flex money is accepted like cash on campus at any of the dining locations as well as our Coffee Shop, never charged sales tax and held in an account tied to your student ID card. Additional Dining Dollars (similar to Flex) can be added to your account at any time.
View Your Meal Plan Options
Are you a commuter and ready to purchase? Meal plans can be purchased by completing the Commuter Meal Plan Application online.
Residential Meal Plan – 19 Plan

On Campus residents are required to purchase a Residential Meal Plan as part of their on-campus residency. 

A total of 19 meals per week, combined with $150 in Flex for use at any dining location.

$2210 per semester

$4420 per year

60 Block

Only offered to commuter students, this is our most popular meal plan for students commuting to campus.

A total of 60 meals per semester combined with $125 in Flex for use at any dining location.

$720 per semester

$1440 per year

Dining Dollars

Dining Dollars can be added to any meal plan or added separately anytime during the year. These are treated like cash when used on campus and are never charged sales tax.