The A.M. Hills Residential Complex is divided into 2 separate halls, Garey Hall & Jernigan Hall. One hall houses male students while the other houses female students. There are a total of 288 student beds for students. In addition, the building also is home to the Bud Robinson Room, located at the center of the 1st floor which holds 300+ people and is equipped with a projector and 3 TV's which can be synced to the main projector or used independently.
Hills features exciting programming, custom planned for each year's residents. Some examples of popular events include a Thanksgiving feast, a Christmas party, ice cream floats, and individual events for each hallway in the building.
Hills fosters a cohesive atmosphere celebrating a meld of residents of all ages with different majors who are involved in various activities. Residents can often be found in the common areas of their suite rooms or in the common lobbies located on each floor. These spaces are places where close friendships are formed and life-long bonds are created.
Like all residence halls, Hills has a wonderful Residence Life staff. The staff includes twelve young men and women who are selected as Resident Advisors. The RA's do a great job providing comfortable living conditions, building relationships among residents and providing spiritual guidance. Overall, Hills provides a fantastic and memorable living experience for all residents.
Each resident receives a bed, desk, desk chair, and dresser.
Each 4-Person suite also contains a refrigerator, couch, kitchen table, kitchen chairs, cubes (for coffee table use), and an entertainment unit.
Each 8-Person suite also contains a refrigerator, 2 couches, kitchen table, kitchen chairs, cubes (for coffee table use), and an entertainment unit.
More information about the residential complex:
Contains eleven 8-Person suites and forty six 4-Person suites
Contains two 2-Person and twelve single rooms for RA's, ADA & other residents
4 lobbies with couches, tables, a study area, and TV
Each floor and wing is equipped with washers and dryers
Entertainment room with couches, TV, and study area
Classroom (holds 40 students) equipped with 2 smart boards
At least 2 security access points to each living area and 42 security cameras throughout the building
Community kitchen with oven
2 elevators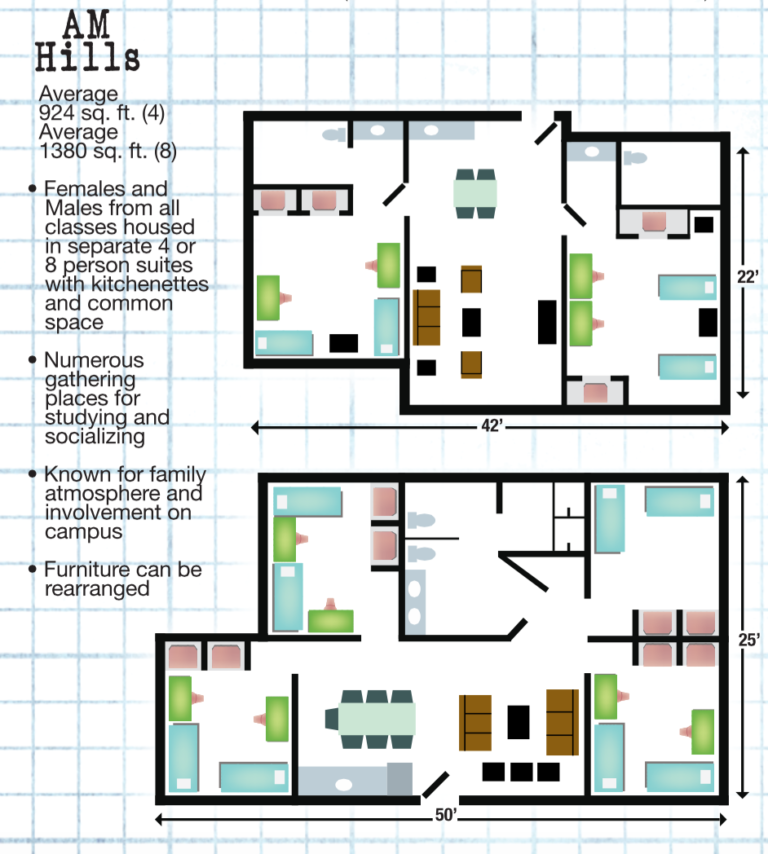 A.M. HILLS HALL ROOM CUSTOMIZATION:
PLEASE OBSERVE THE FOLLOWING REQUIREMENTS:
Alterations
· constructed material may not be used to decorate unless such material can be freestanding & not anchored in any way
· painting is prohibited
· changes or adaptations of electrical outlets or lighting fixtures are prohibited
· power strips with a circuit breaker are permitted — extension cords are prohibited
· exterior antennas are prohibited
· adaptation of phone, cable television, or internet outlets is prohibited
Appliances
· One microwave and one George Foreman grill is allowed in each 4 person and each 8 person suite
· freezers, hot plates, electronic & microwave ovens, toaster ovens, crock pots, & major appliances are prohibited (by restriction of Bethany Fire Department, City code)
Candles
· possession of candles, incense, matches, lighters etc. is prohibited(by restriction of Bethany Fire Department, City code)
Television & Gaming – Connecting your Devices
Decorations
· contact paper, wallpaper, or cork is prohibited
· holes are not to be made anywhere
· nothing should be permanently anchored
· adhesives that leave residue or cause damage are prohibited (resident will be fined for any damages to wall)
Heating Units
· of any kind are prohibited (by restriction of Bethany Fire Department, City code)
Mattress Covers
· are required
Musical Instruments
· electronic pianos, horns, drums, etc. may not be played in the residence hall
University Owned Furnishings
· may not be removed from the room
Windows
· energy efficient windows & panels have been installed.
· window panel surfaces are to remain free of any covering including posters, fabric, décor, etc.
· mini blinds are not to be removed

All rooms are subject to periodic inspections by University personnel. Students are expected to keep their rooms orderly & reasonably clean. Rooms vacated in a non-standard condition will be charged against your room deposit per occupant, plus the cost of returning the room to standard condition.
LEED (Leadership in Energy & Environmental Design)Silver Certification
3rd building in Oklahoma and 1st residence hall to achieve LEED certification
Underground rain water storage system (this water is used for irrigation)
Energy and Water Efficient (Low flow plumbing fixtures designed to conserve water, high efficiency hot water sytem, 16 SEER Heat & Air and other features)
97% of the materials from the previous Garey Hall were recycled
All waste materials from the A.M. Hills construction site have been recycled
Construction Details:
Represents the single largest construction project in the history of SNU
Opening Date: January 2011
Estimated Project Cost: $12 million
Size: 290 bed, suite-style residence hall
For Whom: Freshmen through Seniors
Housing Arrangements: Men and Women in separate wings
How it's Made: Steel and concrete construction
100,000 total square feet