SNU Life
So what is life really like as a traditional student at SNU?
It feels like home. It's our priority to create a place for you to connect. For some this looks like hanging out in one of our residence halls, taking some time to meet a friend for coffee in our campus coffee shop, leading a small group or chapel worship, or even getting involved in student leadership or a club. SNU prides itself on a Christian environment where individuals are valued and every student's success matters.
Since the needs, interests, challenges, and concerns of college students are so varied, SNU provides numerous on-campus services to assist our students. Take a look.
The Office of Student Life is conveniently located on the lower floor of the Webster Commons. Several offices are and this area to provide services and answers for students. If you have questions feel free to call us at 405.491.6336 or email studentlife@snu.edu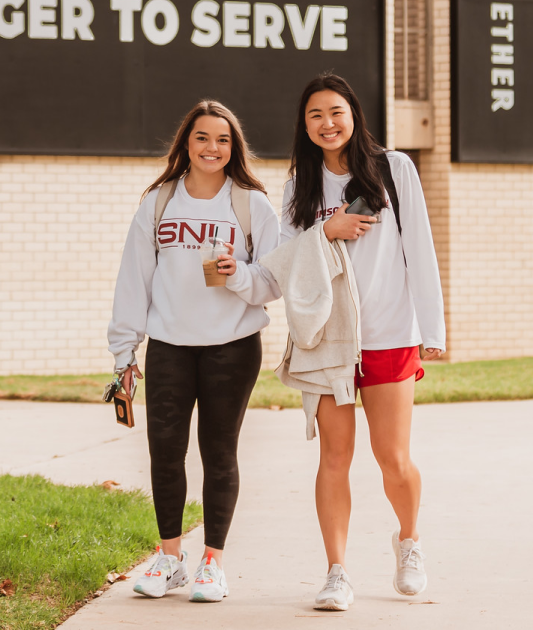 Campus Life
As stated in the mission statement, the basic commitment of Southern Nazarene University is to "make Christlike disciples through higher education…" SNU is a community of both developing scholars and growing Christians. Thus, each student is encouraged to recognize the privileges available to participate in a community committed to Christian scholarship. Behavioral expectations emerge because of the unique nature of this community. Students, by choosing to enroll at SNU, indicate their desire and willingness to live in harmony with these responsibilities of membership in the University community.
Campus Dining
Your dining experience is more than great food. It is a community experience centered on culinary expertise, fresh ingredients, healthy options and a shared sense of environmental and social responsibility. Our team is committed to creating the best possible dining experience.
New Student Institute (NSI)
It's almost time to make your first appearance on the campus of SNU. It is very important to us that your first days on our campus are special ones. We want to welcome you, help you get to know other new students, and help you get to know the many great people that are part of the SNU family.
Student Government (SGA) and Clubs
Whether you're passionate about athletics, music, science, social life, or coffee, you're part of this community. What you do represents the whole, and we celebrate that.
Student Government (SGA) and Clubs
Housing and Residence Life
At SNU, we believe that living on campus is important to your success and journey as a student and encourage ALL undergraduate students to be a part of our residential community. We are certain on-campus living contributes greatly to a student's development as national research performed at colleges and universities indicates that students who live on campus enjoy a more positive and rewarding university experience.
Spiritual Life
Spiritual Life at SNU is seeking to create Christ-centered community on campus by initiating and nurturing authentic relationships with Jesus and others, discipling students towards holiness and maturity, gathering students for corporate worship, and involving students in compassionate service to others. Students will be constantly challenged to engage in a local church community as they weave together their educational experiences, their Christian faith, and their future vocational endeavors.
Student Handbook
The handbook will help clarify the expectations and standards for life in the SNU community. Please read through this material and familiarize yourself with its various policies, and guidelines. Understanding of this information is the responsibility of each SNU student. Questions about any aspect of the handbook should be directed to the Director of Residence Life or the Dean of Students.