Convenient Bachelor's in Organizational Leadership offered in Del City
/
/
Convenient Bachelor's in Organizational Leadership offered in Del City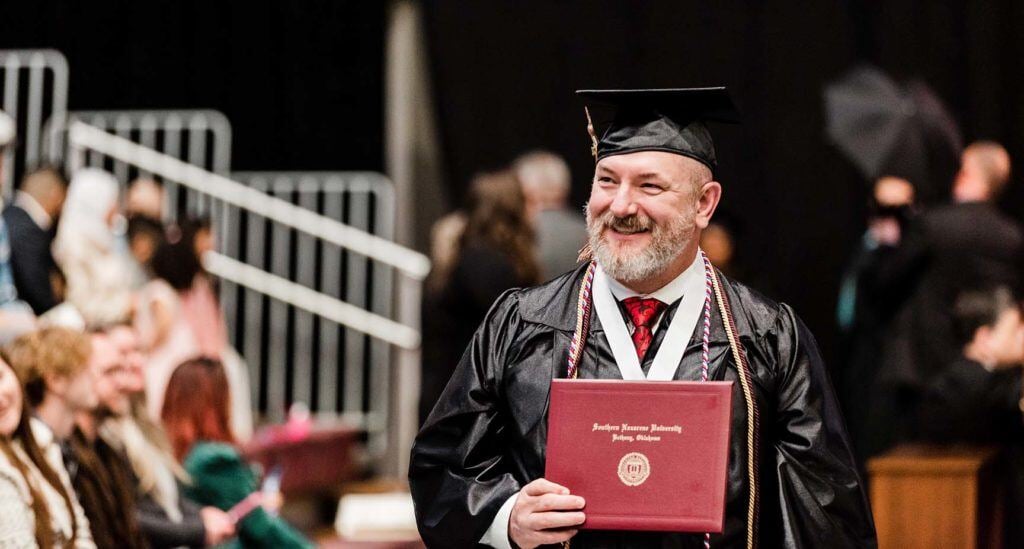 In April 2022, Southern Nazarene University will offer the Bachelor of Science in Organizational Leadership program at its Del City location in Oklahoma. The program can be completed in as little as 15 months by attending class just one night a week.
"The Organizational Leadership program teaches critical skills that effectively motivate employees, implement change and create a culture of innovation important for today's organizations," said Dr. Cathy Hutchings-Wedel, Program Director.
Companies need qualified leaders to articulate vision and implement strategies that will distinguish the organization and transform the workplace. Since 1985, the program has been graduating adult students who are proficient in professional communication, problem-solving, strategic thinking, team building, business decision-making, and project management.
"It has been a privilege to walk alongside adult learners and invest in their personal and professional growth as they learn and utilize these skills," Dr. Hutchings-Wedel continued.
Regardless of which industry or type of organization students work in, they will gain a keen understanding of what healthy leadership looks like and how to embody it. Offering more versatility than the business administration degree, this program's coursework can be applied anywhere—from businesses, non-profits, ministries, healthcare, schools and more.
SNU's courses are designed with busy adults in mind—comprehensive and convenient so students can further their education while maintaining a full schedule. In addition to one-night-a-week classes in Del City, students also have the option to attend entirely online. Both modalities accommodate adults who are working full-time, raising a family, and engaging in their community. The program utilizes the cohort model, allowing students to learn alongside each other in community.
SNU is also committed to providing a community in which veterans can thrive. Veteran students can take advantage of the University's VETS Center, offering benefits and financial aid guidance, military student organizations, career services, mentoring and more. SNU's Del City classrooms are just 7 minutes (2.4 miles) from Tinker Air Force Base in Oklahoma.
For more information on enrolling at SNU's Del City classroom, contact Ruben Reyes, Enrollment and Outreach Coordinator, at 405-252-0737.
Back to Blog