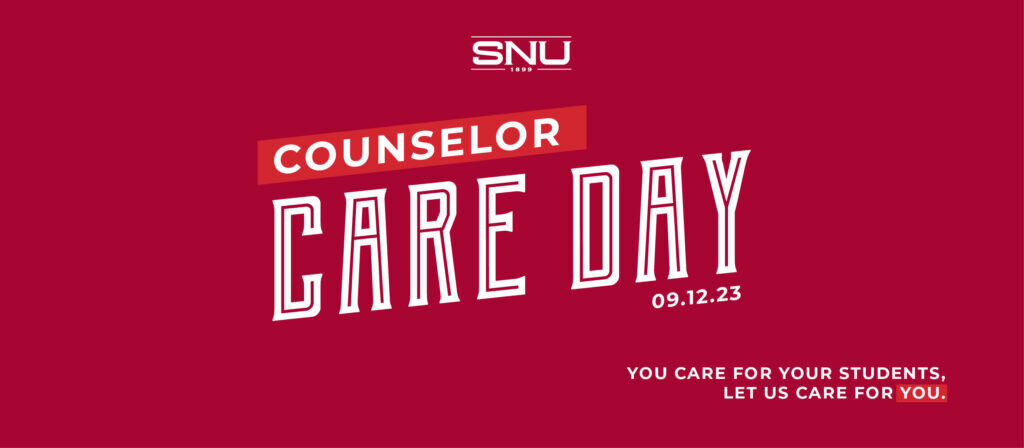 2023 High School Counselor Care Event
We want to equip you to best serve your students and treat you along the way!
Whether SNU ends up being a fit for your students or not, we'll do everything we can to partner with you through the process.
Please join us for lunch, customized sessions including a coffee break, and more!
Tuesday, September 12th, 2023
1-3:15 pm
President's Dining Room, 2nd Floor
Webster Commons
Southern Nazarene University
---
LEARN MORE ABOUT SNU!
Programs of Study
Your students want to change the world, and their undergraduate experience should help them achieve that goal. SNU will prepare them professionally, challenge them to think and encourage them to serve. Whether in the classroom, working in an internship, studying abroad, or engaging with their professors, SNU academics will help to develop the servant-leader within them.
SNU Honors
Southern Nazarene Honors prepares gifted scholars to serve the world around them. Our program is designed to stimulate creative, interdisciplinary analysis, facilitate student-faculty mentorship, and enable high-quality undergraduate research that will carry the student beyond graduation. By requiring participation in service-learning and cross-cultural experiences, we teach motivated students to lead by example. By encouraging excellence in scholarship and creative analysis, we create life learners who will use their intellectual gifts to enrich the professional, social, and religious communities in which they live, beginning with the campus community at SNU.
TRIO
Student Support Services (SSS) is fully funded by a federal grant through the U.S. Department of Education and the TRiO Student Support Services program. Southern Nazarene University's SSS program serves 165 eligible students yearly and is one of over 900 programs like it in the country. SSS helps eligible students successfully complete their post-secondary education by providing a foundation for overcoming academic, personal, and cultural obstacles to higher education.
Scholarships
Private schools like SNU can be perceived as "unattainable" for some students. That's just not the case! With scholarships available in virtually every department, institutional aid, and of course, opportunities for outside scholarships, we're in the business of doing our best to find the path for any student who wants to come to SNU to have the ability to join us. For more information on a specific department, email us at admissions@snu.edu.
Group or Individual Campus Visits
Come see what all the hype is about! It's our pleasure to host you on campus or virtually. Interested in bringing a group or having us do a virtual tour with an individual student or class? We're ready!
No Application Fee
The short of it is, there isn't one!
SNU does not have an application fee. Encourage your students to apply. They never know what might happen!
Oklahoma Promise = SNU Promise
If your students qualify for Oklahoma Promise they could qualify for a scholarship and aid package covering the full cost of tuition.