SNU Celebrates 119th Commencement
/
/
SNU Celebrates 119th Commencement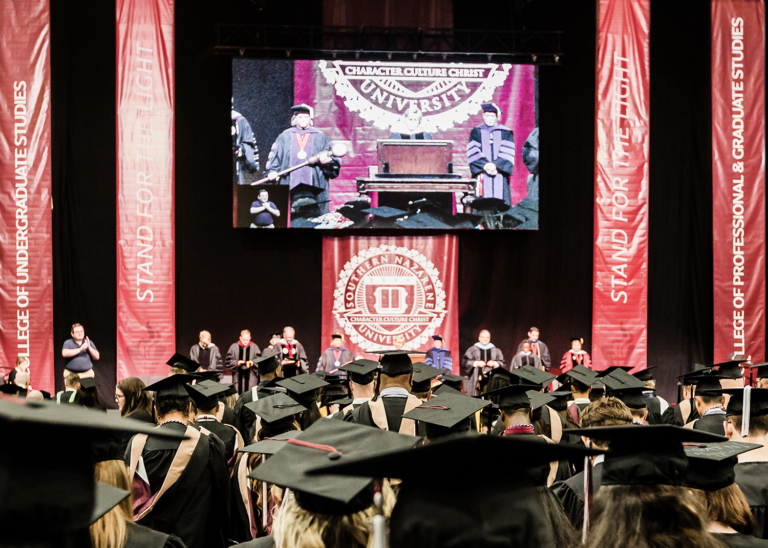 The 119th Commencement of Southern Nazarene University took place on Saturday, May 14. Two commencement services occurred in celebration of the 342 May 2022 graduates—the College of Undergraduate Studies conferred 184 degrees and the College of Professional and Graduate Studies conferred 158. This spring also marked the second graduating cohort of SNU's Doctor of Education program with 7 doctoral degrees conferred.
President Keith Newman presided over the services featuring greetings from Provost Dr. Tim Eades and prayers from several parents of graduates. The commencement address was delivered by Dr. Kevin Lewis, who graduated from SNU in 1991 and went on to graduate from Medical School at University of Texas Health Science Center in San Antonio, Texas. Dr. Lewis is currently serving as Regional President of SSM Health Medical Group based in OKC. His middle daughter of three graduated in the College of Undergraduate Studies Ceremony at 10 a.m. The University awarded an honorary doctorate to Rev. Jim Hill. Jim has been in pastoral ministry for 41 years, having served churches in Alabama, Texas, Ohio, and Oklahoma. Among many designations, he has served on the Board of Trustees at SNU for 15 years.
University Provost, Dr. Tim Eades stated, "After several years of altered commencements and limited crowds due to the pandemic, it was so very exciting to see Sawyer Center full and families and friends cheering on the class of 2022. We are proud of this class, they have shown exceptional grit and persistence as they pursued their degrees in a time such as this."
More information will be posted regarding December's event by this August at www.snu.edu/commencement.
Back to Blog