SNU Students Bring Home Awards in Ethics Consortium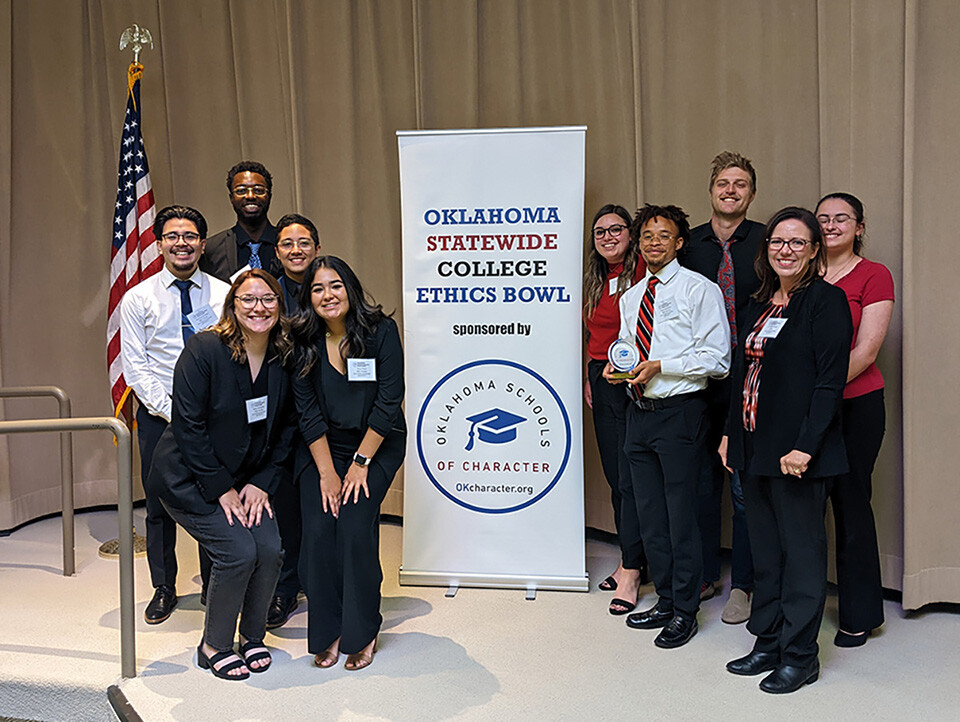 Last week, two teams from the SNU School of Business, totaling nine students, competed at this year's State Intercollegiate Ethics Bowl Competition at Northeastern State University. The two teams were broken up into Team Lightning and Team Thunder. The students on Team Lightening were seniors Darrius Blackshire (Business Administration major and captain of the team) and Mikayla Antichevich (Biology-Chemistry major) and juniors Jenn Hendricks (Business Administration major) and Connor Rice (Business Administration major).  Team Thunder was made up of senior Dominick Gonzalez (Marketing major and captain), junior Sierra Perez (Business Administration major), and sophomores, Darius Petties (Business Administration major) and Esther Sanderson (Business Administration major.) Senior, Business Administration major Bryan Gonzalez served as a mentor and judge during practice sessions. Darrius Blackshire, Dom Gonzalez, and Bryan Gonzalez, participated in both the State and Regional competitions in 2021. 
The students spent a great deal of time preparing for the competition. The groups received case studies in early September, taken from news headlines of the previous year. They were given up to 12 case studies to research and evaluate, and six cases were chosen at random for the competition rounds at State. The teams did not know which cases would be chosen, so they prepared research for all of them.
The competition started with a coin toss to determine which team would present their case first. A moderator read the questions for a case aloud, which was then given to the judges as well. The teams strategized for one minute and presented their argument for four minutes. The opposing team proposed a rebuttal, and our team had a chance to respond to their counterargument. After this, the judges questioned each team leading to an overall evaluation with a point system. The teams then switch roles and took on another case.
This year, Team Lightening won third place, and Team Thunder placed fifth. Their high rankings qualified both teams for the regional competition next month in San Antonio. This is the first time SNU has placed in the top three since we began competing in 2014. Professor and Coach, Dr. Tamara Dawson said that she is "very proud of the professional manner in which the teams competed. They were very kind and considerate of the other teams and showed their appreciation to the judges for the valuable feedback that was provided. It was evident that they had researched and prepared. SNU was well represented at the competition."
Dawson continued expressing her pride by saying that "It is amazing to see students shine under somewhat intense pressure. Sitting across from the opposing team with a moderator and three judges evaluating every comment that is made poses a fairly stressful environment. Students that may seem quiet or reserved in class have really stepped up when needed to help their team present an argument. Each student represented SNU and the School of Business very well!" She further explained how this competition shows the importance of teamwork, practicing valuable communication skills, the importance of research, and working under pressure.
At SNU, we strive to make Christ-like disciples through higher education which is exactly what Dr. Dawson is leading these students do. SNU is so proud of all of the students who represented our school well, and we look forward to them competing at Regionals!
Back to Blog