Walking in Purpose: Graduate Assistant Flourishing
/
/
Walking in Purpose: Graduate Assistant Flourishing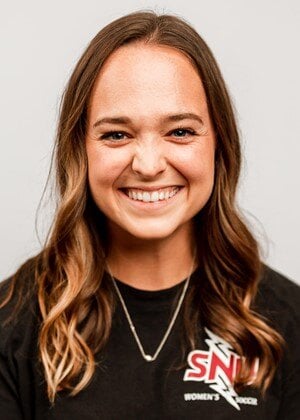 SNU would like to recognize one of its Master's students for her outstanding dedication and leadership in the community – Sammie Smith. Her program director, Dr. Sylvia Goodman commends her excellence: "Sammie is a very good student. She came as a graduate assistant and is an assistant coach here at SNU. She is a missional leader within her program."
Sammie has a deep love for God and people, for her faith is of supreme importance. "When I die," she shared, "I hope it's said about me that I was one with contagious faith, huge love for people, and a zeal for making the most out of life. In that order."
Energetic and enthusiastic, Sammie loves coffee and encourages anyone to seek her out to connect. "I thrive off of new experiences and making new memories with the people I love," she said.
She attended college at East Central University in Ada, Oklahoma, where she served four years as captain of the women's soccer team. "Soccer has always been such a huge part of my life and continues into my adulthood," Sammie revealed.
After graduating with a Bachelor's degree in Marketing, Sammie moved to Costa Rica, where she served in various roles. "Soccer coach, English teacher, church planter, marketing coordinator, evangelism and outreach guru, and camp counselor, just to name a few," she listed. "I wore a lot of hats during that season of life."
Upon serving four months in Costa Rica, she was led to Oklahoma City, where she worked at OU Medicine as a Medical Staff Coordinator, which emphasized her calling. "God graciously continued to reveal my passion for coaching, mentoring, and investing in the lives of others, and more specifically, college women," Sammie divulged.
When the opportunity arose for her to pursue her Master's degree and become the Graduate Assistant for the SNU women's soccer team, Sammie jumped at the chance, for she felt called by God. "I didn't just leave my prior marketing job to leave," she said. "I left because I knew the Lord was calling me to step into my greater purpose – coaching and mentoring young college women. This was an opportunity to grow into the woman God was molding me to be. And I knew I would have the margin to explore my talents, develop my skill sets, and stay curious enough to try new things just for the heck of it as a coach. I didn't have all the answers, but I knew I was being led into something special – a professional journey that would challenge and change me."
To Sammie, SNU felt like home upon arriving. "It was very evident that [the] faculty and staff were servant-hearted and champions of those all around campus," she praised. "They are gifted as all get-out; they use their gifts for good, and [are] just, overall, darn good people. Most importantly, they [are] lovers of Jesus and His people, living lives of reckless abandon for the most incredible cause – to be [a] light in the darkness. Why wouldn't I want to be a part of something like that?"
Sammie has served at SNU for a year and a half, and despite the hard moments, she would not change her journey for anything. "I am loving every second of it," she enthused. "It has been hard, crazy, and chaotic at times, but I know, without a doubt, I am walking in purpose."
Her diverse experience allowed her to highlight what sets SNU apart from other institutions. "This program empowers you to not hide the gifts that God has placed in you," Sammie commends. "Let them shine! You are called to shine, to impact lives, to influence, to use your voice to speak truth, to encourage, to create, and to problem-solve. You were born to run and to shine so that the world [will] see the light of Jesus within you. This is what the SNU program is about. It oozes [all of] that. And I'm convinced there's no other program like it."
"I can't wait to see where God guides me next!" she said.
Back to Blog