School of Music
Making music that counts.
Studying privately, playing in ensembles, singing music of faith, the SNU School of Music provides musical opportunities for all students who wish to make music a vital part of their college experience. SNU's School of Music is an accredited institutional member of the National Association of Schools of Music and offers programs of excellence immersed in an atmosphere of service. Come to SNU, study music in a Christian community, learn, grow, travel, excel. Be a part of our family!
Whether your goal is to become a music teacher, choral director, music business professional, or worship arts pastor, SNU can help you achieve your dream. The SNU community is ready to encourage, instruct, and guide you to reach your God-given potential.
I encourage you to explore the links below and discover what SNU has to offer you. If you have questions, please do not hesitate to contact me or one of the other faculty members. I can be reached by e-mail at bpowell@snu.edu or by phone at 405-717-6245.
May God guide your decision as you plan the next chapter of your educational journey.
Bryan Powell, Ph.D.
Chair, SNU School of Music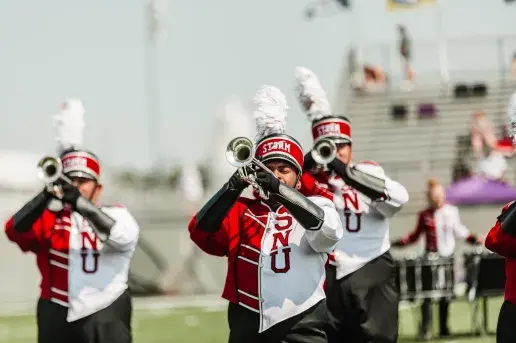 Contact Information

SNU School of Music
6729 NW 39th Expressway
Bethany, OK  73008
405.491.6345 | Fax: 405.717.6268
music@snu.edu

Dr. Bryan Powell, Chair
Fine Arts 100A  |  405.717.6245  |  bpowell@snu.edu

Music Programs & Courses

When you major in Music at SNU expect a course plan that fits your future. Designed to give you a general background in music, this degree is paired with a minor of your choice. Personalized attention from professors and individual instruction opportunities make your degree in Music exactly that. Yours. You will learn and grow through close collaboration with respected professors. As a student, you will perform and study with both faculty and other students. Nearly one-third of the SNU student body is involved in music. Classes. Private lessons. Sound of the Storm Marching Band. Symphonic Band. Guitar Ensembles. U Singers. Jazz Band. Piano. Organ.

A Bachelor of Science in Music is a degree that includes a Major in Music with an emphasis in Commercial Music Production or Music Performance. A Music Performance Emphasis offers a choice of Concentration between Vocal, Instrumental, or Keyboard Performance.

Worship Arts Emphasis
Commercial Music Production
Performance Emphasis – Vocal Concentration
Performance Emphasis – Keyboard Concentration
Performance Emphasis – Instrumental Concentration

Music Education – Instrumental Concentration
Music Education – Vocal Concentration

Accreditation

Auditions

Schedule an Audition
Prospective students who wish to schedule a scholarship audition should contact the appropriate person listed below.

Vocal
Prof. Rebekah Ambrosini
rambrosi@snu.edu or call 405.491.6344

Keyboard
Dr. Bryan Powell
bpowell@snu.edu or call 405.717.6245

Woodwind / Brass / Percussion
Prof. Ricky Spears
rspears@snu.edu or call 405.491.6340

Audition Requirements
Only prospective students who are prepared and meet the following guidelines may audition.
Casual business attire is deemed appropriate for a scholarship audition.

VOCAL

Sing 2 songs of contrasting style from memory as follows:
Vocal contest literature, such as art songs, opera arias; oratorio arias, -OR
Songs from a musical, -OR-
Christian contemporary
Bring an accompaniment or an accompanist

KEYBOARD

Perform 2 classical pieces of contrasting styles; at least 1 must be from memory
Play 1 hymn arrangement

WINDS AND PERCUSSION
(Listed in order of preference)

Perform a solo piece that was prepared for a high school district, regional or state contest, -OR-
Perform an etude that was prepared for a high school honor group audition, -OR-
Perform a sacred piece that was prepared for a church setting
Audition material does not have to be memorized or accompanied

Ensembles

You don't have to be a music major to join an ensemble through the SNU School of Music. No matter what your major, joining an ensemble gives you an opportunity to use your gifts and a chance to be a part of a group of friends. Hundreds of students participate in SNU ensembles each year, music majors and non-music majors alike.

Highly Qualified Professors

SNU offers you the opportunity to study with credentialed faculty as you journey toward graduation, another step closer to reaching your goals. These scholars with a Christian worldview will mentor and guide you along the way.  SNU's smaller size allows students to interact with faculty — not only in the classroom, but also through impactful mentoring, personal advising, and meaningful research. Come and be known; come and belong.

Scholarships

Sound of the Storm Marching Band

The Sound of the Storm Marching Band is a great way to meet new friends from all over campus. The SNU Sound of the Storm Marching Band has toured the region as the ambassadors of the University since 2016. You do not need to be a music major to participate in marching band. The band performs at all home games and at local and regional events. Our members, including our freshmen, were often leaders in their high school programs. Because of this, our rehearsals are fast-paced, productive, and fun!

Want to know more? Click here for all the details

Donations

Special Events

APR 21, 2022

Percussion Ensemble Concert

Cantrell Music Hall

APR 26, 2022

SNU Choirs: Iconic Media Concert

Herrick Auditorium

MAY 3, 2022

SNU Symphonic Band Concert

Herrick Auditorium

Tickets
Unless noted otherwise, admission to events is free. You can purchase tickets at snu.booktix.com or please call the Music Office at 405.491.6345 or email music@snu.edu.

Map
To see the location of the venue, click on the map link next to the name of the building in the event detail.  Click here to view or print a campus map.
Virtual Visit: Commercial Music Production